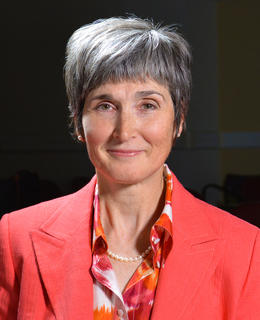 Zelma Kiss, MD, PhD, FRCSC
Positions
Professor
Cumming School of Medicine, Department of Clinical Neurosciences
Full Member
Hotchkiss Brain Institute
Full Member
Hotchkiss Brain Institute, Mathison Centre for Mental Health Research and Education
Background
Educational Background
Doctor of Medicine Unknown, University of Ottawa, 1988
Doctor of Philosophy Medical Specializations, University of Toronto, 1998
Biography
Zelma HT Kiss MD PhD is a clinician-scientist and Professor in the Departments of Clinical Neurosciences/Psychiatry and the Hotchkiss Brain Institute at the University of Calgary in Alberta, Canada. She trained in neurosurgery and completed a PhD in neurophysiology at the University of Toronto in 1998, followed by post-doctoral training in Grenoble, France. Her research interests encompass the mechanisms of action of deep brain stimulation, somatosensory restoration with neural prostheses, electrophysiology, and new neuromodulation therapies, including focused ultrasound. Clinical expertise includes stereotactic radiosurgery and functional neurosurgery to treat movement disorders, pain, and psychiatric disorders. She is Medical Director of the Neuromodulation and MR-guided Focused Ultrasound Programs in Calgary.
Research
Areas of Research
Mental Health
Movement Disorders
Spinal Cord/Never Injury & Pain
electrophysiology
neuromodulation
optical imaging
biomedical imaging
biomedical engineering
neural prostheses
depression
pain
Activities
Dr. Kiss's research aims have focused on the mechanisms of action of deep brain stimulation (DBS). DBS is a neural prosthesis that modulates specific brain nuclei and pathways to restore or improve movement disorders such as Parkinson disease, dystonia and tremor. Her lab uses slice electrophysiology, behaviour, optical imaging, and immunohistochemistry in rodents to unravel how DBS works, in parallel to studies in humans who have DBS surgery. She collaborates with colleagues in biomedical engineering (Dr. Murari) to develop chronic models of DBS in rodents and veterinarian medicine (Dr. Whelan) to develop new targets for DBS. Surgery offers opportunities to study microelectrode recordings in patients undergoing DBS implantation. These include studies to look for biomarkers of disease and specific experiments to learn how different cells in the brain encode actions. Recent research has extended to the development of neural prostheses to restore somatosensory function, psychiatric indications such as depression, new neuromodulation therapies for pain, and mechanisms of focused ultrasound neuromodulation in collaboration with colleagues in radiology (Drs. Pichardo and Pike) and neurology (Drs. Aquino and Martino).    
Courses
| Course number | Course title | Semester |
| --- | --- | --- |
| BMEN 61931 LEC 04 04 | Spec Problems in BMEN | 2021 |
Awards
Alberta Heritage Foundation for Medical Research,

2009

Canadian Institute of Health Research Clinician Scientist Award,

2009

salary support award,

2009

AHFMR Clinical Investigator Renewal,

2008

Canadian Institutes for Health Research, Clinical Research Initiative, Clinician-Scientist Phase 2 Award Renewal,

2007

Canadian Institutes for Health Research Clinican Scientist Phase 2 Award,

2004