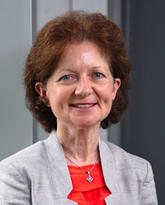 Brenda Hemmelgarn
Professor
Department of Community Health Sciences
Biography
Dr. Brenda Hemmelgarn is a Professor in the Departments of Medicine and Community Health Sciences, and was Head of the Department of Community Health Sciences, Cumming School of Medicine at the University of Calgary. She is a member of the Libin Cardiovascular Institute of Alberta and the O'Brien Institute for Public Health (OIPH), and holds the Roy and Vi Baay Chair in Kidney Research. Dr. Hemmelgarn is also the vice-chair of the Alberta Health Services Board.
Dr. Brenda Hemmelgarn is a specialist in Nephrology, with research expertise in health services research. She completed a PhD in Epidemiology and Biostatistics at McGill University, earned her medical degree from McMaster University, and pursued subspecialty training in internal medicine and nephrology at the University of Calgary. Her research interests focus on strategies to improve the care of people with chronic kidney disease and other chronic health conditions. As co-lead of the Interdisciplinary Chronic Disease Collaboration (ICDC), a province-wide research team, Dr. Hemmelgarn's work has contributed significantly to improving the health of patients living with chronic disease. She is the director of the Alberta Kidney Disease Network and is involved in clinical practice guideline development at national and international levels. She is also active in the teaching and supervision of undergraduate and graduate trainees.
In 2012 her work in conjunction with the ICDC was recognized with the Alberta Health Services President's Excellence Award for Outstanding Achievements in Research and a Top Canadian Achievements in Health Research Award from the CIHR-CMAJ in 2013. Dr. Hemmelgarn was inducted as a fellow of the Canadian Academy of Health Sciences in 2012 and was recognized last year with a Killam Research Leader Award.