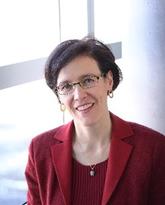 Deborah Marshall
Professor
Division of Rheumatology
Arthur J.E. Child Chair of Rheumatology Outcomes Research
PhD
University of North Carolina
Master of Health Services Administration (MHSA)
University of Alberta
BSc (Honours), Biochemistry
University of Toronto
Preferred method of communication
For all inquiries, please contact Dr. Marshall's Administrative Assistant, Cassandra.
Research
Research areas
Patient preferences using stated preference methods in health-care applications
Care pathway and health-system modelling
Economic evaluation of health-care programs using decision analysis and simulation methods
Tools to inform personalized decision-making in health
Biography
Dr. Marshall holds a faculty appointment as a professor in the Department of Community Health Sciences and Department of Medicine) as the Arthur J.E. Child Chair of Rheumatology Outcomes Research, and was Canada Research Chair, Health Services and Systems Research from 2008 to 2018. She's also a member of the O'Brien Institute of Public Health, a senior scientist at Arthritis Research Canada and past director of Health Technology Assessment at the Alberta Bone and Joint Health Institute.

Dr. Marshall's research program, funded through grants from the Canadian Institutes for Health Research, Genome Canada, United States National Institute of Health (NIH), the Arthritis Society, and the Ontario Institute for Cancer Research, is focused on measuring preferences using conjoint analysis, precision medicine, cost-effectiveness analysis and health-system modelling. She was project lead for an NIH program grant on translational and policy research in personalized medicine, which develops evidence to assess how precision medicine can improve health outcomes. She's also a founding co-investigator of the innovative Patient and Community Engagement Research (PaCER) Program at the University of Calgary, which trains patients to design and conduct health research, using specific adapted methods of qualitative inquiry. In addition, she leads the health economics, patient preferences and patient engagement activities for numerous national and international research programmes in precision medicine.

Nationally, Dr. Marshall is the recipient of the Canadian Institutes of Health Research Celebration of Excellence in Health Research Knowledge Translation Prize; the Canadian Institutes of Health Research and Canadian Medical Association Journal Top Achievements in Canadian Health Research Award; and the Dr. Jill M. Sanders Award of Excellence in Health Technology Assessment. Other honours include membership in the Canadian Academy of Health Sciences, the Killam Annual Professorship Award, the University of Calgary Peak Scholar Award, the O'Brien Institute for Public Health Research Excellence Award, the Distinguished Achievement Cochrane Award for Research, and the Award for Early Career Excellence in Graduate Education—recognizing her outstanding success in research grants, publications and student mentorship. She has authored more than 220 publications (with more than 12,000 citations) in scientific journals.
Current research projects:
Dr Marshall leads the health economics, patient preferences and patient engagement activities for 4 large national and international research programs in precision medicine:
UCAN CAN DU

Canada-Netherlands personalized medicine network in childhood arthritis and rheumatic disease.
Funded by: CIHR/Genome Canada

UCAN CURE

​​​​​​​Precision Decisions for Childhood Arthritis.
Funded by: CIHR/Genome Canada

SOLVE

Harnessing multi-omics to deliver innovative diagnostic care for rare genetic diseases in Canada.
Funded by: Care4Rare Canada

IMAGINE (Inflammation, Microbiome, and Alimentation: Gastro-Intestinal and Neuropsychiatric Effects)

A CIHR Strategy for Patient Oriented Research.
Dr. Marshall is the co=PI of the study and the co-lead of the Patient Engagement theme.