Calgary COPD & Asthma Program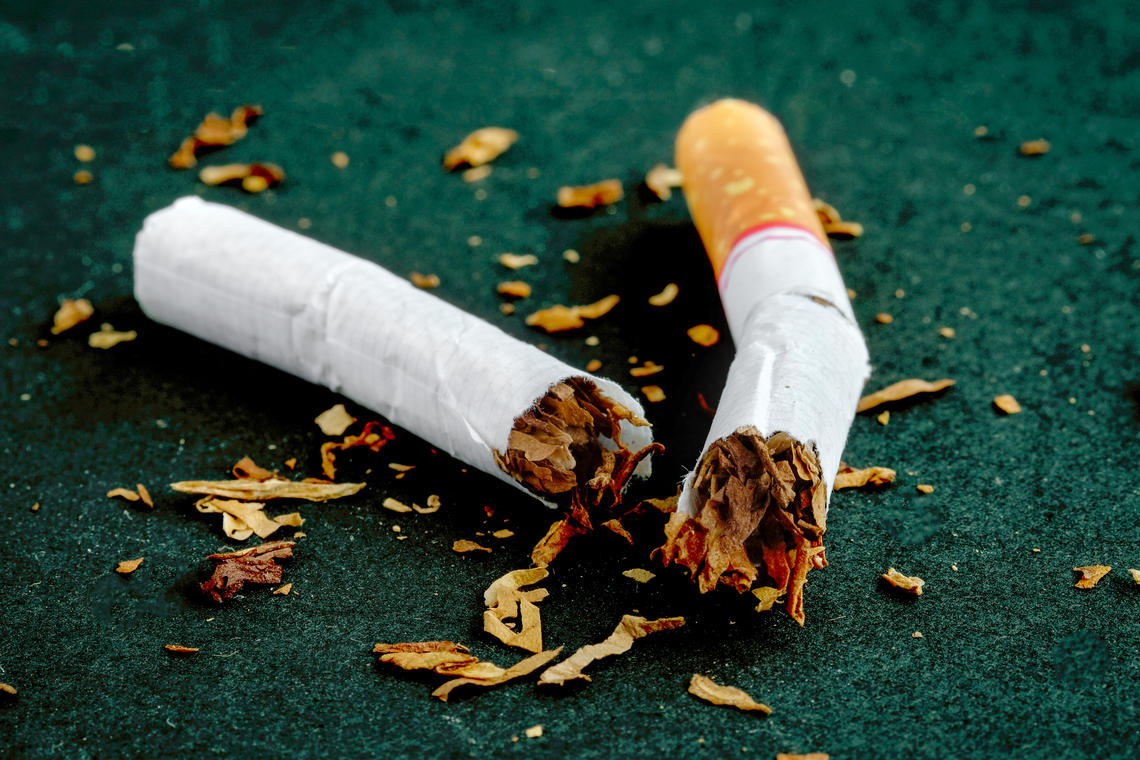 Benefits of quitting smoking
When you quit smoking, this is what happens to your body, after:
20 minutes, your blood pressure and heart rate drop.
8 hours, carbon monoxide levels drop to normal and your oxygen levels increase.
48 hours, your chances of having heart attack decrease, sense of taste and smell begin to improve.
one to 9 months, your coughing and shortness of breath decreases.
5 years, your stroke risk is reduced to that of a non-smoker.
10 years, your risk of dying from lung cancer is reduced to half that of someone who still smokes.
Quitting smoking is the single most important thing you can do for your health.
Nicotine is very addictive and quitting can be a tough process. Research shows your best chance of quitting comes with support and medication. Counseling with a certified respiratory educator combined with tobacco reduction medication will greatly increase your changes of quitting.
There are many ways that your body will respond to not getting nicotine on a consistent basis.  These withdrawal symptoms will last for several weeks and lessen with time. It is important that you plan for these symptoms in advance so that you know how to respond.
Pick a quit date. Choose a good day and mark it on your calendar but remember there isn't a perfect day to quit.
Plan to reward yourself.
Think about strategies for coping with urges. For example, use the four Ds:
Delay having a cigarette when you get the urge.
Distract yourself until craving is gone.
Drink water to keep your hands busy.
Deep breath to relax.
Our team can:
accept referrals from physicians.
provide education led by one of our certified respiratory educators.
provide guidance on specific topics related to quitting such as: risks, medication information, stress, relapse, weight gain, support, withdrawal symptoms, planning and research studies.
provide consistent follow up.
provide many tobacco reduction tools/resources for patient use.
Things to do while you are thinking about quitting smoking
Understand when and why you smoke
Start using a smoking journal to increase your awareness of routines, when you smoke and how much you smoke. 
Pros and cons of smoking
Make a list of your own pros and cons for quitting smoking.
Change your daily routines
Instead of having a cigarette after you eat, go for a walk.  Get up and have a shower instead of having your cigarette with your morning coffee.
Cut back
Cut out the cigarettes that are easiest in your routine to remove.  When you reach for a cigarette, stop and ask yourself  "Do I really need it?", then wait 5 to 10 minutes.
Plan your day
Plan to have less cigarettes in your day, only carry those with you and don't get more.
Smoke Free Areas
Start by making your house smoke-free, then your car.
Find your reason to quit
Whether it is for better health, protecting your family from second-hand smoke or to look and feel younger, identify your own personal reason for quitting.
Don't give up
Don't be discouraged if you relapse; instead, learn from your relapse and think back to the reason you wanted to quit.
Tools and Resources for quitting smoking
Message to our website visitors
Material on this website has been designed for information purposes only. It should not be used in place of medical advice, instruction and/or treatment.
If you have specific questions, please consult your doctor or appropriate health care professional.