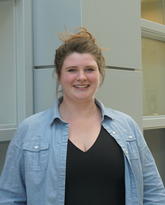 Amanda Derksen
Communication and Strategic Initiatives Analyst
Department of Critical Care Medicine
About
Areas of Expertise
Communication
Design
User Experience
Writing
Biography
Amanda is a graduate of the Mount Royal University Bachelor of Communication- Information Design program with a minor in English. She also has a Writing and Editing for Business Certificate from Mount Royal University and a Writing Diploma from St. Peter's College (affiliated with the University of Saskatchewan).
Her work within the department ranges from managing the U of C research and DCCM websites to branding research and initiatives to creating graphic elements to display data.
Information Design definition: Simply, it is purposeful communication through any medium.