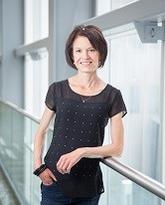 Dana Olstad
Assistant Professor
Department of Community Health Sciences
Biography
Primary Specialization Affiliation: Population/Public Health
Keywords: Nutrition, Healthy public policy, Dietary patterns, Health equity, Socioeconomic inequities, Food environments, Health promotion, Public health, Mixed methods, Chronic disease prevention, Obesity prevention
Dr. Dana Olstad is an Assistant Professor in the Department of Community Health Sciences at the University of Calgary, and holds Adjunct academic appointments in the Faculty of Kinesiology at the University of Calgary and in the School of Public Health at the University of Alberta. She is also a Registered Dietitian. Her primary expertise encompasses public health nutrition.
Socioeconomically disadvantaged groups have poorer dietary patterns than their more advantaged counterparts, and these differences have negative health consequences. As a public health nutrition scholar, Dr. Olstad's research program aims to understand the reasons for these dietary and health differences from a social determinants of health perspective, and the role of policy in this respect. A social determinants of health perspective acknowledges that the contexts within which individuals live, grow and work shapes their dietary patterns and health outcomes. A priority of her research is therefore to understand how policy can be used to improve the conditions of daily life to ensure that all individuals, regardless of their socioeconomic circumstances, have the same opportunity to enjoy healthful foods and good health. Dr. Olstad's research extends across the lifecourse to understand how conditions and policies at all stages of life shape health . She uses quantitative, qualitative and mixed methods to study real-world programs and policies in real-life contexts.
Another key area of interest relates to dietary patterns. Dietary pattern analysis considers how the properties of whole foods, and interactions among them, shape health over and above individual nutrients. Dr. Olstad's research seeks to understand how different patterns of dietary intake shape health and disease, particularly among disadvantaged groups.
Citations on Scopus: https://www.scopus.com/authid/detail.uri?authorId=35092844600
Citations on Google Scholar: https://scholar.google.com/citations?user=6_WNRtcAAAAJ
ORCID ID: 0000-0001-9787-9952; https://orcid.org/0000-0001-9787-9952