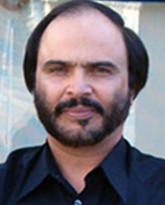 Naweed Syed
Professor
Cell Biology & Anatomy
PhD (Doctor of Philosophy)
Research and teaching
Research areas
Brain
Molecular Mechanism
Neurodevelopment
Neuro plasticity
Synapsis
Research Summary
Research Personnel:
Anosha Ulfat, PhD Neuroscience Program
Shadab Batool, PhD Neuroscience Program
Syedah Ali, PhD Neuroscience Program
Roofia Pishgar, MSC, Biomedical Engineering Graduate Program
Nerea Jimenez Tellez, PhD Biochemistry and Microbiology
Dr. Pierre Wijdenes, Postdoctoral Fellow
Wali Zaidi, Research Technician
Jean Kawasoe, Research Technician
Research interests
My research program is focused at defining the fundamental cellular and molecular mechanisms underlying nervous system development and synaptic plasticity. Specifically, my lab seeks to identify genes and the underlying molecular cascade that allows neurons to extend their projections en route towards their targets and establish neuronal connectivity during development to control all brain functions. We have developed several neuron-chip recording techniques that allow us to monitor neuronal activity from large networks of brain cells at the resolution of single cells. Our lab also studies the impact of various extrinsic factors that influence neuronal synaptic plasticity between brain cells.
Awards
Grants
NSERC
Mitacs
CIHR
Awards:
2020 Award, 2020 Annual Celebration of Excellence, University of Calgary
2020 Graduation Commencement Speech, Peerless Training Institute, Calgary
2019 Kotler Global Innovation Award Recipient (Novel Technology Development)
2019 Award of Excellence, COPO (Canadians of Pakistani Origin)
2019 Chief Guest for Education Award Ceremony by Anjuman Sadaat-e-Amroha
2019 Invited/laid Foundation Stone for future Pakistan International University. Islamabad
2019 Honored Guest Speaker, Rawalpindi Medical University, Laid the stone for Research Center, Pakistan 2019 Pride of Nation Award, Lahore Chamber of Commerce and Industry, Pakistan
2019 COMSTEC Recognition from Dr. Tariq Banuri, Chairman Higher Education Commission
2019 Service Award, ALOHA: Empowering Young Minds Community, Calgary, Canada
2019 Award, Graduation Commencement Speech and Appreciation, Bay River College, Calgary
2019 Award, Guest of Honor. The Citizens' Foundation of Canada
2019 Award, Outstanding Research and Invocation Award, Boy Scouts Association of Pakistan
2019 Award, Outstanding Innovation Award, Wiltshire Laboratories