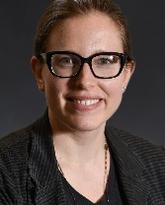 Claire E. H. Barber
Associate Professor
Division of Rheumatology
Rheumatologist
Richmond Road Diagnostic and Treatment Centre
PhD, Epidemiology
Department of Community Health Sciences, University of Calgary
Residency, Rheumatology
University of Toronto
Residency, Internal Medicine
Dalhousie University
MD
Dalhousie University
BSc (Honours), Microbiology and Immunology
Dalhousie University
Areas of focus
Research areas
Health services research
Outcomes research
Quality of care
Epidemiology
Early inflammatory arthritis
Biography
Dr. Claire Barber is an Associate Professor of Medicine at the University of Calgary in the Departments of Medicine (Division of Rheumatology) and Community Health Sciences. She is a practicing rheumatologist with an interest in inflammatory arthritis.
Dr. Barber's research program aims to improve the quality of care delivered to those living with inflammatory arthritis. She has worked with both national and international organizations to develop and test quality measures to evaluate quality of care in rheumatology. She also helped lead the first national set of system-level performance measures for inflammatory arthritis in collaboration with arthritis stakeholders from across Canada including rheumatologists, allied healthcare providers and people living with inflammatory arthritis. She has led the rigorous validation of these measures in different datasets across Canada, and this work has led to methodologic advancements in quality measure development and operationalization. Through her work, she's helped identify gaps in early access to care and treatment in some regions and health systems, and this information has been used to help advocate for improved models of arthritis care.
Recently, she's also led the development of a national patient-centered quality measurement framework for rheumatoid arthritis, which includes outcome measures and measures addressing important processes for holistic arthritis care. She has also worked locally to develop continuous reporting strategies to drive clinic improvements based on these measures. Her ongoing work examines the link between measure performance and health system and patient outcomes. Dr. Barber has been appointed the Scientific Director of the Alberta Bone and Joint Health Strategic Clinical Network (SCN), effective April 1st, 2022.
Current research projects:
Investigating the Health Services and Clinical Impacts of COVID-19 on Individuals with Inflammatory Arthritis.
A Better Match: Transforming rheumatoid arthritis care through tailored follow-up strategies based on disease activity and patient complexity

This research will investigate new ways to deliver care based on patient need and will help us determine whether the new model of care is better, or not, than usual care. It will be relevant for changing the delivery of care to hundreds of patients with RA in Calgary, AB.

Understanding the effect of adherence to system-level performance measures on outcomes for rheumatoid arthritis

The Arthritis Alliance of Canada (AAC) developed a national set of performance indicators to measure whether patients with RA are getting timely care and treated appropriately. Testing of these measures across Canada identified gaps in care including long waiting times for rheumatology consultations, lower than expected rates of treatment with disease-modifying anti-rheumatic drugs (the standard of care), and inconsistent follow-up care. It is unknown why these gaps occur and what they mean for patients and the healthcare system.
In this study we will use administrative data from 3 Canadian provinces, Alberta, British Columbia and Ontario to investigate how quality of care, as measured by the AAC performance measures, affects patient outcomes and the healthcare system.