Get Active in the Atrium: Group classes for UCalgary Affiliates
Committed to workplace stress prevention and management, the Cumming School of Medicine's Working Our Way to Wellness (WOWW) committee was formed in the fall of 2013 to address the health and wellness needs of our medicine community through the promotion of active living, and health and wellness initiatives.
WOWW enthusiastically invites all UCalgary staff, faculty and students at Foothills Campus to participate in  fitness classes 
No fitness class experience needed, no equipment needed.
Stay tuned!
Active Wear
Make sure to wear clothes you are comfortable working out in!
Footwear
Appropriate footwear is very important to make the most out of your workout! Running shoes are best!
Water
You will work up a sweat so please bring your water bottle to  rehydrate!
Membership card
You MUST bring your membership card to every class. for more information about this card please see below.
All class participants must sign a waiver
Waivers are available online, click the button below and login with your UCalgary IT username
Once you have registered visit the activities page to sign up for classes, you will receive your confirmation email on the day of the class.
You will also be subscribed to our mailman list which will include weekly updates including class links.
 This class targets all major muscle groups to build your strength, endurance and definition. Experience cardio and strength drills designed to give you a challenging and effective total body workout. Finish with a stretch at the end and you'll be good to go! Focus is on technique, precision and getting you results.
Circuit Class

Circuit training is a fast-paced class in which you do one exercise for 30 sec to 90 sec and then move on to another exercise. Class is focused on Strength and muscle toning. AITA strength classes are great for all fitness levels. Modifications will always be provided so you can get the workout that is best for you!

Interval

Cardio, upper body, lower body, core…you'll get it all! Using timed drills you will get your heart pumping and your metabolism boosted. This is a high intensity interval class that will keep your body burning extra calories for the rest of the day! AITA strength classes are great for all fitness levels. Modifications will always be provided so you can get the workout that is best for you!
Yoga uses breathing techniques, exercise and meditation. It helps to improve health and happiness. ... He defined yoga as "the cessation of the modification of the mind
Hatha

This slower gentle hatha yoga class is suitable for people of all ages including beginners and emphasizes alignment and breathing techniques to stretch and strengthen the body. Through breathing and relaxation techniques we create space for a more mindful and healthy life.  A fun class with a variety of options for all levels.

Flow

This dynamic flow class incorporates traditional sun salutations and yoga poses while allowing for more varied practice. You'll focus on breath, building full body strength, core stability, flexibility, and proper body alignment. Options will be given for all levels, from beginners to those looking for more challenge. 

Core

A creative fusion of vinyasa flow yoga and core strengthening exercises. Strengthen your centre inside and out!
Zumba

Zumba Fitness is a Latin-inspired cardio-dance workout that uses music and choreographed steps to form a fitness party atmosphere. While many of the types of dance and music featured in the program are Latin American inspired, classes can also contain everything from jazz to African beats to country to hip-hop and pop.

Dance Class

Workout your mind and body in this learn to dance class! Class changes every week focused on a particular kind of dance or a certain song. 
Lauren
From a young age I was involved in everything from ballet, to syncronize swimming to, eventually triathlon. The practice of yoga snuck into my life in my early twenties and was the birthplace of my current path in somatic release and trauma recovery.  I am currently working to complete a Masters of Counselling Psychology as a sound foundation and complement to this journey and purpose in working with individuals with both developmental and experiential trauma. My long term goal is to be one of the many pioneers in bridging the gap between the spiritual and practical practices of yoga and global healthcare - I feel very blessed to pay this beautiful gifts forward.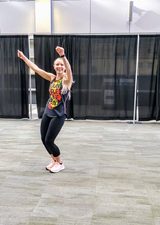 Maria
Hello! My name is Maria, and I live in Calgary, AB. I have been a group exercise leader since 2016 and I absolutely love teaching Zumba classes. The reason is simple: Every class feels like a party! There is absolutely no dance experience required so come join me and your wonderful friends. I guarantee you will have a blast! Got questions, don't hesitate to drop me a message! See you at the dance party! 😊
Nerea
I have been teaching since Dance classes since September 2018 .  Though I started studying ballet at age 4 and was in dance academy until age 12. I have studied flamenco, sevillanas and have been dancing salsa my entire life as my dad is a musician who plays mostly Latino music and I learned from his dancers and when I turned 15 I started dancing hip hop, funk, contemporary, burlesque and a little bit of dancehall. I am also doing a PhD in Biochemistry and Molecular Biology at UCalgary studying the effects of anesthetics in the developing brain. See you at class!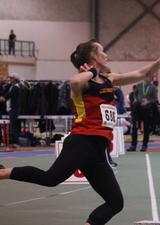 Samme
As far back as I can remember, being active was a big part of my life. Played every sport I could until I ventured to Calgary to continue learning at University and compete with the Dinos Track and Field team! I have been with UCalgary ever since, earned my certification in 2014 and started teaching right away! My goal is to make exercise fun and welcoming for all. I look forward to seeing you in class. If you have any questions don't hesitate to reach out!