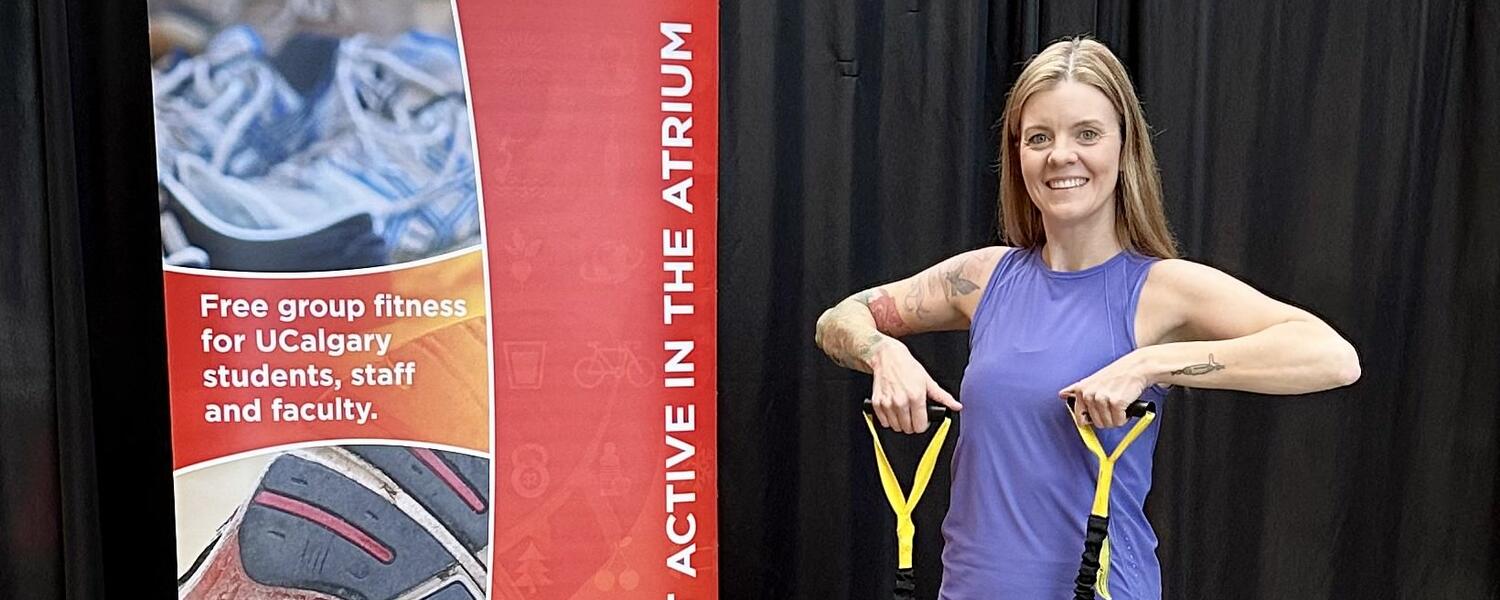 Get Active in the Atrium: Group Classes for UCalgary Affiliates
Committed to workplace stress prevention and management, the Cumming School of Medicine's Working Our Way to Wellness (WOWW) committee was formed in the fall of 2013 to address the health and wellness needs of our medicine community through the promotion of active living, and health and wellness initiatives.
WOWW enthusiastically invites all UCalgary staff, faculty and students at Foothills Campus to participate in  fitness classes 
No fitness class experience needed, no equipment needed.
Active Wear
Make sure to wear clothes you are comfortable working out in!
Footwear
Appropriate footwear is very important to make the most out of your workout! Running shoes are best!
Water
You will work up a sweat so please bring your water bottle to  rehydrate!
Membership Card
Bring to every class! 
All class participants must sign a waiver
Waivers are available online, click the button below and login with your UCalgary IT username
You will receive your membership card from a WOWW volunteer at your first class.
Once you have registered visit the activities page to sign up for classes, deadline to sign up 12 hours before class.
 This class targets all major muscle groups to build your strength, endurance and definition. Experience cardio and strength drills designed to give you a challenging and effective total body workout. Finish with a stretch at the end and you'll be good to go! Focus is on technique, precision and getting you results.
Total Body Workout

Cardio, upper body, lower body, core…you'll get it all! Using timed drills you will get your heart pumping and your metabolism boosted. This is a high intensity class that will keep your body burning extra calories for the rest of the day! AITA  classes are great for all fitness levels. Modifications will always be provided so you can get the workout that is best for you!

Total Body Strength

Cardio, upper body, lower body, core…you'll get it all with weights! Class limited to 12 participants. 

High Fitness

HIGH Fitness is Old School Aerobics transformed into a modern, heart-pounding, fun, and effective workout. Think cardio and toning meet leg warmers with a side of air guitar. Consistency and simplicity are key to the HIGH Fitness brand. Classes are fun, easy to follow, and choreographed to set you up for success. No equipment is required except for supportive running shoes and a bottle of water."
Yoga uses breathing techniques, exercise and meditation. It helps to improve health and happiness. ... He defined yoga as "the cessation of the modification of the mind
Zumba

Zumba Fitness is a Latin-inspired cardio-dance workout that uses music and choreographed steps to form a fitness party atmosphere. While many of the types of dance and music featured in the program are Latin American inspired, classes can also contain everything from jazz to African beats to country to hip-hop and pop.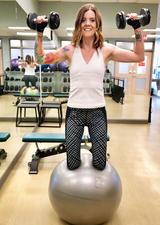 Stephanie
Stephanie has been leading group fitness classes since 2006. She is certified through the Alberta Fitness Leadership Certification Association with specializations in Group Exercise, Portable Equipment, and Resistance Training. She also holds a Canadian Fitness Professionals certification as a Personal Trainer Specialist and has had additional training in Group Cycling, Dance Fitness, Zumba, Barre, and Hula Hooping. She enjoys spending time with her son, stand-up paddle boarding, painting rocks, and traveling to warm places whenever she gets the chance.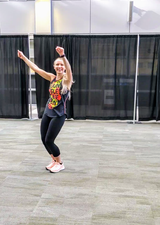 Maria
Hello! My name is Maria, and I live in Calgary, AB. I have been a group exercise leader since 2016 and I absolutely love teaching Zumba classes. The reason is simple: Every class feels like a party! There is absolutely no dance experience required so come join me and your wonderful friends. I guarantee you will have a blast! Got questions, don't hesitate to drop me a message! See you at the dance party! 😊
Iva
Meet Iva, a passionate believer in the transformative power of yoga. Her journey with yoga began during her teenage years. As she matured, she delved deeper into its numerous benefits, including improved focus, reduced stress, and a refreshing mind-body connection. By harmonizing breath and movement, she was flooded with an invigorating surge of oxygen that seemed to breathe life into every fiber of her being. After years of practice worldwide, Iva journeyed to the spiritual heartland of India last year to earn her yoga teacher certification. Alongside her full-time studies at the University of Calgary, Iva is eager to share the gift of yoga with her scholarly community, guiding others toward a more balanced and mindful way of life. Her radiant spirit and dedication inspire all who cross her path.