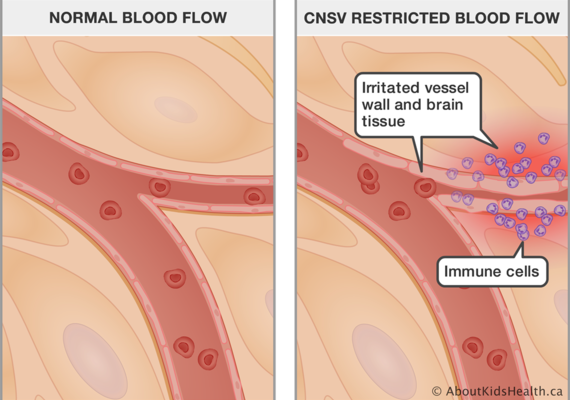 Normal vs Restricted Blood Flow in the Brain
Cells of the immune system attack the brain blood vessel walls, which leads to swelling and irritation of the wall, restricting the space inside, and reducing blood flow.
Patients with CNS vasculitis can present with:
Seizures and intractable seizure status
Headaches
Stroke or other severe focal neurological deficits including impaired vision, speech deficits or movement abnormalities
Severe diffuse deficits such as memory difficulties, cognitive dysfunction or behaviour problems
Psychiatric symptoms such as hallucinations
Fluctuating level of consciousness 
CNS vasculitis often affects previously healthy children. If the inflammation solely targets the blood vessels of the brain and/or spinal cord in these children, the disease is then referred to as primary CNS vasculitis or childhood Primary Angiitis of the CNS (cPACNS). 
All children require a careful assessment for an associated systemic illness such as an infection, rheumatic disease or malignancy. Children who develop CNS vasculitis in the context of an underlying illness are considered to have Secondary CNS Vasculitis.  
Diagnosing CNS Vasculitis: Calabrese criteria
The diagnosis of primary CNS vasculitis / childhood Primary Angiitis of the CNS (cPACNS) requires:
A newly acquired focal or diffuse neurological deficit and/or psychiatric symptom in a child > 1 month and <19 years of age plus 
Angiographic and/or brain biopsy evidence of CNS vasculitis in the absence of an underlying systemic condition known to cause or mimic the findings 
CNS vasculitis is subdivided based on the modality that confirms the diagnosis. Children with evidence of vasculitis on angiography are considered to have angiography-positive, large-medium vessel CNS vasculitis. Those who have a negative angiography and evidence of vasculitis solely on brain biopsy are commonly classified as angiography-negative, small vessel CNS vasculitis. Children with evidence of inflammation and suspected CNS vasculitis who have not had a confirmatory test should be classified as "inflammatory brain disease, suspected CNS vasculitis". 
Angiography-positive, large vessel cPACNS
Inflammation is targeting the large and medium cerebral vessels.
Diagnosis is confirmed by angiography, which may show evidence of cerebral vessel stenosis, beading, tortuosity, and/or occlusion (see References Aviv, 2006; Aviv 2007; Eleftheriou, 2010).
Two subtypes of angiography-positive cPACNS are recognized based on disease course: 

Non-Progressive cPACNS is a monophasic inflammatory vessel wall disease affecting unilaterally the proximal vessel segments of the anterior and/or middle cerebral artery and/or the distal internal carotid artery. This monophasic inflammatory disease is also known as Transient Cerebral Arteriopathy (TCA), Focal Cerebral Arteriopathy (FCA), and Post-Varicella Angiopathy (PVA).
Progressive cPACNS is an ongoing inflammatory disease of the CNS vessels frequently affecting both proximal and distal vessel segments. It may present as a unilateral or bilateral vessel disease. Diagnosis is confirmed on angiography when children either have both proximal and distal vessel stenoses in ≥ 1 vascular territory on initial angiography or have new vessel segments affected on repeat vascular imaging at three months of illness. The latter commonly occurs despite corticosteroid therapy. Fortunately, children with progressive cPACNS on corticosteroid therapy commonly do not acquire new neurological deficits. 

Children with angiography-positive CNS vasculitis do not require a brain biopsy; in fact biopsies commonly demonstrate tissue damage due to ischemia.
Angiography-negative, small vessel cPACNS
Inflammation is solely targeting the small cerebral vessels. 
Diagnosis is confirmed by brain biopsy, which typically demonstrates evidence of intramural and perivascular inflammation. The characteristic inflammatory phenotype is a lymphocytic infiltrate of primarily T-cells, some additional B-cells, macrophages and eosinophils may be found . Fibrinoid necrosis or granulomas are not commonly seen (see References Elbers, 2010; Twilt 2011).
By definition, children with small vessel CNS vasculitis have a normal angiography.
Different subtypes of small vessel vasculitis may exist. This needs to be further studied.
To date, no specific MRI pattern was found to be associated with SV-cPACNS. However, leptomeningeal enhancement appears to be specific for SV-cPACNS, in particular considering demyelinating diseases as a differential diagnoses. Of note: Spinal cord inflammation and optic nerve inflammation are commonly seen in children with SV-cPACNS.  
Diagnosis Criteria for Secondary CNS Vasculitis
Children ≤18 years of age are diagnosed with secondary CNS vasculitis if they have evidence of 
Any newly acquired focal and/or diffuse neurological and/or psychiatric deficit plus 
Angiography and/or brain biopsy evidence of CNS vasculitis
In the presence of an underlying systemic condition such as an infection, rheumatic disease or other
Secondary CNS vasculitis can be caused by  a large number of underlying conditions. Infection is the most common cause for secondary CNS vasculitis.  A thorough evaluation for an underlying systemic condition is required when a child presents with newly acquired neurological and/or psychiatric deficit. 
Causes of Secondary CNS Vasculitis
Infectious/post-infectious
Bacterial

Mycobacterium tuberculosis
Streptococcus pneumoniae
Salmonella species
Mycoplasma pneumoniae
Treponema pallidum
Other

Spiorochete
Viral

Varicella zoster virus
HIV
Hepatitis C virus
Cytomegalovirus
Epstein-Barr virus
Parvovirus B19
Enterovirus
West Nile virus
Other

Fungal

Actinomycosis
Candida albicans
Aspergillus
Other
Systemic rheumatic diseases
Systemic lupus erythematosus
Systemic vasculitis

Anti-neutrophil cytoplasmatic antibodies (ANCA) associated vasculitis

Granulomatosis with Polyangiitis (GPA, formerly known as Wegener's granulomatosis)
Microscopic polyangiitis (MPA)
Eosinophilic Granulomatosis with Polyangiitis (EGPA, formerly known as Churg–Strauss syndrome)

Polyarteritis nodosa (PAN)
Kawasaki disease
Takayasu's arteritis
Henoch-Schoenlein purpura (HSP)

Behçet's syndrome 
Sjögren's syndrome
Juvenile Dermatomyositis
Scleroderma
Systemic inflammatory diseases 
Inflammatory bowel disease
Hemophagocytic lymphohistiocytosis (HLH)
Other systemic diseases or exposures
Graft-versus-host diseases
Radiation
Drug-induced CNS vasculitis
Haemoglobinopathies
Malignancies
Other
Differential diagnosis and mimics of Angiography-Positive CNS Vasculitis in Children
 Noninflammatory CNS vasculopathies:

Dissection
Thrombembolic disease
Hemoglobin disorders
Antiphospholipid antibody (aPL) syndrome
Fibromuscular dyplasia
Genetic collagen vascular disorders (Marfan Syndrome, Ehlers-Danlos Syndrome, others)
Moyamoya disease (idiopathic)

Conditions associated with cerebral vasospasms:

Channelopathies including familiar hemiplegic migraine and calcium channelopathy
Reversible vasoconstrictive syndrome (RVS)
Idiopathic vasospasms

Genetic syndromes with associated vasculopathy:

Neurofibromatosis type 1 (NF1)
Down's syndrome
Posterior fossa malformations–hemangiomas–arterial anomalies–cardiac defects–eye abnormalities–sternal cleft and supraumbilical raphe syndrome (PHACES)
Cerebral autosomal dominant arteriopathy with subcortical infarcts and leukoencephalopathy (CADASIL)
Fabry disease
Homocysteinuria

Other syndromes with associated cerebral vasculopathy

Cogan syndrome (vasculopathy plus inflammatory eye disease [interstitial keratitis] and vestibularauditory dysfunction)
Susac syndrome (noninflammatory vasculopathy resulting in retinopathy, hearing loss and encephalopathy)
Differential diagnosis and mimics of Angiography-Negative CNS Vasculitis in Children
Nonvasculitic inflammatory brain diseases:

Demyelinating diseases (acute demyelinating encephalomyelitis, multiple sclerosis, idiopathic or demyelinating optic neuritis)
Antibody-mediated inflammatory brain diseases (anti-NMDAR encephalitis, antibody-mediated limbic encephalitis, neuromyelitis optica, Hashimoto encephalitis, post-mycoplasma encephalitis, celiac-disease-associated encephalitis, Paediatric Autoimmune Neuropsychiatric Disorders Associated with Streptococcal infections or PANDAS)
T-cell mediated inflammatory brain diseases (Rasmussen's encephalitis)
Granulomatous inflammatory brain diseases (Neurosarcoidosis)

Infections
Metabolic diseases with associated inflammatory or ischemic brain lesions:

Mitochondrial encephalomyopathy, lactic acidosis, and stroke-like episodes (MELAS)
Rolandic mitochondrial encephalomyopathy (ROME)
Polymerase gamma deficiency (POL-γ)

Malignancies
Angiocentric lymphoma
The above list is modified from M. Twilt ., The spectrum of CNS vasculitis in children and adults. Nat Rev Rheumatol. 2011 Dec 20;8(2):97-107.