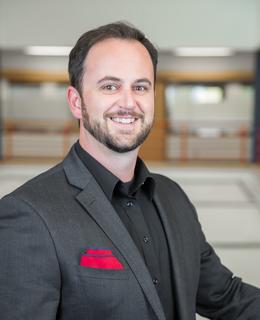 Tyler Cluff, PhD
Positions
Associate Professor
Faculty of Kinesiology
Full Member
Hotchkiss Brain Institute
Background
Educational Background
Postdoctoral Fellowship Motor Control and Learning, Queen's University at Kingston, 2016
Doctor of Philosophy Sensorimotor Neuroscience, McMaster University, 2012
MSc Biomechanics, University of Ottawa, 2008
BSc (Hons) Summa cum laude Human Kinetics, University of Ottawa, 2006
Research
Areas of Research
Neuroscience - Motor Control
Computational Biology
Activities
The goal of our work is to understand how the motor system learns to produce skilled actions. Our research combines behavioral experiments with neurophysiological techniques and computational studies. We conduct experimental studies using TMS, fMRI, EMG, and robotic devices that allow us to create novel mechanical environments to measure motor learning.  
We focus on three main areas of research:
The role of sensory feedback in the selection, planning, and control of voluntary movements. 
Basic principles of sensory processing and how they impact motor learning.
Brain imaging (fMRI) and stimulation techniques (TMS) to understand the neural circuits that support motor learning.
Research on motor learning will improve our understanding of the basic mechanisms underlying skilled movements. It may also yield better tools to understand movement deficits, as well as treatments that can be used in rehabilitation to improve sensory and motor function.
Participation in university strategic initiatives
Courses
| Course number | Course title | Semester |
| --- | --- | --- |
| KNES 451 LEC 01 | Advanced Topics in Human Motor Control and Learning | Winter 2022 |