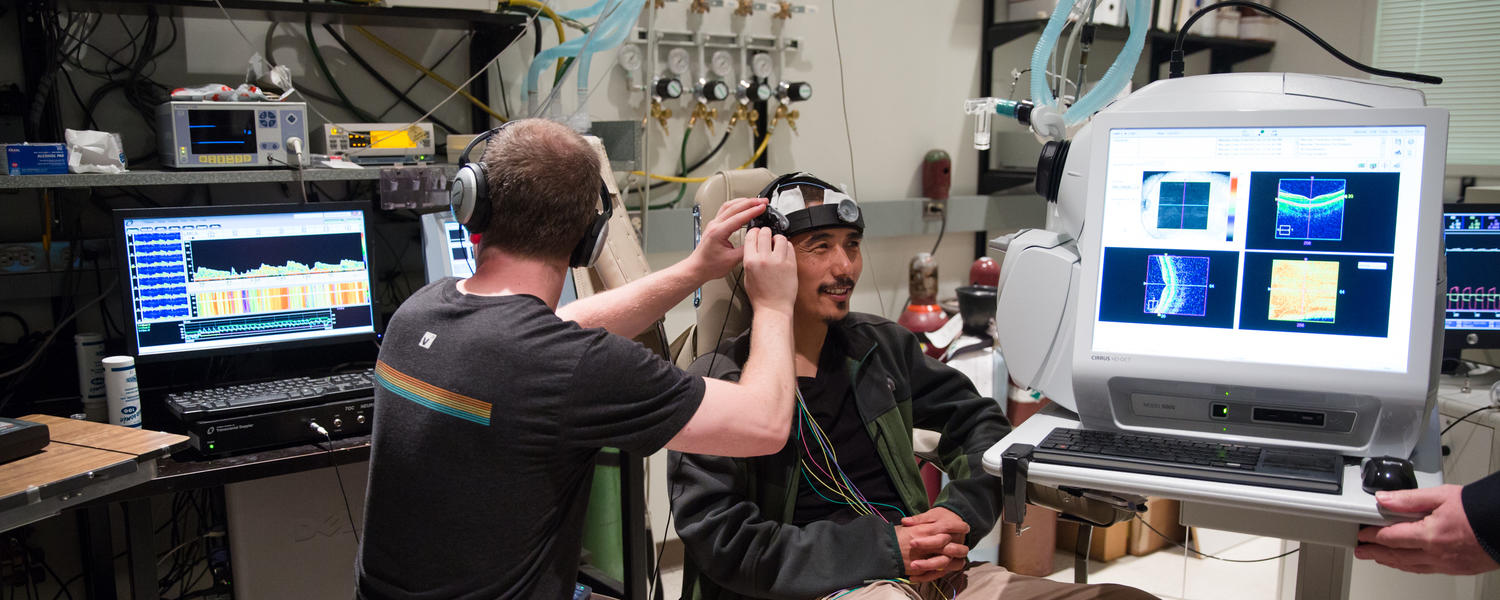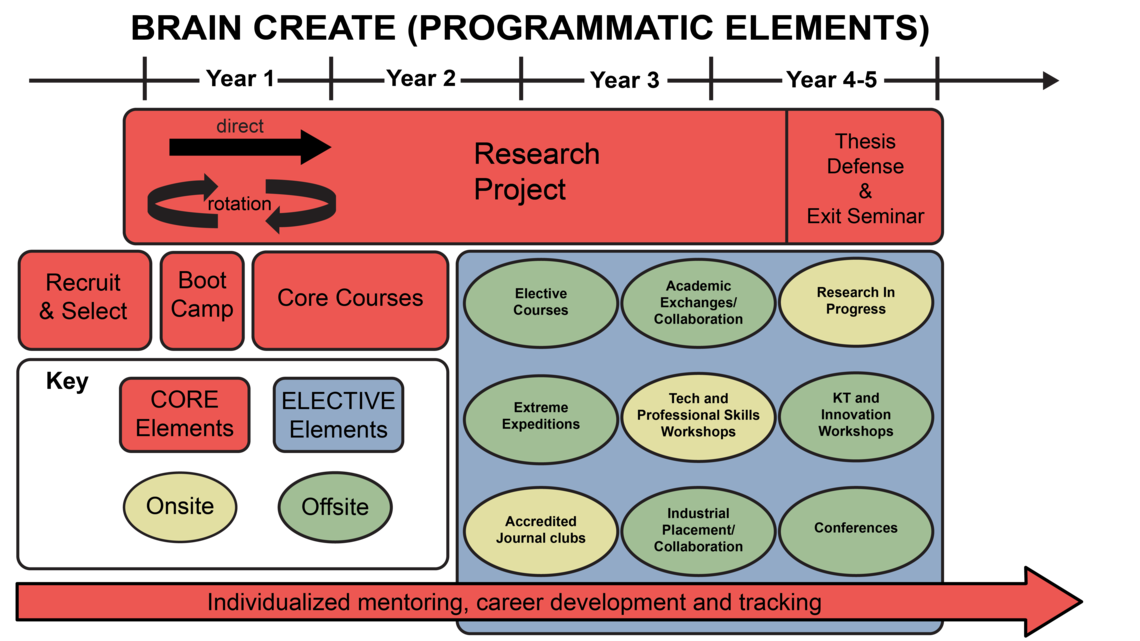 To engage new trainees into the program as quickly as possible, ensure a sense of community and provide leadership and teaching opportunities for more senior graduate students and PDFs, boot camps will be held three times a year: September and January to accommodate entry into the graduate program, and in May for summer students. These sessions will orient students to the program and introduce key knowledge.
 
All BRAIN CREATE graduate students will take two problem-based core courses: cellular molecular neuroscience (Coordinator: Dr. Gordon) and extreme physiology (Coordinators: Drs. Day, Poulin and Wilson). PhD students will also take one additional graduate course in their home faculty. All courses must be completed within the first 18 months.
All BRAIN CREATE trainees will be expected to take full advantage of graduate courses throughout the University. Quantity and makeup of these courses will be student and project specific. For example, a trainee using EEG to monitor brain function may elect to take a course in electrical engineering or statistical analysis; a trainee exploring new technologies in a model system may be encouraged to investigate options for a course in genetics or immunology.
We envisage at least 50% of PhD students entering the program will have primary and co-supervisors already earmarked; these students will initiate a predefined research project immediately. However, we will also encourage the most exceptional students entering the program to develop a short list of supervisors and then rotate through each of their labs in order to identify the optimal project. During rotations which may take up to a year, students will complete their course work and will be funded entirely by the Program.
All BRAIN CREATE trainees will undertake research projects matched to program length. PhD and postdocs projects should involve at least two team members and must have potential commercial spinoffs in order to receive BRAIN CREATE funds. Each thesis project must also include a national or international work experience, a practicum in an industrial setting and/or opportunity for testing technologies and innovation at geographical, biological and/or environmental extremes. Access to geographical and environmental extremes may involve working with partners in Canada's North (e.g., Inuvialuit Regional Corporation in the NWT and the First Nations near the Arctic Institute of North America (AINA)'s Kluane Lake Research Station, Yukon) and/or at high altitude (e.g., the Atacama Large Millimeter/submillimeter Array (ALMA) Observatory, funded in part by the NRC and includes the UofC as a partner institution;
almaobservatory.org). For examples of potential projects, see Section 2.6.
Journal Clubs (elective), Research in Progress (RIP) & Exit Seminars (core)
The HBI currently has 12 HBI quality-assured journal clubs; with the advent of BRAIN CREATE two additional journal clubs will be added: Neurotechnologies and Extreme Physiology. BRAIN CREATE trainees will be expected to go to at least one journal club a week and make regular presentations. Graduate students and PDFs will also give RIP talks twice a year. All participants will give exit seminars, attendance at which will constitute a core activity of all other trainees.
Academic exchanges/collaborators (elective)
In order to maximize the breadth of expertise available to BRAIN CREATE, expand the networking opportunities for trainees and unshackle innovation, we have established a substantive group of collaborators, many of which are located off-site and/or abroad. A full list of our collaborators and industrial partners is included in Fig. 3. Exchanges with international collaborators will be particularly valued by the program, recognizing that science and innovation is increasingly blind to borders and requires trainees to work across borders, time zones, cultures and languages.
Technical, professional skills, innovation and knowledge translation (KT) workshops (Elective)
All trainees will participate in these activities; but the selection of workshops will be individualized. Over the last 5 years, team member McFarlane and the Hotchkiss Brain Institute have built and battle-tested REALISE, a flexible framework for diverse training modules. REALISE is an all-encompassing and exceptionally flexible training experience (community outreach, mentorship by community and academic leaders, modular professional and technical courses taught to and by trainees, academics and members of the larger community) that prioritizes education and engagement over formal evaluation. Unique custom software tracks the complete experience of participants and provides a value-added dossier that captures the individual's journey and their unique track-record of engagement. Designed to reflect performance beyond grades in traditional academic courses and promote diversity and individualised learning, the dossier is particularly useful for non-academic employers. This framework will be adopted for BRAIN CREATE trainees; BRAIN CREATE trainees will have access to all current modules (see hbi.ucalgary.ca/our-education/realise for list). Additional modules to cover gaps in IP, business, commerce, emerging neurotechnologies and extreme physiology will be added. Some of these modules are made available through our partners within the University and Province (for example, Faculty of Graduate Studies (FGS) has recently introduced seminars on preparing studentship applications and writing grants; the Haskayne Business Schools offers leadership training courses; Innovate Calgary hosts IP/commercialization symposia; Campus Alberta Neuroscience (CAN) offers a series of KT seminars and sponsor a programming workshop each year) whereas others will be developed afresh. To extend the reach of BRAIN CREATE and to ensure the maximum number of students benefit, whenever possible program-specific modules will be available for other trainees at the University and the Province (via support from CAN), fostering new initiatives in professional development and commercialization for CREATE trainees. Further, BRAIN CREATE will mandate trainees to participate and present their research at provincial, national and international scientific and/or innovation workshops (e.g., Alberta Biomedical Engineering (BME) Conference) giving them additional networking possibilities and making their knowledge and technological advances available to a broader scientific community.
Extreme Expeditions (Elective):
Over the last 4 years, team members have led 4 expeditions to high altitude attended by trainees (three to Everest Basecamp led by Dr. Day (Davenport et al., 2018; Pfoh et al., 2017); one to Chile led by Dr. Poulin (Foncea, 2014; Lira 2017; Pun et al., 2018, Pun et al., in Press)). Another is planned for Summer 2019 (White Mountain, California, led by Day and Wilson). A key partner for future high altitude expeditions will be the ALMA Observatory. In addition to high altitude we will also journey to the high artic to raise trainee awareness of and encourage innovation of new brain industry-based solutions to issues imposed by these remote and hostile environments on workers and indigenous communities. This will involve collaborating with partners in Canada's North (i.e., Inuvialuit Regional Corporation in the NWT and the First Nations near the AINA's Kluane Lake Research Station, Yukon). These expeditions are an opportunity to test technologies and ideas at geographic and environmental extremes; they also provide an unparalleled learning and mentoring opportunities in which trainees are freed from normal distractions and can focus on science. Our expectation is that BRAIN CREATE extreme expeditions will be the capstone experiences for many trainees leading to new opportunities, ideas and life-long peer networks.
Collaboration with Industrial Partners (Elective):
As stated above, a major objective of BRAIN CREATE is to drive innovation and commercialization. PhD and PDF research projects must have a potential commercial spinoff; when possible they will involve developing, testing and/or commercializing new neurotechnologies. To assist in this endeavor, we have recruited a substantial group of n=15 private/public/industrial partners that range from traditional industries that have expressed a need for brain-centric innovation to high-tech companies; additional partners will be added as needed. BRAIN CREATE trainees will interact with these companies, with the form and extent of interaction depending on the project and company. Innovate Calgary, the UofC's commercialization body, and Mitacs will assist BRAIN CREATE in drafting letters of understanding with these commercial entities and negotiating legal issues on the UofC's behalf such as ownership of intellectual property. These interactions are expected to accelerate innovation and commercialization while instilling trainees with an entrepreneurial spirit and the professional skills that are hard to achieve in traditional graduate programs. We expect some of these links to result in trainee employment.
To maximize interactions between trainees and industry, we will invite key executives and employees into the classroom to attend technical and professional skill workshops both as teachers and learners. As teachers, partner employees can provide first-hand insight into key markets and industries; this will provide invaluable lessons for our trainees. As learners, they will be taught neuroscience and physiology concepts and the theory behind the latest brain technologies, spurring their company's innovation efforts and success. These sessions will be taught in part by trainees, increasing trainee-company exposure and giving our trainees increased teaching opportunities. The REALISE framework (see above) will be used to manage both the logistics of hosting large numbers of workshops and the accreditation of participants as teachers and/or learners. These efforts will be greatly assisted by expertise and mentorship from Haskayne School of Business who will drive our innovation and commercialization strategy (e.g., team member Falkenberg has extensive experience in governance and contributed significantly to Executive Education programs) and the Werklund School of Education who will provide BRAIN CREATE trainees with teaching skill workshops. By opening REALISE learning to our industrial partners, and by working collaboratively with Mitacs, we will facilitate academic-industrial collaborations and connect BRAIN CREATE trainees with industry to provide them with the principles of commerce.