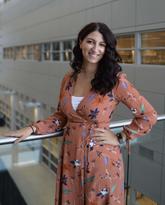 Brooke Belanger
Graduate student - PhD
BRAIN CREATE
Biography
About me
Originally, my family is from Thunder Bay Ontario, but I have spent most of my life in Calgary. I completed a Bachelor of Science in Biological Science here at the University of Calgary and then continued my studies here in a PhD of Neuroscience.
My research
Brain aneurysms are small pockets caused by broken blood vessels in the brain. They affect 5% of the population. Treatments are only 70% effective, requiring patients to have multiple surgeries and take blood thinners forever. New-age stents combined with stem cells may be the solution. These stents are mesh tubes that the body absorbs, defeating the need for drugs. Stem cells turn into blood vessels and close the aneurysm, removing stroke risk. Tests show stem cells could benefit current treatments, but it is unknown how they work. I am trying to discover how stem cells repair aneurysms and reduce treatment time.
I have a background in plant research and basic research from my undergraduate career. I started in the master's program at U of C but transferred into the PhD. My supervisor, Dr. Alim Mitha, is a neurosurgeon, and working with him gives our lab very interesting translational research capabilities. Currently he is working on a startup called Fluid Biotech which is moving on to patent the very first bioabsorbable brain stent on the market.
Supervisors: Dr. Alim Mitha, Dr. Arindom Sen, mithalab.com

BRAIN CREATE Program aspirations
I hope to attend some expeditions and/or academic exchanges that can help foster my love of research and learning. I hope that one day the neurosurgical innovation with stem cells I am working on will have the opportunity to be commercialized.
Commercialization
I work with adult stem cells, which are currently becoming commercialized in many different forms. Specifically in neuroscience, they are currently being tested clinically to help treat stroke survivors. With the current innovations surrounding stem cell treatments, I hope to push my project forward and see it commercialized during my time as a researcher. Most stem cell therapies are not used as an adjunct to current treatments and my goal is to combine a novel stent that is also being commercialized in my lab along with the cells to create a superior solution to brain aneurysm treatments.
Publications
Belanger, B.; Avery, M.; Mitha A. 2018. A Modification of the Rabbit Elastase Model to Produce More Relevant Aneurysm Sizes. J. Neurointervent Surg. 10 (Suppl 2): A30-A31.
Avery, MB.; Belanger, BL; Bromley A.; Sen, A.; Mitha, AP. 2019. Mesenchymal Stem Cells Exhibit Both a Pro-Inflammatory and Anti-Inflammatory Effect on Saccular Aneurysm Formation In a Rabbit Model. Stem Cells International, Volume 2019, 15 pages
Jamshidi, M.; Rajabian, M.; Avery, MB.; Sundararaj, U.; Ronsky, JL.; Belanger, BL.; Wong, JH.;Mitha, AP. 2019. A novel self-expanding primarily bioabsorbable braided flow-diverting stent for aneurysms: initial safety results. JNIS.
Muram, S.; Eesa, M.; Belanger, BL.; Almekhlafi, A.; Goyal, M.; Morrish, W.; Wong, JH.; Gomez-Paz, S.; Akamatsu, Y.; Salem, MM.; Robinson, T.; Moore, JM.; Thomas, AJ.; Ogilvy, CS.; Mitha, AP. 2021. Novel Parameter to Predict Supraclinoid Aneurysm Persistence After Flow Diversion with the Pipeline Embolization Device. WNS. 145: e216-e223.
Belanger, BL.; Avery, MB.; Eesa, M; Sen, A; Mitha, AP. 2021. Creating Clinically Relevant Aneurysm Sizes in the Rabbit Surgical Elastase Model (Under review)
Awards
NSERC BRAIN CREATE Graduate Scholarship
Graduate Awards Competition – 2021- $5000 – University of Calgary
Graduate Citizenship Award – 2020 - $2000 – Graduate Student's Association
Professional Development Grant – 2019 - $750 – Graduate Student's Association
Graduate Representative Council Initiative Award – 2019 - $1000 – Graduate Student's Association
Profiling Alberta Graduate Students (Travel Award) – 2018 - $1500 – Government of Alberta
Travel Award – 2018 - $750 - Faculty of Graduate Studies
HBITO Art Competition - 2018 - $100 – Hotchkiss Brain Institute Trainee Organization
Silver President's Circle Scholarship – 2013 - $1750 – Saint Mary's University