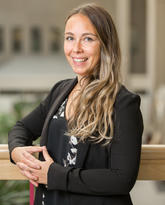 Veronica Guadagni
Postdoctoral Fellow (Alumna)
BRAIN CREATE
Biography
About me
Originally from Italy, I obtained a Master in Neuroscience from the University of L'Aquila in 2010. I moved to Calgary in 2011, drawn by both the academic opportunities and the closeness to the beautiful Rocky Mountains. In 2012, I started a PhD in Brain and Cognitive Sciences in the Department of Psychology, which I completed in 2017. In June 2017, I joined the Laboratory of Human Cerebrovascular Physiology as a Postdoctoral Fellow.
My research
The central theme of my research focuses on investigating the effects of sleep, sleep-deprivation, and sleep disturbances on cognitive functioning and brain structure and function. During my PhD, I have investigated how sleep (and the lack thereof) affects the human ability to empathize with others and the way individuals process emotional stimuli, as well as the ability to orient in the environment. As a Postdoctoral Fellow in the Laboratory of Human Cerebrovascular Physiology, I am investigating how a six-month aerobic exercise intervention can improve older individuals' cognitive ability and brain health, and the role of sleep quality as a mediator in this relationship.
BRAIN CREATE program aspirations
There are several aspects that make the BRAIN CREATE an exciting program. As a third year Postdoctoral Fellow, establishing connections with industry partners is probably the most appealing aspect to me. Industry connections will open new job opportunities outside of traditional academia paths. Secondarily, the possibility to conduct field studies and expeditions perfectly complements my passion for adventure travels.
Commercialization
Through my affiliation with the BRAIN CREATE program, I am leveraging my research on the areas of sleep, exercise and cognition to validate and develop new neurotechnologies with the ultimate goal to improve assessment and diagnosis of sleep disorders and methods for sleep enhancement.
Awards
2020 - HBI Trainee Publication Award
2020 - NSERC BRAIN CREATE Postdoctoral Fellowship
2019 - Sleep Research Society Trainee Merit Award
2019 - Sleep Research Society Leadership Workshop Award
2018 - Trainee Travel Award, Promoting Healthy Brain Aging and Preventing Dementia Conference
2018 - Alzheimer Society of Canada Research Program (ASRP) Postdoctoral Fellowship
2018 - Canadian Sleep and Circadian Network (CSCN) Multi-site Mentoring Program Award
2017 - Poster entitled "Effects of six-month exercise intervention on sleep in healthy older adults from the Brain in Motion study" received honorable mention in "People's Choice" category at the Resilience in Aging: Exploring people, places and policies conference, Calgary, Alberta, Canada
2017 - Dr. Barrie I. Strafford Postdoctoral Scholar Award in Interdisciplinary Aging Studies