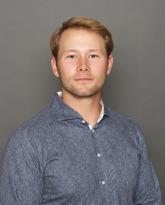 Jake Hesselink
Graduate student - MSc
BRAIN CREATE
Biography
About me
I grew up in Regina, Saskatchewan before moving to Calgary for my undergrad. I completed a honours BSc in Neuroscience at the University of Calgary, where I also played for the Dinos baseball team. I am now taking a MSc in biomedical engineering here at the U of C.

My research
In my fourth year of my undergrad in Neuroscience I did an honours thesis on focused ultrasound (FUS) neuromodulation. This work was done in the NeuroFUS lab under Dr. Samuel Pichardo (https://www.neurofus.ca/). I have continued in this area of research for my MSc studies, positioning my research at the corner of biomedical engineering and neuroscience. My work seeks to develop and test an efficient and effective system for modulating in vivo neural activity in mice using FUS. In doing so, I also aim to investigate the mechanisms underlying FUS neuromodulation and its possible behavioural applications.
BRAIN CREATE program aspirations
The BRAIN CREATE program provides an opportunity to collaborate with experts in both neuroscience and biomedical engineering, which is ideal for my research. I hope to gain insights into the cutting-edge work happening in industrial and academic settings regarding non-invasive neurostimulation.

Commercialization
My work directly aims to improve current bench top FUS delivery platforms available to researchers hoping to implement and study this promising method for non-invasive neuromodulation. Upon gaining a better understanding of FUS neuromodulation and its effective use, the method will present a major commercialization opportunity in producing a powerful, fMRI-compatible, non-invasive neurostimulation therapy.

Awards
NSERC BRAIN CREATE Graduate Scholarship
Faculty of Graduate Studies Master's Research Scholarship