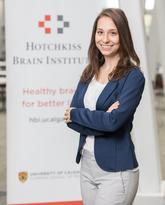 Renata L. Kruger
Postdoctoral Fellow (Alumna)
BRAIN CREATE
Biography
About me
I have a bachelor's degree in Kinesiology and an MSc and PhD in Exercise Physiology. I am originally from Brazil and I moved to Calgary in 2015 to pursue a PhD in the Human Performance Lab at the University of Calgary. I am currently a postdoctoral associate in the HBI sponsored by Mitacs Elevate, the Brenda Strafford Foundation, and CIHR.

My research
My research background is in Exercise Physiology. During my PhD, I examined age-related changes in neuromuscular fatigue due to aerobic exercise. The decrease in neuromuscular function and increase in fatigability with aging leads to a greater incidence of falls and an inability to live independently. Among the many consequences of unattended living are poor sleep quality and cognitive impairment, which are the two pillars of my postdoctoral fellowship research.
My current research aims to investigate how the severity of sleep disorders and cognitive impairments may change from baseline to completion of a virtual reality exercise program designed to improve dementia-related outcomes. This project is a collaboration between the Brenda Strafford Foundation and the Laboratory of Human Cerebrovascular Physiology, coordinated by Dr. Marc Poulin.

BRAIN CREATE program aspirations
My long-term career goal is to achieve a research position in academia or industry. The BRAIN CREATE and Mitacs Elevate programs will help me to achieve my aspirations by fostering industry collaborations and providing on-site training opportunities to enhance management and soft skills.

Commercialization
My research will test the feasibility of using high-technological devices to assess and improve quality of life of residents of assisted living facilities. First, we will use a new virtual reality exercise ergometer that was specially designed to enhance cognition abilities and social engagement in older individuals. Second, we will implement the use of a 'gold-standard' technique (polysomnography) to identify the severity of sleep disorders in assisted living residents.

Awards
NSERC BRAIN CREATE Postdoctoral Fellowship