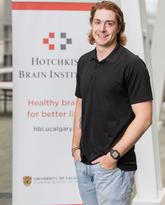 Andrew Prsa
Graduate student - MSc
BRAIN CREATE
Biography
About me
My name is Andrew Prsa and I was born and raised in Aurora, Ontario. I recently completed a Bachelor of Science honours degree from Queen's University where I specialized in drug development and human toxicology. During my undergrad, I spent two summers working at the Fairmont Banff Spring Hotel, and through this experience, I fell in love with the mountains and Alberta. I decided that I wanted to study the effects of high-altitude on human physiology, which led me to Dr. Marc Poulin's lab.

My research
I completed my honours thesis in Dr. David Andrew's lab at Queen's University where I investigated impact of ischemic stroke on rat brain slices. I am currently a first-year neuroscience master's student working in Dr. Poulin's human cerebrovascular lab. I am specializing in mountain medicine and high-altitude physiology. I will be investigating the effects of intermittent hypoxia on sleep and the human cerebral and cardiovascular systems.

BRAIN CREATE Program aspirations
The BRAIN CREATE program offers me a unique opportunity to go on a high-altitude expedition to Chile. I will be investigating the impacts of high-altitude (5050m) on sleep and cognition at the Atacama large millimetre/submillimetre array (Alma).

Commercialization
I will be partnering with Cerebra Health to investigate the impacts of high-altitude on sleep. I will be using their prodigy sleep system to remotely monitor sleep in an extreme environment.
Awards
NSERC BRAIN CREATE Graduate Scholarship