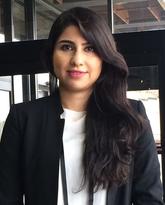 Shaghayegh Shajari
Postdoctoral Fellow
BRAIN CREATE
Biography
About me
I'm a postdoctoral fellow working with Dr. Jaideep Bains and Dr. Amir Sanati Nezhad. I completed my BSc, MSc and PhD degrees in Mechanical and Manufacturing Engineering. Currently, I am in the Biomedical Engineering program at the University of Calgary.

My research
My doctoral research focused on development of wearable sensors for personalized health monitoring. During my postdoctoral fellowship, I am working on the development of wearable stress biosensors devices. Stress provokes distinct behaviours and physiological responses, and can cause long-term changes in the brain leading to mental illness and aberrant behavior. Currently, there are few diagnostic tools that provide stress readouts with high temporal precision.

BRAIN CREATE Program aspirations
The BRAIN CREATE program supports development of new brain technologies and innovative approaches towards higher life quality for all people. We believe that being involved in this program can accelerate the potential commercialization of our future developed device and technology to meet the need for fast health care systems.

Commercialization
The project is entirely neurotechnology focused, with a goal of developing a real time "stress sensor" that would detect molecules linked to emotional states. The sensor would communicate with a remote device to provide real-time readouts of stress. It could be useful as a detector that links to smartphones and watches. It can provide information that may be critical, for example, in assessing efficacy of treatments for anxiety and stress disorders and even drug delivery for fast treatment.
Awards
NSERC BRAIN CREATE Postdoctoral Fellowship