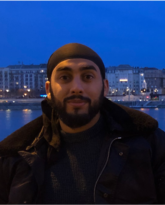 Abhijot Singh Sidhu
Graduate student - MSc
BRAIN CREATE
Biography
About me
I am born and raised in Calgary, Alberta. I hold a Bachelor of Health Sciences Degree (Honours) from the University of Calgary with a strong emphasis in Biomedical Science and Nanoscience courses. I am currently a Master of Science in Biomedical Engineering with a Medical Imaging Specialization candidate in Dr. Richard Frayne's lab. .
My research
My research focus is to expand upon the current understanding of human neurophysiology via examining neuronal connectivity changes in typically aging adults. Specifically, I am interested in exploring the changes in structural and functional connectivity throughout the healthy human lifespan.
BRAIN CREATE program aspirations
From the numerous opportunities that the BRAIN CREATE program provides, I am most looking forward to either the academic exchange or the industrial placement. Both of these opportunities not only provide me with the ability to broaden my skillset and gain some real-world experience, but also the ability to collaborate with well renowned researchers/scientists.
Commercialization
By broadening the current understanding of neuronal organization in typically aging adults, the neuronal organization, or lack of, in neurodegenerative conditions can also be better understood. Specifically, a major output of this project is to generate a large database that contains all of the structural and functional data from this study. This can be utilized in future projects to examine how the neuronal connectivity in neurodegenerative populations varies from typically developing adults.
Awards
NSERC BRAIN CREATE Graduate Scholarship