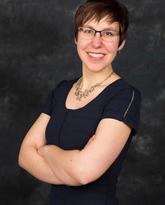 Catherine Swytink-Binnema
Graduate student - PhD
BRAIN CREATE
Biography
About me
I grew up in Ontario and did my undergrad there, in biology and math, at Wilfrid Laurier University in Waterloo. I then moved to Montreal and did my Master's in biology at McGill University. When I started looking for PhD programs, I searched for bioengineering-like research. I wanted to link together the two majors from my undergrad and wanted to do research that would have a strong impact on improving health. The biomedical engineering research being done at the University of Calgary is what brought me out west.
My research now is in biomedical engineering, but with a strong neuroscience flavour. I'm working to improve how we use low-intensity focused-ultrasound (LIFU) for the temporary alteration of brain activity (i.e., for neuromodulation). LIFU is a new neuromodulation technique, and I hope that it can eventually be used as a therapy for neurological disorders.

My research
As an undergraduate, I did research all four years of my degree. This research ranged from plant physiology work in a lab to field work on crop growth to using a scanning electron microscope to study plant taxonomy. During my Master's, I left plant biology to study the cytoskeleton in a molecular biology lab. I learned cell culturing, protein knockdown, and image analysis.
Now, I work in the lab of Dr. Zelma Kiss, and am co-supervised by Dr. Bruce Pike. I am characterizing the effect of LIFU on the brain, first at the tissue and then at the whole brain level. I use a combination of in vitro and in vivo techniques, including brain-slice electrophysiology and mRNA- and protein-quantification.

BRAIN CREATE Program aspirations
After I complete my PhD, I will continue my career in the research and development sector of industry. Because a major focus of the BRAIN CREATE program is commercialization, I hope to learn more about this process and to gain a deeper understanding of the mindset required for industry and commercialization versus that required for academia.
Through the BRAIN CREATE program, I plan to participate in industrial placements or academic exchanges; these experiences would be invaluable towards my future career.

Commercialization
The use of LIFU as a research tool or therapy is currently limited because we lack key practical information about how to use it. By characterizing its effects, my work is a necessary step in the development of LIFU into an effective and widely-used neuromodulation technology. LIFU presents an improved addition to our current suite of neuromodulation technologies because it is non-invasive yet also precise and able to target all areas of the brain. Additionally, because it uses ultrasound instead of electric or magnetic currents, it can easily be combined with brain imaging techniques, such as fMRI, further increasing its utility in research.
The major commercialization opportunities of LIFU lie in its future therapeutic applications. Neuromodulation is already widely used as a therapy. Thus, once we know how to fully control it, LIFU can move in alongside current technologies, both in its own unique applications and eventually replacing current neuromodulation techniques in the clinic.
Awards
NSERC BRAIN CREATE Graduate Scholarship