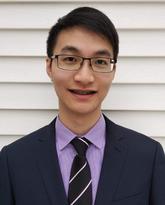 Marcus Tso
Graduate student - MSc
BRAIN CREATE
Biography
About me
My name is Marcus Tso. I grew up in Hong Kong S.A.R. and moved to Calgary ten years ago. I completed a Bachelor of Health Sciences degree at the University of Calgary, with an undergraduate thesis studying lymphatic mechanisms during the skin inflammation response. I'm in love with the accessibility to the mountains this lovely city provides. I am currently completing a MSc in Neuroscience at Dr. Aaron Phillips' lab.

My research
I spent two summers in Dr. Shan Liao's lab as a summer student thanks to the O'Brien's Centre Summer Studentship and Alberta Innovates Summer Studentship programs, and completed my undergraduate thesis project investigating the lymphatic mechanisms behind the skin inflammation response. I am currently working in Dr. Aaron Phillips' lab (https://www.aaronphillipslab.com/), with a focus on optimizing and testing a novel approach to restore autonomic function after spinal cord injury using spinal cord stimulation.
BRAIN CREATE program aspirations
The Brain CREATE program allows me to undertake an academic exchange to Geneva, Switzerland to participate in cutting-edge research. I will be acquiring and optimizing various advanced neuroscience techniques that I will be able to bring back to disseminate in my lab and to deploy in my project.

Commercialization
The spinal cord stimulation technology I am working with is currently becoming commercialized. Optimized deployment of this technology in humans can lead to a big leap forward in the acute clinical management of spinal cord-injured patients and greatly improve the quality of life of those affected by autonomic dysfunction.

Awards
CIHR CGS-M
Michael Smith Foreign Study Supplement
FGS Masters Research Award
NSERC BRAIN CREATE Graduate Scholarship