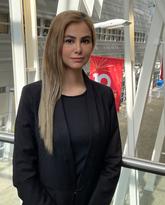 Nazanin Vaziri
Graduate student - PhD
BRAIN CREATE
Biography
About me
I was born and raised in Iran. I completed a Bachelor of Science in Iran, then moved to England and completed Master of science in Biotechnology at University of Greenwich. Currently, I am studying the Medical Science specialization in Molecular & Medical Genetics at University of Calgary.

My research
I have research experience in the investigation of the cellular mechanism of disease. I am in the Dr. Bousman Lab (Psychiatric Pharmacogenomics Lab) and Dr. Greenway lab (Laboratory for Translational Research). My research now is drug-induced cardiotoxicity and potential pharmacological modulators of this toxicity using patient-derived induced pluripotent stem cells (iPSC).

BRAIN CREATE program aspirations
Through the BRAIN CREATE program, I am interested in industrial placements and academic exchange. This opportunity will help me to find an industry-based or research-based career.

Commercialization
Drug-induced cardiotoxicity is an uncommon but potentially lethal side effect for many medications used to treat neurological and psychiatric disorders. Patient derived iPSCs provide a disease- and tissue-specific model for an individual patient to screen drugs for their potential cardio-toxic or -protective effects. My project has the potential to facilitate a commercial spin-off that could ultimately improve the cardiac safety profile of current and future drugs for brain-related disorders.

Awards
NSERC BRAIN CREATE Libin Cardiovascular Institute Graduate Scholarship
Dr. S.K. Littman Graduate Award from the Calgary Chapter of the Schizophrenia Society of Alberta
William H. Davies Medical Research Scholarship