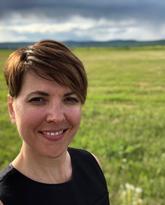 Dhea Wallace-Chau
Clinical Associate Professor
Department of Obstetrics & Gynecology
MD with Distinction
University of Saskatchewan - 1998
FRCSC - Obstetrics and Gynecology
University of Calgary - 2003
Teaching Scholars in Medicine Certificate
University of Calgary - 2010
Co-Active Professional Coach Certification
Co-Active Training Institute - 2020
Courses
Core Teacher Ob/Gyne Clerkship MDCN 512.01 2018-current
Course VI (Children's and Women's Health) MDCN 460. Co-Chair 2015-2018, Evaluation Coordinator 2014, Lecturer 2009-current
Well Woman Subunit of Med Skills Program MDCN 420. Co-Chair 2017-2018
Master Teacher Cumming School of Medicine 2009-2011
Research and teaching
Areas of Interest
General Obstetrics and Gynecology
Medical Education
Physician Wellness
Biography
Dr. Dhea Wallace-Chau is a Royal College certified Obstetrician Gynecologist. She grew up in Regina and completed her Medical Degree at the University of Saskatchewan. She completed her Obstetrics and Gynecology residency at the University of Calgary.

Dr. Wallace-Chau began her career in Comox BC where she thoroughly enjoyed practicing in a rural community. She returned to Calgary in 2008 and dedicated her nonclinical time to the advancement of women's health education at the undergraduate level. She served as a Master Teacher, and as the Co-Chair of both Course VI and the Well Woman unit of Medical Skills for several years. She was instrumental in the development of a novel obstetrics and gynecology simulation curriculum at the clerkship level. She continues to teach at both undergraduate and postgraduate levels. Her current passion is physician wellness. She is working to bring physician wellness initiatives to her department after earning her life coach certification.

Dr. Wallace-Chau spends her free time with her family, friends and miniature schnauzer hiking, mountain biking, playing board games, and cooking.
Awards
Honor Roll Teaching Award for Clerkship. Cumming School of Medicine Class of 2020, University of Calgary (2020)
Associate Dean's Letter of Excellence for teaching in Undergraduate Medical Education, Cumming School of Medicine, University of Calgary (2020)
Honor Roll Teaching Award for Course VI. Cumming School of Medicine Class of 2021, University of Calgary (2020)
Gold Star Teaching Award for Course VI. Cumming School of Medicine Class of 2020, University of Calgary (2019)
Medical Leadership Award. Department of Obstetrics and Gynecology, Cumming School of Medicine, University of Calgary 2018.
Star Educator Pin. Awarded by Rockyview General Hospital's 2017-2018 PGY-1 residents, Postgraduate Medical Education, Cumming School of Medicine (2018)
Good Hands Award. Department of Obstetrics and Gynecology, Cumming School of Medicine, University of Calgary 2018.
Gold Star Teaching Award for Course VI. Cumming School of Medicine Class of 2019, University of Calgary (2018)
Gold Star Teaching Award for Course VI. Cumming School of Medicine Class of 2018, University of Calgary (2017)
Jersey Award. The Cumming School of Medicine Class of 2018, University of Calgary. Awarded for outstanding teaching in Course VI (2017)
Gold Letter of Distinguished Service for the Course VI, Undergraduate Medical Education, Cumming School of Medicine, University of Calgary (2017)
Carl Nimrod Education Award. Awarded from The Association of Academic Professionals in Obstetrics and Gynecology of Canada "in recognition of the excellence, commitment, innovation and leadership demonstrated in teaching, knowledge, attitudes and skills." (2016)
Gold Star Teaching Award for Course VI. Cumming School of Medicine Class of 2017, University of Calgary (2016)
Silver Letter of Distinguished Service for Course VI. Undergraduate Medical Education, Cumming School of Medicine, University of Calgary (2016)
Associate Dean's Letter of Excellence for teaching excellence in Course VI. Undergraduate Medical Education, Cumming School of Medicine, University of Calgary (2016)
Jersey Award. Cumming School of Medicine Class of 2016, University of Calgary. Awarded for outstanding teaching in Course VI (2015)
Gold Star Teaching Award for Course 6. Cumming School of Medicine Class of 2016, University of Calgary (2015)
Silver Letter of Distinguished Service for Course VI. Undergraduate Medical Education, Cumming School of Medicine, University of Calgary (2015)
Associate Dean's Letter of Excellence for teaching excellence in Course VI. Undergraduate Medical Education, Cumming School of Medicine (2015)
Star Educator Pin. Awarded by Rockyview General Hospital's 2013-2014 PGY-1 residents, Postgraduate Medical Education, Cumming School of Medicine (2014)
Honor Roll Award. University of Calgary Medical School Class of 2015. (2014)
Honor Roll Award. University of Calgary Medical School Class of 2014. (2013)
Gold Star Teaching Award for Course 6. University of Calgary Medical Class of 2013. (2012)
Bronze Letter of Distinguished Service for Course VI. Undergraduate Medical Education, Faculty of Medicine, University of Calgary (2011)
Associate Dean's Letter of Excellence for teaching excellence in the Integrative Course. Undergraduate Medical Education, Faculty of Medicine, University of Calgary (2011)
Associate Dean's Letter of Excellence for teaching excellence in Course VI. Undergraduate Medical Education, Faculty of Medicine, University of Calgary (2010)
Bronze Letter of Distinguished Service for Course VI, Undergraduate Medical Education, Faculty of Medicine, University of Calgary (2010)
Silver Letter of Distinguished Service, Medical Skills 1 Course. Undergraduate Medical Education, Faculty of Medicine, University of Calgary (2010)
Bronze Letter of Distinguished Service for the Integrative Course, Undergraduate Medical Education, Faculty of Medicine, University of Calgary (2010)
Associate Dean's Letter of Excellence for teaching excellence in the Integrative Course. Undergraduate Medical Education, University of Calgary, Calgary, AB (2010)