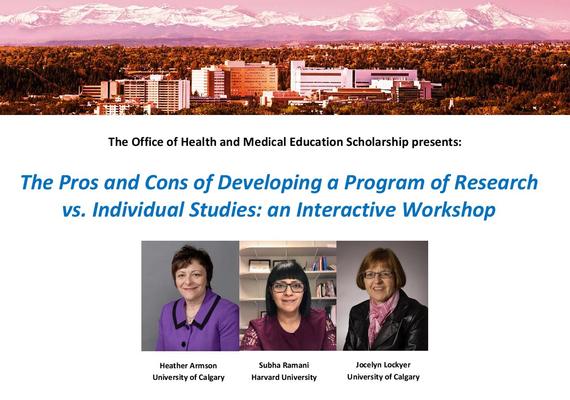 Program of Research Workshop 2019
The Pros and Cons of Developing a Program of Research vs. Individual Studies:  an Interactive Workshop
This workshop explored the advantages and disadvantages of taking a programmatic approach to research vs. doing individual studies, and identified the key considerations in setting up a program of research.
SHERI Workshop - 2016
The Scholarship in Health Education Research & Innovation (SHERI) workshop was offered in January 2016 and again in October 2016, as a series of three sessions targeted at those who are planning or implementing educational projects.  SHERI continued the work of the SIME workshop from 2015, with participants going through a scholarly development process that included setting goals, preparation, effective methods, obtaining meaningful results, effective presentation, and reflective critique.  There was a total of 26 attendees between the two offerings, and feedback was positive.
SIME Workshop - 2015
On February 6, 2015, a group of local medical education experts facilitated the Scholarship and Innovation in Medical Education (SIME) workshop developed by the Canadian Association for Medical Education.  The workshop was developed to provide guidance to novice researchers in developing and disseminating an educational project.
This full day workshop was attended by 19 faculty and staff from Medicine and Veterinary Medicine, and was led by Dr. Jocelyn Lockyer, Dr. Kent Hecker, Dr. Elizabeth Oddone-Paolucci, and Dr. Nishan Sharma.  The event was formatted to include short presentations from the facilitators followed by small group work and discussion lead by a facilitator.    Participants were able to network with fellow attendees and the facilitators during the small group work and lunch break.
The feedback received was very positive, and this workshop was offered as the SHERI workshop in 2016.