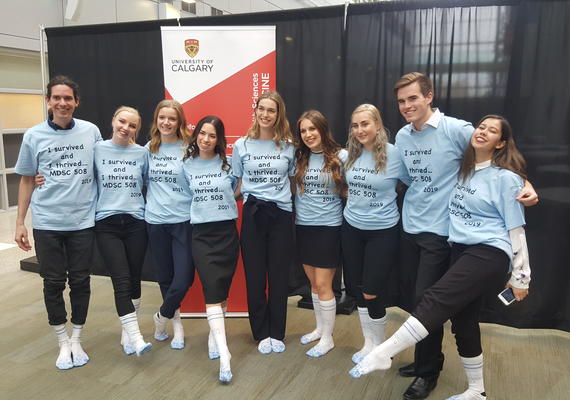 Sock On!
Honours thesis students (including our HSOC students ("H-socks"), research supervisors, co-supervisors and preceptors involved in the MDSC 508 capstone course celebrate at the end of the successful oral defenses of the honours theses.  This celebration recognizes the hard work and investment of our students in their thesis research projects and marks the culmination of their undergraduate program. What an accomplishment!
MDSC 508 Honours Thesis Project Titles 2019-2020
The MDSC 508 course is a research-intensive, full-year course taken in the final year of study. The objective is for the student to demonstrate the capacity to conduct a piece of original work in a specific field. 
Kourosh Banaeianzadeh

Sparkle: Finding Missing Genes in Your Favourite Genome

Josh Brauner

Updating the Mouse Reference Transcriptome Using RNA-seq Data Obtained from Mouse Trophoblast Stem Cells

Erika Fung

Machine Learning Methods for Incomplete Data

Stefan Gavriliuc

Development and Evaluation of Metabarcoding Pipelines for Characterizing Mixed Parasite Infections

Syed Jafri

Transcriptional Analysis of Osteosarcoma Identifies Key Differences in Gene Expression and Biological Processes Between Youth and Adults

Karla Juego

Comparison of BRAKER2 Genome Annotation Protocols for Giardia intestinalis Assemblages A and B Strains

Rumika Mascarenhas

An Evolutionary Perspective on Human Disease Associated Variants

Kalum Ost

Accurate Genomic Simulation in Minecraft Promoting Genomic Knowledge with Interactive Game-Play Systems
Abdulrahman Abushaibah

The Effect of Different Therapeutic Approaches on Brain Network Activities in a Mouse Model of Autism

Zeeshan Ahmed

Identifying Interacting Proteins of TRPV1 using Proximity Labelling via a Biotinylation Assay

Mohammad Alansari

Coronavirus Induced Immune Response in Reproductive Tract Mucosa following Diethylstilbestrol Treatment of Chicks

Samuel Alatorre-Hinojosa

Deciphering the Role of Estrogen Signaling in the Pro-Adipogenic Effects of Bisphenol S

Melia Alcantara

Cytokines as Biomarkers for Antenatal Depression

Murtatha Ali

The Macrophage and Neutrophil Response to Intracerebral Hemorrhage in Zebrafish (Danio rerio)

Ayaa Alkhaleefa

Understanding the Hutterite-LEMD2 Disease using lem-2 Mutants in Caenorhabditis elegans

Mohammad Almutairi

In ovo Delivered LPS-Mediated Immune Cells Recruitment in Lungs and Tracheas of Chickens

Ali Alotaibi

The Role of Glyoxalase 1 in the Development of Neurites in Excitatory Murine Cortical Neurons

Nourah Alshatti

Investigating Mechanisms of PDGFA-Driven Gliomagenesis

Danah Altakrouni

Host Responses in the Reproductive Tract of Laying Hens Following the Canadian Delmarva (DMV/1639) Infectious Bronchitis Corona Virus (IBV) Infection

Mohammed Alzeeby

Physiological and Perceptual Responses Modulate Single – and Double-Leg Cycling Performance During Ramp Incremental Test

Winnica Beltrano

Effects of Preterm Birth and Birthweight on Subcortical Brain Volume and Executive Function in American Youth

Jack Bieber

Inhaled Delivery of THC: Pharmacokinetics, Maternal-Fetal Transmission, and Effects on Offspring Development

Catharine Bowman

The Role of Apigenin as a Modulator of Lymphatic Function During Lymphedema

Vienna Buchholz

Exploring the Activities of Secreted Proteases from Vaginal Porphyromonas Species Associated with Preterm Birth on Type I and Type IV Collagen, Fibrinogen, and Thrombin

Michael James Buie

Role of Microbial Perturbation in Substance P and Short Chain Fatty Acid Induced TRPV1 Sensitization

Michelle Chen

Studying Viral Variability in HIV Transmission Networks

James Cho

Characterizing Vesicular Stomatitis Virus Infection in Mouse Spleens Using Flow Cytometry

Jennifer Chow

Sertraline-Mediated effects on Synaptic Transmission, Plasticity and Synapse Formation in Lymnaea stagnalis

Liam Thomas Connors

REGllly in Proximal and Distal Colon Contributes to Innate Immune Defenses in Bacterial Colitis

Elizabeth Dayo

Characterizing Novel Vaginal Bacteria Within the Genus Fannyhessea

Rav Dhaliwal

Investigating the Effect of Black Tea and its Components on Long-Term Memory Formation in Lymnaea stagnalis

Olesya Dmitrieva

Studying the Role of the Ventromedial Prefrontal Cortex in Cue-Approach Training Using Transcranial Direct Current Stimulation

Claire Donnici

Perinatal Maternal Anxiety and Children's Brain Structure in Limbic Regions

Makaela Douglas

Examining the Role of Macrophages in Active and Chronic Inflammation of Bovine Digital Dermatitis

Dominique Victoria Drouin

Brachyspira hyodysenteriae Induced Swine Dysentery: The Role of Host Defense Peptides and Colonic Mucins

Jameson Dundas

Investigating the Remodeling Effects of Fluoroquinolones on the Extracellular Matrix

Alyssa Anne Fedrico

The Role of Adenosine in a Mouse Model of Sudden Unexpected Death in Epilepsy: Acute Pharmacological Interventions

Monica Ghebrial

Investigating the Relationship Between Obesity and Inflammatory Markers in Breast Cancer from a Menopausal Perspective

Katrine Elise Gillett

Determination of the Signaling Factors Involved in Staphylococcus aureus (SA)-Mediated Platelet Aggregation

Sihan Guo

Observing the Patterning of Cellular Orientations in Relation to Morphogenesis in the Face Using an Embryonic Mouse Model

Nabhya Harjai

Characterizing the Functional Role of NCBP2 in HPV-negative Oral Squamous Cell Carcinoma

Fajer Hasan

Targeting BCL-2-Regulated Apoptotic Pathway to Overcome Drug Resistance in Multiple Myeloma

Sarah Hasan

The Non-invasive Assessment of Microvascular and Endothelial Function in Women with Ischemic Chest Pain and Non-obstructive Coronary Artery Disease

Mary Hou

Effect of Proteinase Activated Receptor Activation on G-Protein Coupled Signaling in Uterine Smooth Muscle Cells

Fahad Iqbal

Cellular and Molecular Correlates of Anestheticinduced Neurotoxicity and Neuroprotection

Kristina Jelinkova

White Matter Connectivity in Developmental Topographical Disorientation

Carina Jones

Interaction Between Endogenous Amyloid Beta Peptide and Anandamide

Alexandra Kellington

Defining the Effect of Dextran Sodium Sulfate (DSS) and Commensal E.coli on Macrophage Function

Stephanie Krieger

Parameters of Configural Learning of Feeding Behaviour in Lymnaea stagnalis

Joshua Wonjun Lee

Regulation of Inflammatory Responses by the Orphan Nuclear Receptor NR4A1 in the Colonic Epithelial Cells

Ruth Legese

Identifying Infectious Causes of Hard-to-Diagnose Febrile Illness in Returning Travelers Using Nanopore-Based Next-Generation Sequencing

Michelle Leong

Interaction Between Folic Acid and Cilia Mutation in the Development of the Face

Brooklynn Malec

Scrapeomics: A Metabolomic Approach to the Identification of Microbes

Shyam Menon

Proteasome Inhibition as a Novel Target for Pediatric Rhabdomyosarcoma

Mia Mercado

Characterizing the Efficacy of Phase Congruency in Detecting Multiple Sclerosis Lesions in the MRI

of Minocycline Clinical Trial Patients Experiencing First Demyelination Episode

Meghan Muller

Investigating Structural Neuroimaging Biomarkers of Comorbid Major Depressive Disorder and Anxiety

Amandah Necker-Brown

Exploring the Roles of Non-Canonical IkB Kinases Within the Context of Inflammatory Signalling Cascades

Emily Niu

Characterizing the Behavior of a Mouse Model of Joubert Syndrome Related Disorders (JSRDs)

Hana Osman

Early-Life Ibuprofen Treatment and its Effect on the Gut Microbiota and Immune Development

Syeda Quadir

Investigation of the Mitochondrial Unfolded Protein Response as a Common Mechanism in Differing Genetic Subtypes of Hereditary Spastic Paraplegia

Hannah Punja Rahim

Investigating Age and Sex Related Differences in Semantic Memory Activity Patterns in the Typically Developing Brain, Using fMRI and Machine Learning

Noah Richardson

Clinical Risk Factors for Clozapine-Induced Myocarditis: a Systematic Literature Review and Case-Control study

Mishari Shakhair

Understanding the Effects of the Ketogenic Diet and PD325901 Drug in a Mouse Model of Autism

Amar Shamsah

Developing Novel Attenuated Strains for Vaccine Applications

Neve Spotswood

Exploring the Roles of onecut3a and onecut3b as Transcriptional Drivers of Vascular Smooth Muscle Cell Differentiation in Danio rerio

Monica Santosh Surti

Investigating the Effect of Myofibroblast-Derived Extracellular Vesicles on Cardiac Endothelial Cell Activity to Understand Endothelial Dysfunction in Heart Failure

Justin Tan

The Effects of Sport-Related Concussions on Motor Learning in Young Athletes

Vicki Tran

Reproductive Costs of Fetal Ossification in Mice Selectively Bred for Increased Tibia Length

Daniel Vera

Investigating Protein-Protein Interactions between the DNA Damage Response Factors CHD4, OGG1 and RNF8

Tyler Samuel Warnock

Exploring the Cellular and Population-Level Implications of Radon in Alberta and Saskatchewan

Lauren Watson

De-escalating Therapy for Head and Neck Cancer Guided by a Novel Biomarker Algorithm

Ania Widomska

Investigating the Effect of hsa-miR-122 overexpression on the Cellular Behaviour of U87 Glioblastoma

Emily Clara Wildman

Investigating the Differentiation and Maturation of Human Pluripotent Stem Cells Using a Liver- Specific Extracellular Matrix Gel

Sam Wilton-Clark

An Exploration of Simplified Gene Expression Systems for Use in Arsenic Biosensors

Rachel Wong

Investigating the Consequences of Accumulated STARD1 on Glucocorticoid Production

Lucy Yang

Examining the Effects of Growth Factors on the Vulnerability of Glioblastoma Organoids to Treatment

Hiulan Yau

A Genetic Variant of Fatty Acid Amide Hydrolase (FAAH) Regulates Glucocorticoid-Endocannabinoid Signaling

Jibe Zantua

Characterizing Borrelia Plasmid Maintenance Proteins

Siavash Zare-Zadeh

The Regulation of TRPV1 by Stimulator of Interferon Genes

Annie Zhan

Tonic Endocannabinoid Signaling Gates the Stress Response, in a Female Mouse Model

Wendy Zhang

Studying HIV-1 Variability in the Gut
Whitney Ereyi-Osas

Screening for Adverse Childhood Experiences in Prenatal Care: A Retrospective Chart Review

Grace Kennedy

Social Return on Investment (SROI) of a Coordinated Care Intervention for Socially Vulnerable Calgarians

Kira Makuk

Rapid Pre-Event Weight Cutting in Mixed Martial Arts: Knowledge, Attitudes, Practices, and Opinions in Elite Athletes

Nicole Mfoafo-M'Carthy

Gender at Work: An Analysis of Narratives of Employee Views About Gender in Relation to Workplace Mental Health Policies and Practices

Alam Randhawa

Rural Children Admitted to Alberta Children's Hospital: Family Perceptions of Tertiary Hospitalization

Ameila Ridout

"It's Either Way Worse Than We Think it is, or It's Way Better Than We Think it is": Canadian Jewish Young Adults' Conflicting Perceptions of Antisemitism

Cristina Santamaria-Plaza

Public Policy and Health: A Critical Public Health Analysis of Alberta's UCP Government Agenda

Hannah Sell

Neighbourhood Characteristics, Lifestyle Factors, and Child Development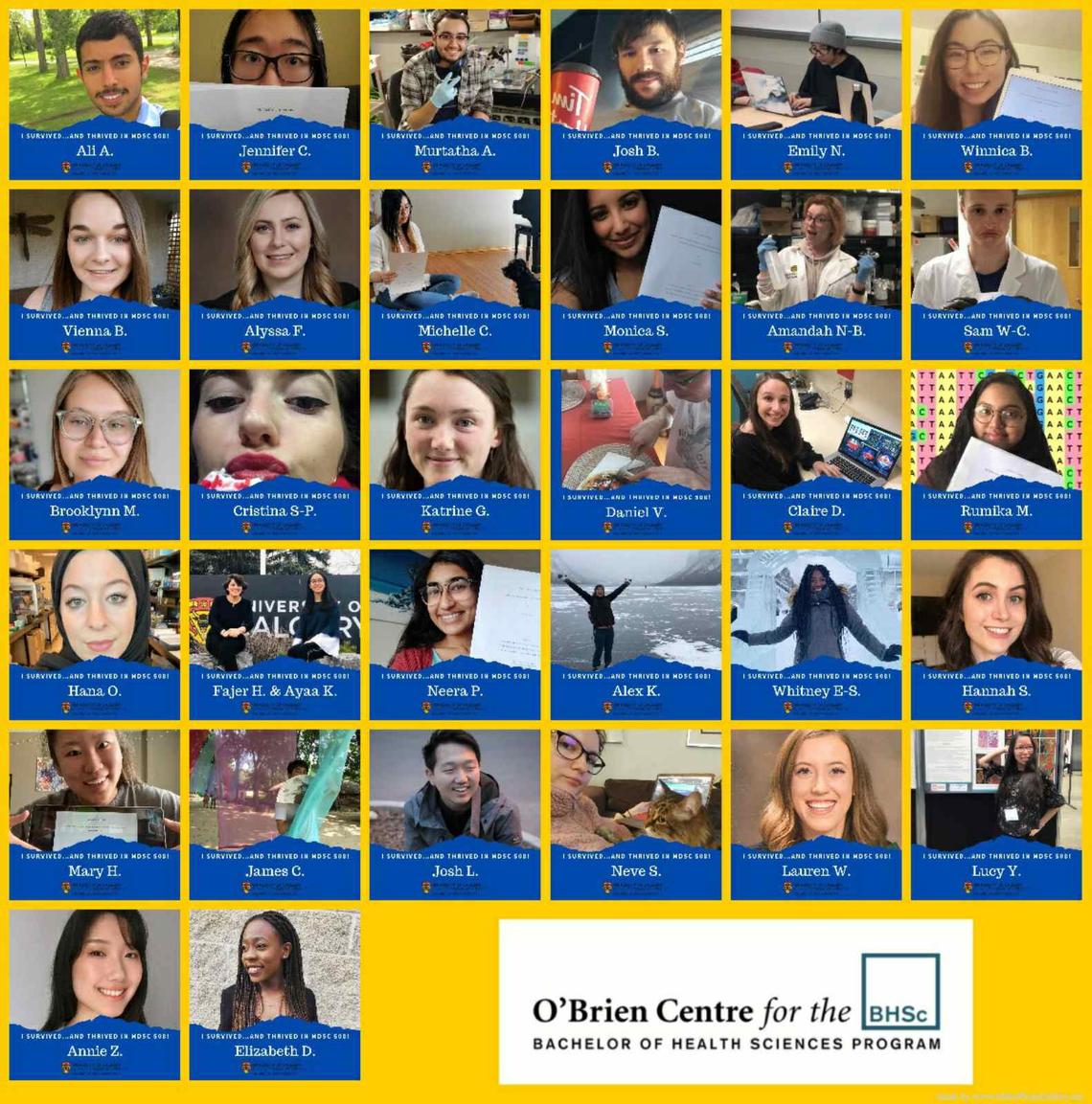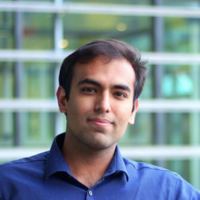 MDSC 508 equips students with lifelong skills that help them transform their ideas into meaningful experiences. The course provides a unique opportunity to synthesize your own research project, present your findings, and defend your thesis in a highly collaborative and interdisciplinary environment that is distinctive to the BHSc.
Fahad Iqbal
Class of 2020