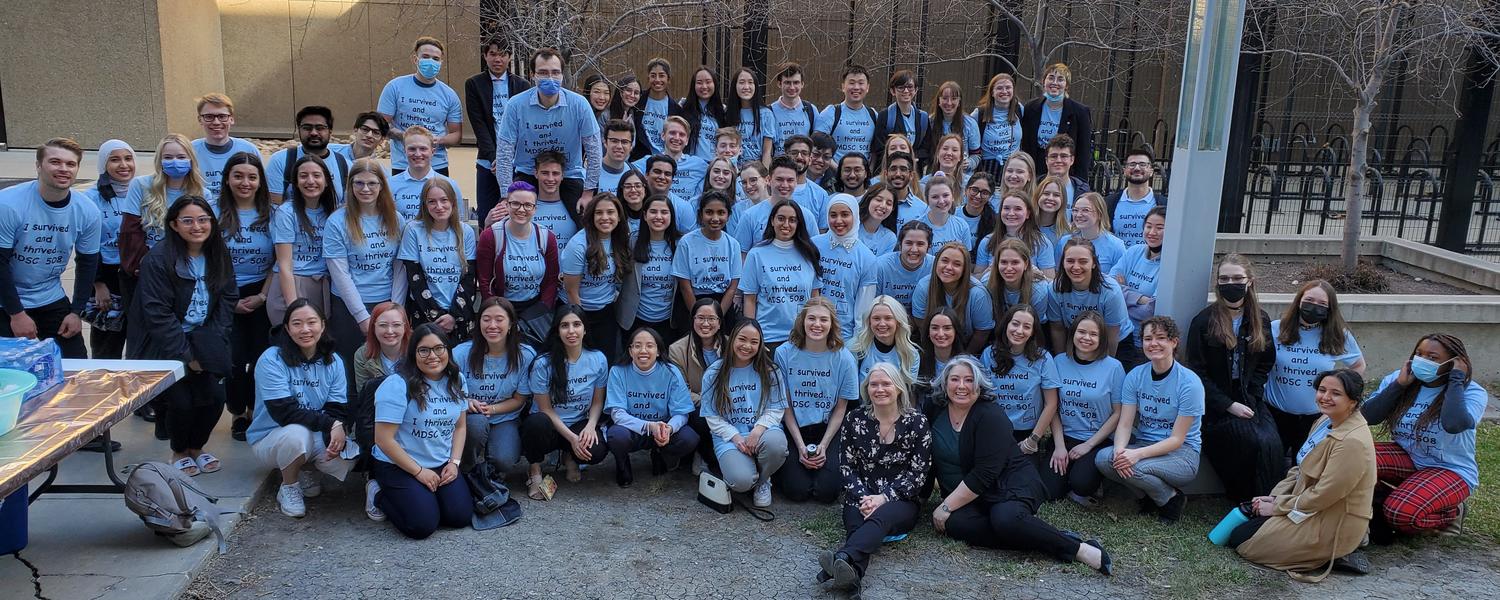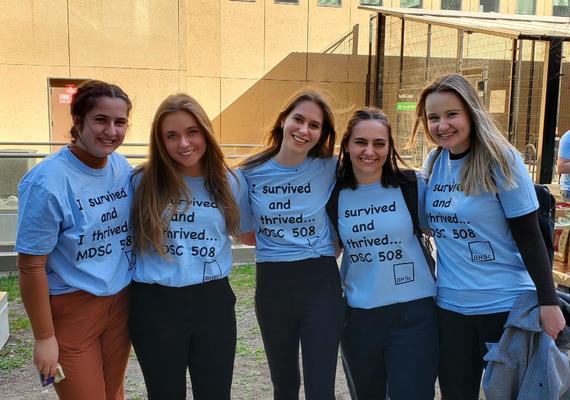 Congrats!
Honours thesis students, research supervisors, co-supervisors and preceptors involved in the MDSC 508 capstone course celebrate at the end of the successful oral defenses of the honours theses.  This celebration recognizes the hard work and investment of our students in their thesis research projects and marks the culmination of their undergraduate program. What an accomplishment!
MDSC 508 Honours Thesis Project Titles 2021-2022
The MDSC 508 course is a research-intensive, full-year course taken in the final year of study. The objective is for the student to demonstrate the capacity to conduct a piece of original work in a specific field. 
Promise Adeboye

Operationalizing and examining 'flourishing' using drected acyclic graphs and longitudinal cohort data from All Our Families: a methodological exploration

Hailey Allen

Role of NF-κB in the regulation of IL-1β-induced genes in pulmonary epithelial cells

Keaton Banik

Exploring Bayesian approaches to phenotype-centric variant prioritization in rare genotypes

Andrew Chen

Machine learning methods for the prediction and exploration of preterm birth

Thomas Coderre

.html-contained, webassembly-driven: ONE's new environment is a browser app platform for polydnavirus genomics

Callaghan Davitt

Investigation into the computational modulation and translation of CPG signals to bypass spinal lesions

Sahiba Haji

Finding evidence for neutral and non-neutral convergent molecular evolution in vertebrate genomes.

Grace Heemeryck

Development and evaluation of more realistic models of viral evolution

John Hutchinson

Predicting risk of colorectal cancer using machine learning analysis of genomic sequencing data

Vivian Huynh

Metabolic flux analysis in glioblastoma using scRNAseq and spatial transcriptome data

Joseph Lam

Analytical comparison between pharmacogenomic data translation tools for use in research and clinical settings

Kathryn Strayer

Linking neural activity to motion generation in recurrent neural networks

Abinaya Subramanian

Support Vector Machine Learning Model Prediction of Gene Signature for Response to Anti-PD-1 Immunotherapy

Alexander Vanc

Inter and Intra species sequence diversity comparison for surface loops of proteins
Baasil Afzal

Murine mesenteric lymphatic endothelial cells – isolation and function as potential lymphoid tissue organizers

Aria Ahadzadeh Ardebili

Fracture toughness following alendronate therapy in ovariohysterectomized rabbits

Monira Alaskar

Evaluating surface-based analysis of pediatric fMRI data

Modhawi Alqanaie

Investigating potential therapeutic effects of a direct and selective ERK pathway inhibitor on Fmr1 knockout mice

Munya Alshaalani

The neuronal activation in the amygdala of Fragile X syndrome in response to social stimuli in vivo

Simran Bains

In vivo delivery and detection of FMRP fragments in a mouse model of Fragile X Syndrome

Elise Beaupre

FCGBP fortifies MUC2 mucin in colonic innate defense against Salmonella typhimurium

Stephanie Besoiu

Construction of alphavirus vectors expressing SARS-CoV-2 structural proteins

Caitlin Calder-Bellamy

Pro-inflammatory effects of acetylcholine in the airway

Chantelle Carbonell

Examining the expression of endocannabinoid metabolic enzymes in human gestational tissues

Katie Cooke

Assessing UCalgary community-academic partnerships for health: a mixed methods

Manimeldura De Silva

Investigating Moraxella catarrhalis as a secretion system for production of potential vaccine antigens

 

Taylor Deering

Modulating factors of the metastatic potential of glioblastoma multiforme

Alisha Ebrahim

A comprehensive analysis of the histological structure and sex-based differences in the novel tubarial glands

Yekta Eslambolchi

Proteomics investigation of Calpain-3 in limb girdle muscular dystrophy type 2A

Leah Fick

Administration of vaporized cannabidiol reduces the severity of postictal hypoxia in male rats

Andrew Galbraith

Computational pipeline for efficient detection of complex genome rearrangments using short-read genome sequencing data

Manvir Gill

Effect of bisphenol S on vascular function

Tali Glazer

Characterization of placental histological abnormalities associated with congenital heart defects

Deena Gohar

The role of electrical activity and trophic factors in the development of hippocampal cholinergic circuits underlying learning and memory

Jing Guo

Detecting network-level biomarkers of cognitive decline using whole brain connectome and graph theoretical analyses

Liam Hamm

Investigating the effects of SKA-31 and senicapoc administration on tissue properties in atherosclerosis prone mice

Eve Higgins

Investigating the role of the WNT signalling pathway in regulating porcine iPS cell self-renewal

Alexis Hill

Investigating the interactions between biomaterials and mesothelial cells

Hannah Horvath

Investigating the presence of novel mutations in the isotype-1 β-tubulin gene associated with benzimidazole resistance in the canine hookworm Ancylostoma caninum

Abdul Ilyas

Impact of lymph flow and neutrophil migration in response to suturing of the efferent lymphatic vessel

Nathalie Irvine

An examination of the associations between second trimester urinary bisphenol concentrations and changes in gestational and postpartum weight and fat mass in women in the APrON cohort study

Arzina Jaffer

Molecular mechanisms driving divergent healing outcomes in aged and young mice following skin injury

Kaiden Jobin

Correlating functional neurological disorder with persistent post concussion syndrome and treatment using transcranial magnetic stimulation.

Faith Keister

Investigating the relationship between inflammatory biomarkers during pregnancy and short-term outcomes in moderate to late preterm infants 

Akashroop Khaira

Examining the reliability of quantitative sensory testing

Arshroop Khaira

The characterization of DNA methylation changes associated with aortopathy in humans

Shahoon Khan

Investigating the role of mitochondrial fat body metabolism in regulating animal growth and development.

Megan Kinzel

Investigating the role of mitochondrial fat body metabolism in regulating animal growth and development.

Alexa Krala

Contribution of novel Gardnerella species to vaginal biofilms and recurrent bacterial vaginosis

Julie Le

Sodium citrate sensitizes multidrug-resistant Pseudomonas aeruginosa to triclosan

Sophia Lu

Investigating the role and reglation of miRNA-210-3p in fibroblasts under varying hypoxic conditions

Mehr Malhotra

Development of a novel intravital imaging analysis platform to evaluate vessel co-option and metastatic potential for cancer research

Sofia Maruschak-Love

Investigation of variants in the Progesterone Receptor Gene (PGR) in preterm birth

Jackson McLean

Dynamically examining the angiogenic, metastatic, and tumour growth potential of high-risk human neuroblastoma in the chicken chorioallantoic membrane model

Samantha Miller

Impact of trauma on resting brain networks and the development of pain symptomology

Armaan Mohan

Investigating NMIIC in the context of mitochondrial fission

Giulianna Mosca

Serial thrombelastography and platelet mapping can be used to define hypercoagulability and platelet hyperactivity in pregnancy.

Sathvika Mudigonda

Elucidating the role of Prx1 in promoting the expression of Prg4  in mesodermal-derived progenitor cells

Kyle Murdy

Investigating the presence of transferrin and lactoferrin receptors in the upper respiratory tract of mice

Eman Nassef

Selection of DNA aptamers targeting lymphotoxin-α

Theodore Nelson

Examining inflammatory alveolar macrophageExamining inflammatory alveolar macrophage phenotypes and barrier function in 2D and 3D co-culture systems phenotypes and barrier function in 

Aisling Ogilvie

The use of oscillation patterns in determining the effectiveness of various chemotherapy treatments

Matthew O'Neill

Further characterization of neonatal liver sinusoidal endothelial cells in mice

Kaitlyn Paltzat

Investigating the Neurological Mechanisms Underlying Cannabis-Driven Feeding Behaviours in a Delta-9-tetrahydracannabinol (THC)-Vaporized Rat Model

Benjamin Perks

Comparing monocyte fate and activation mediated by chronic Leishmania amazonensis and self-healing Leishmania major infection.

Thea Placsko

Establishment of an operant oral morphine self-administration model and assessment of the effects of orexin receptor signalling on reinstatement

Sergio Plazas

In-silico epitope prediction on the glycoprotein E2 of border disease virus. 

Michael Potemkin

Natural killer cell cytotoxic activity in patients with SARS-CoV-2

Lauren Rusk

Assessing the effect of synaptic zinc and ketamine on a depressive-like phenotype in a mouse model

Fatima Saleem

Neutrophil clearance following Staphylococcus aureus skin infection

Lindsey Scott

Development of an in vivo killing assay to measure T-cell mediated vaccine responses

Alison Sears

The transcription factor TCF7L2E isoform acts in a specific domain-dependent manner to regulate epithelial-mesenchymal transition: implication in breast cancer

Ashar Siddiqui

Characterizing the biology of the molecular subtypes of lung squamous cell carcinoma

Shaelene Standing

Determining the role of Semaphorin 3fa in the ciliary marginal progenitor zone of the eye

Isabelle Tahmazian

Determining the role of Semaphorin 3fa in the ciliary marginal progenitor zone of the eye

Jacquelyn Tran

Role of cathelicidin on macrophage phagocytosis during Toxoplasma gondii infection

Kristen Tran

Proteolysis-derived peptides participate in intestinal epithelial repair.

 

Thuy-Ann Tran

The role of prolactin receptor in beta cell adaptation to pregnancy

Jessica Wager

ROS activation of the SAPK pathway in BPS-induced adipogenesis

Sara Zulyniak

White matter connectivity in youth with treatment resistant depression
Adibba Adel

Longing to belong: a cross-sectional survey of medical student sense of belonging across Canada

Isabella Alatorre

Regional Variation of Caesarean Sections in the Dominican Republic

Justin Travis Ancheta

Supporting older adults with hearing and/or vision impairments at peter coyle place

Sarina Aryal

Child bicyclist perceptions' of injury risk and safety: the role of the built environment 

Jasleen Brar

Vulnerabilities and capacities of temporary foreign workers (TFW) employed in essential health care during the COVID-19 pandemic

Lauren Conn

Symbolic interactionist understandings of the internet: a qualitative study of Canadian undergraduate students aged 18-24. 

Jennifer Fry

Enhancing access to addiction and mental health services using Centralized Intake in rural Alberta during COVID-19

Slane Hahn

Queer Eye on Medicine: An investigation of the lived experiences of transgender medical students in Canada

Jennis Jiang

effectiveness and implementation considerations for audit & feedback in rehabilitation: an environmental scan 

 

Kate McLennan

Victims, villains, and cheats: A thematic analysis of disability in news media during the COVID-19 pandemic in Alberta.

Donovan Seidel

Referrals to a mental health service for persons with intellectural disabilities: Caregiver concerns and behavioural ratings

 

Muning Zhang

Exploring the commonalities and impacts of James Lind Alliance Priority Setting Partnerships in child and youth health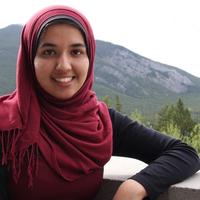 MDSC 508 has been instrumental to my BHSc experience. It's the amalgamation of all the techniques we learned throughout the degree, including project design, execution, and dissemination. The course equips students with both the practical and soft skills needed to succeed in all realms of research. Basically, it's been 'pHun'!
Fatima Iqbal
Class of 2021