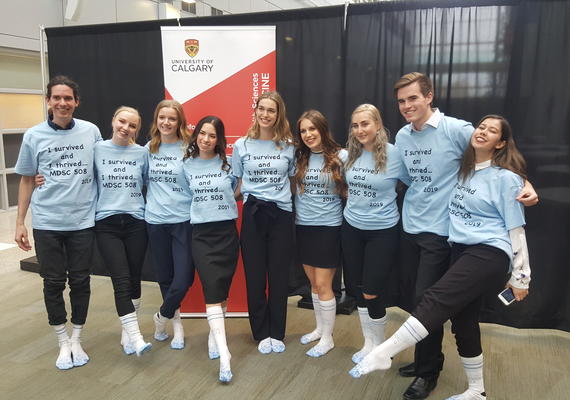 Sock On!
Honours thesis students (including our HSOC students ("H-socks"), research supervisors, co-supervisors and preceptors involved in the MDSC 508 capstone course celebrate at the end of the successful oral defenses of the honours theses.  This celebration recognizes the hard work and investment of our students in their thesis research projects and marks the culmination of their undergraduate program. What an accomplishment!
MDSC 508 Honours Thesis Project Titles 2020-2021
The MDSC 508 course is a research-intensive, full-year course taken in the final year of study. The objective is for the student to demonstrate the capacity to conduct a piece of original work in a specific field. 
Erin Brintnell

The effects of non-weak mutation on the accuracy of phylogenetic reconstruction of viral phylogenies

Joweria Ekram

Integrating differential expression analysis and co-expression analysis to identify hub genes in lung adenocarcinoma

Ryan Lee

MediTriage Al – Healthcare Triage and Medical History Artificial Intelligence

Fady Mina

Tackling an Ancient Killer Using Cutting Edge Technology:  An Application of Machine Learning for Detection and Segmentation of Acute Type A Aortic Dissection

Neera Patadia

Understanding Selective Pressures Throughout Cancer Evolution
Ahmed Aburezq

Investigating putative interaction between pannexin-1 Channel and FKBP4 or FKBP1A

Ali Abushaibah

A comprehensive analysis of motor deficits seen in 6-OHDA mouse model of Parkinson's disease with the optogenetic stimulation of A13 site

Devin Aggarwal

Using super-resolution microscopy to understand the regulation of weibel palade bodies in an inflammatory environment

Liam Aleksiuk

Investigating cytosolic dNTP pool regulating factors as candidates for mitochondrial DNA depletion syndrome

Bader Alharbi

An Investigation of NF-kB Subunits Expression and Roles in the Context of Inflammatory Stimuli and Glucocorticoids in Type II Pulmonary Epithelial Cells

Ahmed Almousawi

Sleep spindles and cognition in obstructive sleep apnea

Khaled Almutairi

Interaction between immune cells and lymphatic vessels in the mesentery of TNF (deltaARE) mice Resembling Crohn's Disease in Human

Ali Alwazzan

Pathogenicity of Canadian IBV 4/91:  Tissue Distribution, Nephropathogenicity and Host Immune Response

Alida Anderson

The association of pre-pregnancy BMI, gestational weight gain, and cognitive outcomes of offspring at 3-4 years of age

Lena Anderson

vFLIP and KapB latent gene cooperativity and processing bodies in a model of viral tumorigenesis

Emily Au

Temperature and oxygen control of dgcO- and pdeO- dependent Escherichia coli biofilm formation

Chidinma Ayadiuno

The Evolution of Cognitive Decline in Parkinson's Disease:  A longitudinal Study

 

Julia Batycky

Evaluating autonomic dysfunction and hs-CRP in adults with persistent post-concussive symptoms

India Bayly

Mechanisms of CXCL1 Induction and Regulation in Human Rhinovirus-Infected Airway Cells

Graham Bennett

Comparison of antigen production techniques for protein-based veterinary vaccines:  Implications for vaccine costs and commercial viability

Ashley Cho

The role of vesicular zinc in neurogenesis in the developing hippocampus

Natasha Cholowsky

Exploring the health implications of varying radon dose exposure using biomedical and population health approaches

Irene Daniel

Atrial NADPH oxidase gene expression in type 1 and type 2 diabetes mellitus

Mahmoud Dashti

Investigating Transcriptome Expression Levels in the Uterus of Pregnant RGS2 Knockout Micew

Andreas Dauter

Modelling cell proliferation to understand shape change in the developing murine maxilla

Nicole Day

Cluster of differentiation 44 (CD44) isoforms in breast cancer:  expression analysis and correlation with patient survival and epithelial-mesenchymal transition markers

Tana Dhruva

Reproducing a clinical model for Cryptosporidium parvum infection in neonatal calves

Emily Downey

Investigating the physiological mechanisms underlying feeding behaviour in delta-9-tetrahydrocannabinol (THC)-vaporized rats

Jameson Dundas

Investigating the Remodeling Effects of Fluoroquinolones on the Extracellular Matrix

Abdlrhman El Aoami

Transcriptional and epigenetic hallmarks of antigen-specific T-cell re-programmed in vivo with pMHC-based nanomedicines

Spencer Epp

Subchondral bone microarchitecture in a rat model of inflammatory osteoarthritis

Keeley Haight

Use of Deep Amplicon Nemabiome Sequencing to Confirm Benzimidazole Resistance Mutations in the Isotype-2 β-tubulin Gene of Gastrointestinal Nematodes

Fatima Iqbal

Developing a fluorometric assay to measure fecal bacterial b-glucuronidase activity to diagnose toxicity caused by the immunosuppressive drug mycophenolate mofetil

Noorjot Kalsi

A comparison of mutant and heterozygote murine skull morphology

Sunand Kannappan

Discovery and Validation of a Novel Transriptomic Signature for the Prognosis of Neuroblastoma

Sakshi Kaur

Tactile psychophysics examining persistent post-concussion symptoms

Pranav Khosla

Deregulated microRNA networks in OSCC (oral squamous cell carcinoma)

Jamie Kong

Development of vaccine antigens derived from lactoferrin binding proteins of moraxella catarrhalis

Jamie Leckie

Host Genetic Susceptibility to Severe Disease from COVID-19

Stephen Lee

Validation of BioID for identifying transient Kaposin B binding partners

Alexandra Lewis

Analysis of HIV transmission networks

Cenxiao Li

Characterizing the regulation of fibulin-2 in astrocytes and multiple sclerosis models

Cameron MacKay

Exploring the intercellular communications underlying endothelial to mesenchymal transition

Kaelyn McDonald

Innate immune cell populations in wild mice

Daria Merrikh

Resting state functional connectivity between the striatum and whole brain in children with and without ADHD

Niloofar Mirzadzare

Visualization of TH positive and ChAT positive cells within the spinal cord of rodent models

Cayden Murray

Advanced Analysis of Tissue Mircostructure using Neural Network-assisted High Angular Resolution Diffusion Imaging

Marcus Pehar

Cellular and behavioural aspect of ketamine anesthesia on the developing rat brain and dexmedetomidine as a complementary neuroprotective strategy

Avril Petri

Utilizing wall shear stress to better understand and evaluate bicuspid aortic valve disease

Madison Powell

The role of the N-terminal signal peptide in the function of the K+-dependent Na+/Ca2+ exchanger subtype two (NCKX2)

Madiha Rana

Sex differences in striatal dopamine release following acute fasting

Tanaeem Rehman

Exploring the association between atrophy in early Alzheimer's Disease regions and Mild Behavioural Impairment in a sample of older adults without dementia

Brenna Reimer

Investigation of the Genetic Diversity of Trichuris trichiura in Relation to Differing Albendazole-Ivermectin Combination Therapy Responses in Pemba Tanzania, Lao

Syed Rizvi

The Evaluation of Thick vs Thin Nerve Fiber Tract Damage in Relapsing-Remitting Multiple Sclerosis Patients using Advanced MRI Techniques

Danah Sandel

Impact of family high risk of psychosis in youth at clinical high risk of developing psychosis

Kenedi Sandquist

Investigating the role of Glyoxalase 1 in neuronal migration during cortical development and its implications in Autism Spectrum Disorder

Payton Sayers

Identifying early drivers of mural cell specifications

Katelyn Shewchuk

Semaphorin regulation of retinal regeneration

Mignon Visser

Examining the effect of latent gene co-expression on autophagy during models of KSHV tumorigenesis

Ty Werbicki

Machine Learning Methods to Provide Accurate Per-Patient Predictions of Suffering a Spontaneous Pre-Term Delivery

Sarah Whiteside

Infusional side effects of anti-thymocyte globulin

Britney Wong

The quantification and characterization of tumour-associated macrophages, microglia, and T-cells in a C57BL/6 glioblastoma mouse model

Natalie Wu

Effects of a six-month aerobic exercise intervention on middle cerebral artery velocity dynamics at the onset of submaximal exercise in older adults

Ava Zardynezhad

Importance of Lymph Flow to High Endothelial Venules for Proper Neutrophil Positioning in Bacterial Infection
Meriam Berka

Is it time to retire Canada's psychiatrists in blue?  A narrative review of mental health policing programs

Jocelyn Brady

Environmental and systems experiences of persons with spinal cord injury and their caregivers when transitioning to community living:  A comparative case study

Lea Caplan

Blame Attribution Analysis of Police Motor Vehicle Collision Reports Involving Child Bicyclists

Hannah Curlock

Exploring the Relationships between Psychosocial Variables and Service Utilization among Stroke Clients

Noah Escandor

Assessing the Effects of Thyroid Cancer Among Adolescents and Young Adults

Nour Hassan

Survivors of Daesh:  Characterization of health conditions among Yazidi refugees resettled to Canada

Grace Kennedy

Social Return on Investment (SROI) of a Coordinated Care Intervention for Socially Vulnerable Calgarians

Ayisha Khalid

Vulnerabilities and capacities of international students during the COVID-19 pandemic

Brian Lau

An appraisal of the impact of COVID-19 on the rate of drug shortages in Canada and the policy implications

 

Aimie Lee

How perspectives on physician wellness influence physician payment model preferences:  a gender-based comparative analysis

Kira Makuk

Rapid Pre-event Weight Cutting in Mixed Martial Arts:  Knowledge, Attitudes, Practices and Opinions in Elite Athletes

 

Aruba Naser

A subsidized healthy food prescription program for adults with type 2 diabetes experiencing food insecurity:  Shop-along style pilot testing

Kate Nuique

Demands and resources of unregulated staff in a harm reduction housing facility:  a qualitative study

Baldeep Rai

The incidence of preterm births during the COVID-19 lockdown period

Harleen Sanghera

Determining the risk factors associated with prenatal cannabis use in Alberta

Cristina Santamaria-Plaza

Public Policy and Health:  A Critical Public Health Analysis of Alberta's UCP Government Agenda

Joyce Singh

Exploring the association between Caesarian delivery and breastfeeding difficulties in a prospective cohort:  The Happy Baby Study

Dylan Viste

Developing an evidence-based virtual falls prevention program for delivery to older patients in Calgary, AB

Matthew Yeung

Between Paradigms:  Comparing experiences and outcomes for adolescents treated a pediatric and adult trauma centres
2020-2021 Virtual Celebration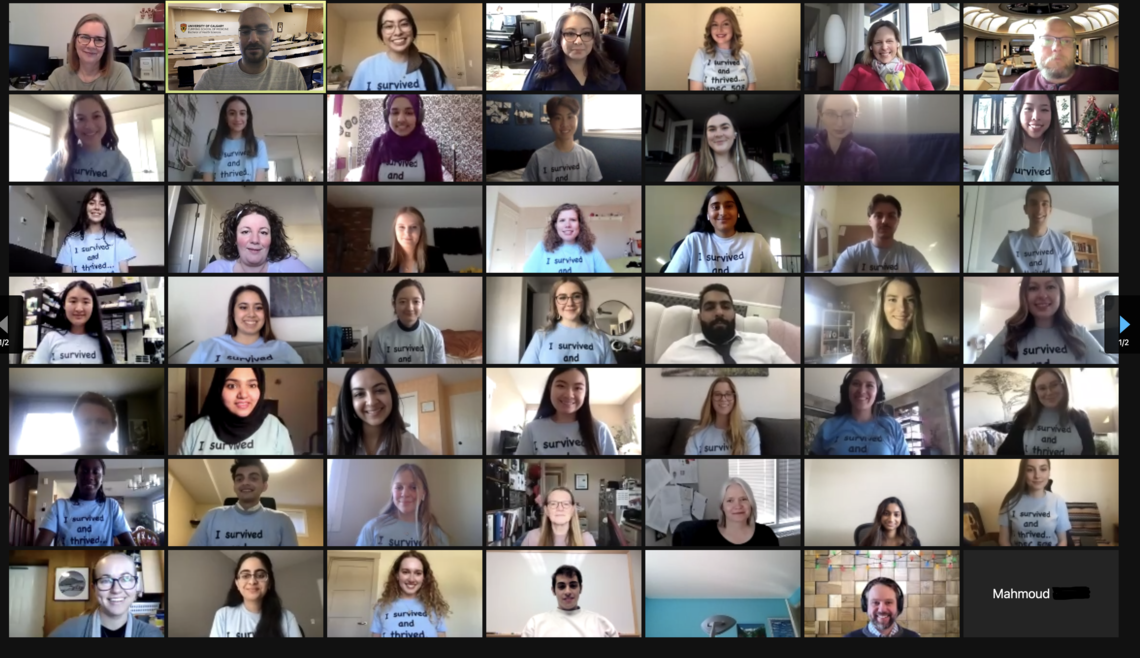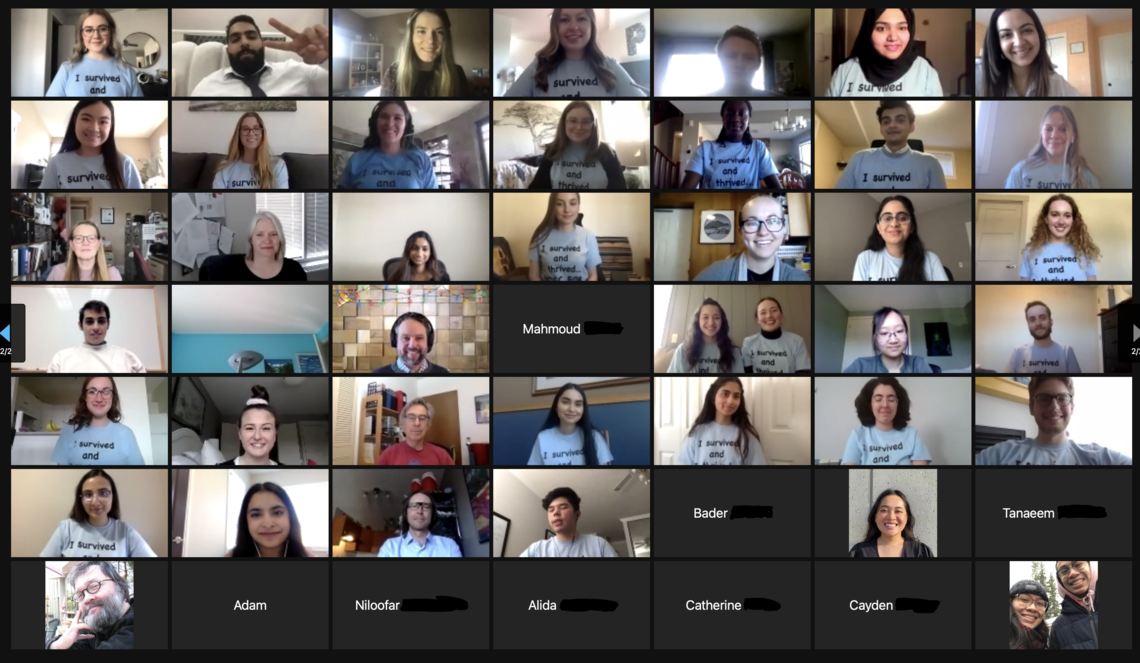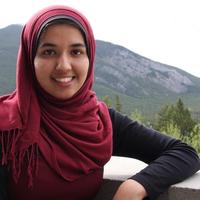 MDSC 508 has been instrumental to my BHSc experience. It's the amalgamation of all the techniques we learned throughout the degree, including project design, execution, and dissemination. The course equips students with both the practical and soft skills needed to succeed in all realms of research. Basically, it's been 'pHun'!
Fatima Iqbal
Class of 2021