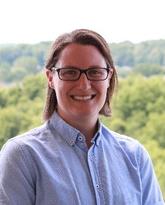 Jacquie Baker
Postdoctoral Fellow
BRAIN CREATE
Biography
About me
I am a three-time graduate from the University of Western Ontario, where I complete my Hon. BSc, MSc and PhD in the Integrative Biosciences Kinesiology program. I moved to Calgary in 2020, where I am currently a Postdoctoral Associate in the Department of Cardiac Sciences in the Cumming School of Medicine.
My research
My research focuses on patients with Autonomic Failure under the combined supervision of Drs. Satish Raj and Richard Wilson. The Autonomic Nervous System regulates physiological processes that occur automatically including control of heart rate and blood pressure. Individuals with Autonomic Failure cannot regulate these processes, and as a result their blood pressure drops significantly when they stand up. During my PhD, I examined brain activity in structures that contribute to autonomic control in Autonomic Failure patients. During my fellowship I will investigate a new tool to measure autonomic activity in the brain, assess a novel technique to improve blood pressure regulation, and compare autonomic reactivity that may put women at increased cardiovascular risk.
BRAIN CREATE program aspirations
My career goal is to establish my own autonomic research facility that fosters collaborations between academics, clinicians and industry to advance autonomic research and excite a generation of researchers who are as passionate about this field of study as I am. Through the BRAIN CREATE program I hope to engage in unique expeditions, and gain experience with industry and commercialization.
Commercialization
This research will accelerate development of functional optical coherence tomography as an advanced neurotechnology for studying autonomic disease and cerebral autoregulation. Moreover, we aim to investigate a novel gas rebreathing technique that will lead to the development and commercialization of a combined rebreathing and gas-controlled device to help with blood pressure regulation and symptom relief for patients with autonomic failure.
Publications
Incognito AV, Baker J, Barioni NO, Tenorio-Lopes L (2021). Relevance of differential control of sympatho-respiratory response magnitudes in clinical assessments. Journal of Physiology

Baker J and Kimpinski K. (2020). Evidence of impaired cerebellar connectivity at rest and during autonomic maneuvers in patients with autonomic failure. The Cerebellum. 19(1):30-39. PMID: 31529276

Baker J and Kimpinski K. (2019). Normal versus abnormal. What normative data tells us about the utility of heart rate in postural tachycardia. Auton Neurosci. (Epub ahead of print) PMID: 31476713

Baker J and Kimpinski K. (2019). Reduced brainstem functional connectivity in patients with peripheral autonomic failure. NeuroImage: Clinical. PMID: 31491816

Baker J, Paturel J, Sletten DM, Low PA and Kimpinski K (2019). The Orthostatic Discriminant and Severity Scale (ODSS) – an assessment of orthostatic intolerance. Clin Auton Res PMID: 30604164

Baker J, Paturel J and Kimpinski K. (2019). Cerebellar impairment during an orthostatic challenge in patients with neurogenic orthostatic hypotension. Clin Neurophysiol. 130(1): 189-195 PMID: 30527385

Baker J, Paturel J, Sletten DM, Low PA and Kimpinski K (2019). Initial validation of symptom scores derived from the orthostatic discriminant and severity scale. Clin Auto Res. 29(1): 105-112. PMID: 29492828
Baker J and Kimpinski K. (2018). An updated normative data-set from the Autonomic Reflex Screen representative of Southwestern Ontario. Can J Physiol Pharmacol. 97(2): 107-111. PMID: 30517028
Baker J, Paturel J and Kimpinski K. (2018). Impaired cortical autonomic responses during sympathetic activation in Neurogenic Orthostatic Hypotension characterized by post-ganglionic autonomic dysfunction. J Appl Physiol. 125(4): 1210-1217. PMID: 30332348
Baker J and Kimpinski K (2018). Role of melatonin in blood pressure regulation: an adjunct anti-hypertensive agent. Clin Exp Pharmacol Physiol. 45(8): 755-766. PMID: 29603319
Baker J and Kimpinski K (2018). A case of Charcot-Marie-Tooth (CMT) Type 2C due to a TRPV4 gene mutation with isolated sudomotor autonomic dysfunction. J Clin Neuromuscul Dis. 19(3):144-146. PMID:29465618

Baker J, Racosta JM, Balint B and Kimpinski K (2018). The utility of time and frequency domain parameters of heart rate variability in the context of autonomic disorders characterized by orthostatic dysfunction. J ClinNeurophys. 35(2): 123-129. PMID:29342011

Baker J, Racosta JM, Kimpinski K (2017). A comparison of heart rate variability parameters to the autonomic reflex screen in postural orthostatic tachycardia syndrome and neurogenic orthostatic hypotension. Journal of clinical neurophysiology. J Clin Neurophys. 35(2): 115-122. PMID: 29210841

Baker J and Kimpinski K. (2017). Management of supine hypertension complicating neurogenic orthostatic hypotension. CNS Drugs. 31(8): 653-663 PMID:28702747

Palamarchuk IS, Baker J and Kimpinski K. (2016). The utility of Valsalva maneuver in the diagnoses of orthostatic disorders. Am J Physiol Regul Integr Comp Physiol. 310(3): R243-52. PMID:26491102

Palamarchuk IS, Baker J and Kimpinski K. (2016). Non-invasive measurement of baroreflex during Valsalva maneuver: Evaluation of alpha and beta-adrenergic components. Clin Neurophysiol. 127(2): 1645-1651. PMID:26610324

Palamarchuk I, Baker J and Kimpinski K. (2016) Non-invasive measurement of adrenergic baroreflex during Valsalva maneuver reveals three distinct patterns in healthy subjects. Clin Neurophysiol. 127(1):858-863. PMID:25953141

Baker J and Kimpinski K (2015). A prospective 1-year study of postural tachycardia and the relationship to non-postural versus orthostatic symptoms. Physiol Behav. 147:227-232. PMID:25936824

Shoemaker JK, Norton KN, Baker J, and Luchyshyn T. (2014). Forebrain organization for autonomic cardiovascular control. Auton Neurosci. 188:5-9. PMID:25458433

Lalande S, Sawicki CP, Baker JR, and Shoemaker JK. (2014). Effect of aging on the hemodynamic and sympathetic response at the onset of isometric handgrip exercise. J Appl Physiol, 116 (2): 222-227. PMID: 24336882
Awards
Fellowships
NSERC BRAIN CREATE Postdoctoral Fellowship
Scholarships
Libin Cardiovascular Institute Postdoctoral Scholarship – Women's Cardiovascular Health Initiative
Ontario Graduate Scholarship/Queen Elizabeth II scholarship in Science and Technology
Ontario Graduate Scholarship/Queen Elizabeth II scholarship in Science and Technology
Western Graduate Research Scholarship
Awards
2018 American Autonomic Society - Trainee Award
2017 American Autonomic Society - Trainee Award
Faculty of Health Science Graduate Tri-Council Award