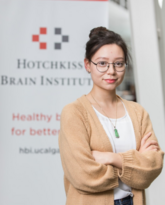 Alison Donald
Graduate student - PhD
BRAIN CREATE
Biography
About me
I was born and raised in Calgary and completed an honours BSc at the University of Toronto, St. George. I majored in Neuroscience and Cell & Molecular biology.
My research
Currently, I work in Dr. Marc Poulin's lab (https://cumming.ucalgary.ca/labs/human-cerebrovascular-phys). I am investigating the relationship between aging, exercise, and cerebrovascular reactivity. I have also worked in Dr. Ian Lewis' biochemistry lab as a summer student where I researched red blood cell metabolism and malaria parasite culture.
BRAIN CREATE program aspirations
I am looking forward to a research expedition to Chile to study high altitude physiology! This research experience will allow me to collaborate with different scientists, and broaden my exposure outside of my main research area of aging. I also hope to learn how to apply technologies in a field study.
Commercialization
Understanding the relationship between cerebrovascular reactivity and fitness in aging can help elevate specificity in exercise to a prescribed clinical prevention regime for dementia. This research contributes to the foundation of objective measures that assistive technology relies on to prevent or delay the onset of morbidity with age.
Awards
Alberta Innovates Data-Enabled award
NSERC BRAIN CREATE Graduate Scholarship