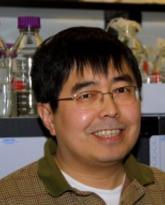 Yan Shi
Professor
Microbiology, Immunology & Infectious Diseases
Professor
Department of Biochemistry & Molecular Biology
Member
Snyder Institute for Chronic Diseases
Diabetes and Endocrine research Group
Cell Signalling and Structure
M.D., Ph.D (Doctor of Philosophy)
Research and teaching
Research Activities
Topics: Dendritic Cell Biology, Cell Membrane Based Immune Sensing, Microbiota and Immune Regulation
1. Dendritic cells (DCs) are primary initiators of immune responses. They sense a variety of biochemical and environmental factors and turn them into immune stimulatory signals. Previously, we have found that DC cell surface membrane lipids can sense physical disturbances associated with solid structures and reorganize themselves as a consequence. This alteration transduces an activation signal, leading to the production of inflammatory cytokines and enhanced adjuvanticity. We are currently studying the molecular nature of this chain of events. This study has relevance in inflammation control and vaccine development.
2. Immune responses can be measured in biophysical terms, in addition to the conventional biochemical analyses. We have found the forces exerted on the DCs can be directly turned into activation signal, as predominantly demonstrated in phagocytosis. We are exploring additional implications of membrane biophysics associated immune regulation. For instance, how small bacterial metabolites inhibit immune activation via membrane lipid domain disruption, and how regulatory T cells sense ligation force exerted by DCs and thus tune down their immune stimulatory capacities. This research opens up a new analytical angle in immunological studies.
3. Gut microbiota impacts the overall immune system development and intensity of immune activation. We have previously found that gut microbiota, particularly fungi, shapes the peripheral secondary lymphoid organ development. This regulation is propagated by a special group of DCs from the gut. We are investigating biochemical signatures presented by these DCs and trying to molecularly understand the regulatory details associated with this process.
Research Areas:
Cell Signalling and Structure