Dr. Marc Poulin, Principal Investigator
Professor, Department of Physiology & Pharmacology, Department of Clinical Neurosciences, Cumming School of Medicine
Professor, Faculty of Kinesiology
The Brenda Strafford Foundation Chair in Alzheimer Research
Member, Hotchkiss Brain Institute
Associate Member, Libin Cardiovascular Institute of Alberta
Marc Poulin is Professor of Physiology in the Cumming School of Medicine (Departments of Physiology & Pharmacology, and Clinical Neurosciences) and the Faculty of Kinesiology at the University of Calgary. He is a member of the Hotchkiss Brain Institute, the Libin Cardiovascular Institute of Alberta, and the O'Brien Institute of Public Health at the University of Calgary. He also holds the Brenda Strafford Foundation Chair in Alzheimer Research.
Dr. Poulin obtained a Bachelor of Physical and Health Education (Honors) from Laurentian University (1986), an MA and PhD in Exercise Physiology from the University of Western Ontario (1988, 1993) and a DPhil in Respiratory and Cerebrovascular Human Physiology from the University of Oxford in the United Kingdom (1999).
Dr. Poulin's two primary research areas include i) healthy brain aging and dementia (focusing on the role of exercise in vascular health and cognitive function), and ii) the effects of intermittent hypoxia in health, in workers at high altitude, and in the pathogenesis of obstructive sleep apnea.
At the University of Calgary, Dr. Poulin leads a graduate training specialization program in Mountain Medicine and High Altitude Physiology. Since 2010, he has been interacting with Canadian mining companies to better understand the challenges imposed on miners working at high altitude in South America. He currently serves on the scientific advisory board of the International Hypoxia Symposia Conference series, and served as Editor for the journal Experimental Physiology (2013-2017). He holds grants from the Canadian Institutes of Health Research (CIHR), the Natural Sciences and Engineering Research Council of Canada (NSERC), and the Heart and Stroke Foundation of Canada. Dr. Poulin is PI for the NSERC CREATE interdisciplinary program on new neuro-technologies (2019-2025).
Post-Doctoral Associates & Fellows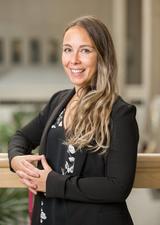 Dr. Veronica Guadagni, PhD
Originally from Italy, I obtained a Master in Neuroscience from the University of L'Aquila. I moved to Canada in 2011 to start a PhD in Brain and Cognitive Sciences in the Department of Psychology, which I completed in 2017. In June 2017, I joined the Laboratory of Human Cerebrovascular Physiology as a Postdoctoral Fellow.
Since then I have been working on the BIM I study findings; specifically, the effects of a six-month aerobic exercise intervention on sleep, brain health, and cognition. I have also worked on the study's main results: the effects of aerobic exercise on cerebrovascular regulation and executive function, memory, and attention. I am currently involved in the data collection and analyses from BIM II. I am supported by an Alzheimer Society Research program (ASRP) Postdoctoral Fellowship and by the O'Brien Institute Centre of Aging.
I am a mother of a smart and active 6-year-old, Mia, and I love to spend my free time in the mountains snowboarding, mountain biking, hiking, and climbing with my family.
Administrative & Research Staff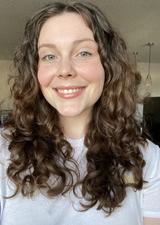 Baylee Adams, BA (Psych) (Research Psychometrist)
I am the Psychometrist for Brain in Motion II and Brain in Motion Follow-up – I do the Cognitive Function Assessments for both studies. I have a B.A. majoring in psychology and my interests are counselling, adult psychology, and neuropsychology.
Outside the lab, I love to spend my time reading, practicing yoga, playing games, and hanging out with my friends and family.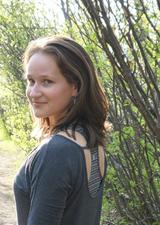 Adrienna Dyck, MKin, CSEP-CEP (Study Coordinator)
I am a clinical exercise physiologist with a Master's degree in Kinesiology, specializing in Applied Exercise Physiology.  My interests in this field are the benefits of exercise on quality of life, particularly for preventing and managing chronic disease. 
In the lab, I coordinate the Brain in Motion I & II Studies. When not on the phone, I am running around the lab coordinating our fantastic team or helping to run tests and exercise sessions.
Outside the lab, I love spending time outdoors (hopefully in the mountains!), hiking and trail running, sketching, and listening to music.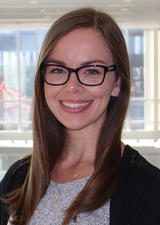 Courtney Ellis, MSc (Kin), CSEP-CEP (Research Specialist / Exercise Physiologist)
I am a Clinical Exercise Physiologist and High Performance Specialist through the Canadian Society of Exercise Physiology. I also received a Master of Science degree studying Kinesiology, specializing in neuroscience, from the University of Waterloo. My research interests in this field include the beneficial effects of physical activity and exercise on brain function, cognitive performance, and physical health, particularly in the older adult population. I am also passionate about community outreach, health promotion events and programming and translating exercise research to real-world settings.   
In the lab I support the ongoing research initiatives of the Principal Investigators in the Clinical and Translational Exercise Physiology (CTEP) Laboratory. Specifically, I support the coordination and administration of research programs and projects related to exercise and metabolic testing, exercise training, cardiovascular testing as well as data processing, interpretation, and documentation. 
In my spare time, I enjoy running outside, exercising at the gym, singing, and watching sitcoms and documentaries.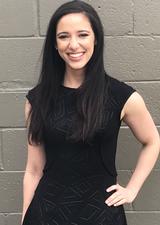 Dalia Ghoneim, MPH, CSEP-CEP (Health Behaviour Support)
I conduct the Health Behaviour phone calls with the Brain in Motion II Study to assist participants in reaching their exercise goals. I am a Clinical Exercise Physiologist with a Master's in Public Health. I have always been passionate about promoting healthy lifestyles and assisting people in making sustainable changes to reach their exercise and health related goals.
In my free time, I enjoy staying active through yoga, exercising at the gym, getting outdoors and hiking in the mountains, and I also love to read.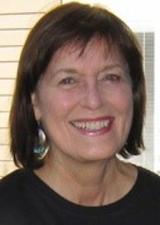 Eryka Haley, RN (Research Associate)
I am a professional nurse involved with the BIM since 2011. I have extensive professional experience as an educator, manager, and clinician in several areas such as emergency, cardiac surgery, gerontology and neurology. I am a graduate of the Royal Victoria Hospital School of Nursing and of McGill University in Montreal, Quebec.
At the lab, I assist with BIM II recruitment, screening, and testing, and in communications with participants and their physician's offices. I greatly enjoy meeting the participants and working with the young researchers in the lab.
In my free time, I can be found, gardening, reading, swimming, and now, playing with my twin grandchildren. 
Rebecca Harvey, BSc (Brain in Motion II Exercise Trainer)
I completed a Bachelor of Science in Biology with a minor in Kinesiology in 2020. Currently I am the Aerobic Trainer for BIM II. This means I get to work directly with the participants weekly and collect data!
In my spare time I enjoy figure skating, watching The Office, and spending time with friends.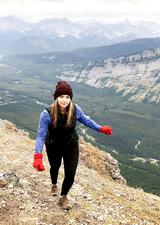 Sydney Ruston, BSc (Kin) (Brain in Motion II Exercise Trainer)
I am a Bachelor's of Science in Kinesiology Graduate from the U of C, and am currently the Exercise Trainer for the BIM II Study's Stretch and Tone Group, though I have worked with the Aerobic Groups in the past.
I also work as a personal trainer. Helping others improve through physical activity is one of my greatest passions; I believe seeing the positive effects on quality of life is the most fulfilling aspect of my field. My keen interest in promoting exercise to prevent aging and disease motivate me to excellence in work and life. Outside work I enjoy being active, which often consists of trying out new sports, mastering handstands, hiking, and playing with my dog.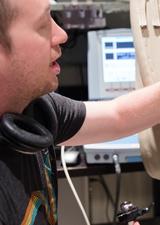 Jordan Swanson, BKin (Research Assistant / Lab Manager)
As a Research Assistant in the lab, I primarily conduct brain blood flow and VO2max tests for BIM, as well as other research work. As Lab Manager, I maintain equipment and supplies and train lab members on testing and data analysis.

My background is exercise physiology, altitude physiology, and biomechanics; I have a Bachelor of Kinesiology from the University of Calgary. I'm also a Clinical Exercise Physiologist and High Performance Specialist through the Canadian Society for Exercise Physiology.
I enjoy going to the mountains, playing sports, and racing triathlons. When I'm not being active, you can find me at blues shows around Calgary.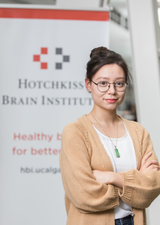 Alison Donald, HBSc
I am currently pursuing a Master's degree. I've completed a HBSc at the University of Toronto, St. George, majoring in Neuroscience and Cell & Molecular biology.
My research interest is the reactivity of the cerebrovasculature with aging, and its relationship to aerobic fitness capacity in the Brain in Motion study.
Outside of the lab I enjoy gardening and listening to music; I especially like Prokofiev.
Andrew Prsa
I am currently a first year Master of Science student in the lab.
I am interested in how intermittent hypoxia as a result of apneas/hypopneas in obstructive sleep apnea contributes to vascular disease. Currently, I am investigating the impact of intermittent nocturnal hypoxia on sleep, cardiovascular and cerebrovascular function.
Outside of the lab I enjoy hiking, rock climbing and snowboarding in the rocky mountains.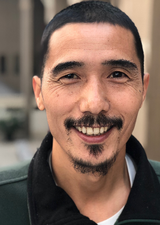 Dr. Matiram Pun, MBBS, MSc
I am from Nepal and am a PhD student in the lab. My interest in Mountain Medicine and High Altitude Illness Pathophysiology brought me to the University of Calgary's graduate program in that field. Being born and raised in the mid-hills of Nepal and trekking extensively in the Nepal Himalayas, I became enthused during my medical school days with high altitude hypoxia and its consequences on the human body.
Currently, my focus is on Sleep-Disordered Breathing, especially Obstructive Sleep Apnea; i.e. intermittent hypoxia in the controlled laboratory environment. Next, I am studying the effects of acute, subacute and chronic exposure to very high altitude; i.e. high altitude sojourners, low-landers working at high altitude for a longer period of time, and high altitude residents. I have received funding/awards from the University of Calgary Dean's International Doctoral Recruitment Scholarship (2019/2020) as well as the Alberta Graduate Excellence Scholarship (2020/2021).
Prebaccalaureate Research Trainees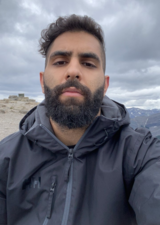 Ahmed Almousawi
I am a fourth year health sciences student, biomedical major at the University of Calgary. My research project is focused on investigating how obstructive sleep apnea could alter the nature of sleep spindles causing a cognitive decline in older adults.
Outside of the research environment, I enjoy working out 6 times per week and taking long bike rides in the fall.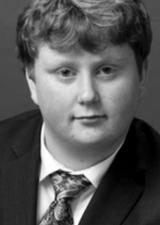 James Gardner
I am a Neuroscience and Math student from the University of British Columbia, having just completed the third year of my undergrad. I am currently completing a co-op work term at the University of Calgary. I am interested in Alzheimer's disease, and what interventions help people change their outcomes.
My work in the lab has involved looking at cerebral blood flow and developing computer programs to streamline data analysis and improve accuracy.
In my free time I like to play the saxophone and cook.
Connor Snow
I am completing my final semester for my Bachelor of Science in Kinesiology Degree with a major in Exercise and Health Physiology at the University of Calgary. My current research project is focused on the assessment of questionnaires used to provide indications of physical activity by establishing test-retest reliability in the context of the Brain in Motion study. I am also exploring cerebrovascular and physiological data collected from the initial exercise intervention compared with data at a five year follow up. My interests in health and physical fitness led me to develop a greater understanding of physiology and the role that physical activity has in the prevention of morbidity and mortality. I also have a personal passion to further investigate Alzheimer's disease and Dementia.
Outside of school and research, I enjoy hiking in the mountains, weight training at the gym, and coaching a sledge hockey team. I also really enjoy the Health Care environment and volunteer at the Rockyview Hospital and work in Admissions in the Emergency Department at the Foothills Hospital. I aspire to continue my studies in the field of Medicine and Health Care.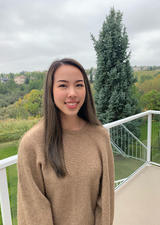 Natalie Wu
I am currently in my fourth year studying Health Sciences at the University of Calgary.  My research project this year will be focused on investigating the effect of exercise training on cerebrovascular responses at the onset of exercise in older males and females.  
Outside of the lab, I love to spend time outdoors either hiking in the Summer or skiing in the Winter. I also enjoy dancing and listening to music!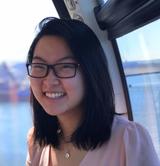 Kayleigh Yang
I am a student in the Bachelor of Health Sciences program at the University of Calgary. My research project is focused on investigating the relationship between sleep architecture and cognition in the BIM II study.
Outside of my work, I am an avid baker, runner, and swimmer! 
Past Lab Members
Dr. Philip N. Ainslie, PhD
Dr. Genevieve Arsenault-Lapierre, PhD
Dr. Alaster Hodges, PhD
Dr. Kojiro Ide, PhD
Dr. Linda Johannson, MD, MSc
Dr. Jon Kolb, PhD
Dr. Vincent Pialoux, PhD
Dr. Jimmy Vantanajal, MD, MSc
Laurie Argourd, MSc
Justine Arnaud, BSc
Jon Ashmead, MSc
Ameen Basha, BHSc
Dr. Andrew Beaudin, PhD
Jamie Beecroft, MSc
Maria Bernard, BSc
Kaitlyn Bettauer
Linda Brigan
Allison Brown, MSc
Dr. Julien Brugniaux, PhD
Hannah Byles, BHSc
Dr. Grazyna Burek, MD
Michaela Chadder, MKin
Dr. Cameron Clark, PhD
Dr. Margie Davenport, PhD
Dr. Chantel Debert, MD, MSc
Dr. Melanie Denheyer, PhD
Dr. Lauren Drogos, PhD
Madison Duffin, BSc
Cailean Duggan, MSc
Catherine Duncan, BHSc
Lindsay Eller, BSc
Carina Fan, BSc 
Daniela Fluck, BSc
Dr. Scott Forbes, PhD
Dr. Glen Foster, PhD
Anna Garber, MSc
Sofia Grant
Keenan Gough, MKin
Samantha Hall, BHSc (Hons)
Ciara Hanly
Bradley Hansen
Ashley Harris, BSc
Dr. Sara Hartmann, PhD
Gabrielle Heine, MKin
Brooke Hogarth, BSc
Prayash Katlariwala
Michael Kimm, BSc
Dr. Daniela Krawczyk, PhD
Dr. Renata L. Krüger, PhD
Alyken Kurji, BSc
Sonja Lake
Oluwaseyi Lawal, MSc
Cindy Lee
Andrew Loe
Marlen Luthi, MSc
David MacKay, BSc
Scott MacKay, BKin
Nancy Martin, BSc
Carly McMorris, BSc
Lana Melashenko, MSc
Katrina Moreland
Andrew Panteluk
Dr. Andrée-Anne Parent, PhD
Tona Pitt, BSc
Colton Quinn, MKin
Laura Richardson, BA
Jason Robertson, BSc
Chantal Rytz, MSc
Kayla Sage
Sarah Sharkey
Dasha Sosna, BKin
Dr. Matthew Spencer, PhD
Natalie St-Denis
Brian Steele, BA (Hon)
Dr. Craig Steinback, PhD
Jenny Strong, BSc
Nicole Struthers, MKin
Emma Tholl
Heather Toews, BA
Dr. Amanda Tyndall, PhD
Janine Willis
Lexi Wirachowsky, BSc
Leanna Wyer, MSc
Claudia Velasquez
Adam Villard
Dr. Xavier Waltz, PhD
Chris Willie, BHSc
Christina Yang, BSc
Haley Young
Current & Past Collaborators