Health and Medical Education Scholarship Symposium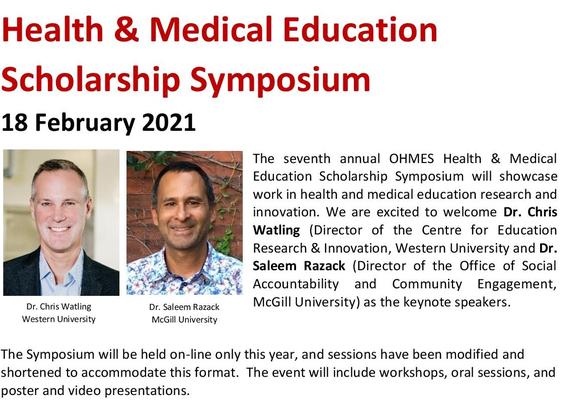 2021 Symposium
OHMES is excited to announce the 2021 Symposium, with keynote speakers Dr. Chris Watling & Dr. Saleem Razack! 
The Call for Abstracts is open until December 7, and registration will open in mid-January.  A full schedule will be available at that time.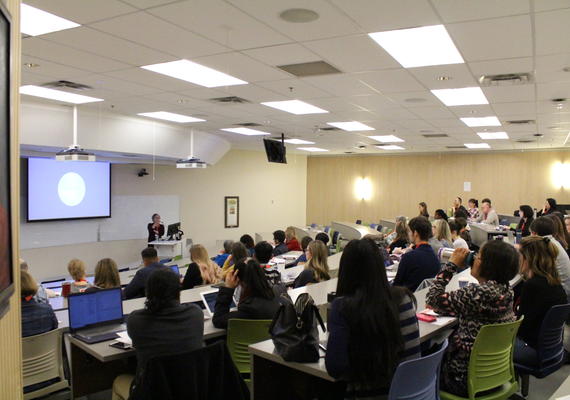 2020 Symposium
The sixth annual Health & Medical Education Scholarship Symposium was held on Thursday, March 5, 2020.  There were 97 people in attendance from the University of Calgary (from the Faculties of Medicine, Nursing and Education, University of Alberta, University of Ottawa, Mount Royal University, and Alberta Health Services. 
We welcomed Dr. Adina Kalet, of the Medical College of Wisconsin and New York University, as the keynote speaker, whose keynote and workshop were well-received by the attendees.  There were 3 workshops, 14 oral presentations, 22 posters and demonstrations presented, and lots of great conversation during and between sessions. 
We would like to thank all the presenters and attendees for making this a successful event, and look forward to announcing a date for the 2021 Symposium.
Images from the 2020 Symposium...
Photos kindly provided by Kristen Story