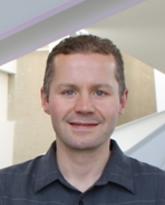 Gareth Williams
Assistant Professor
Department of Biochemistry & Molecular Biology
Member
Arnie Charbonneau Cancer Institute
Robson DNA Science Centre
Cell Signalling and Structure
Molecular Biology and Disease
B.Sc. (Bachelor of Science) Ph.D. (Doctor of Philosophy)
Research and teaching
Research Activities
The Williams lab applies structural biology approaches to determine molecular mechanisms of genomic instability and cancer. A main interest in the lab is to understand the molecular basis for key steps in the homologous recombination repair (HRR) pathway. HRR plays a critical role in maintaining genomic stability by accurately repairing DNA double strand breaks and inter-strand crosslinks, the most toxic forms of DNA damage, as well as damaged replication forks. The importance of HRR for protecting against cancer is highlighted by inherited mutations in HRR genes (including BRCA1, BRCA2, and the RAD51 paralogs) that predispose to breast and ovarian cancers.
Using hybrid structural techniques, with a focus on combining small-angle X-ray scattering with macromolecular X-ray crystallography, we can determine the structural basis for protein-protein and protein-DNA interactions, as well as the effect of ATP binding and hydrolysis on macromolecular conformational changes and assembly states. Using structure-based insights we design mutations to perturb interactions and activities, which are then used in biochemical and functional assays to inform the underlying biology. Furthermore, our structures and approaches provide a molecular framework that can be used to both understand the effect of disease associated mutations, and to guide the design of future cancer therapies.
Funding -
National Institutes of Health, USA
Canadian Institutes of Health Research
Natural Sciences and Engineering Research Council of Canada
John R. Evans Leaders Fund, Canadian Foundation for Innovation
Undergraduate Students:
The Williams lab is looking for motivated undergraduate students interested in doing a laboratory-based research project investigating the structural biology of DNA repair this summer (May to August 2018). Students that are a good fit for the position will have the opportunity to apply for provincial and national summer studentship awards. If you are interested in this opportunity, please send an email to gareth.williams2@ucalgary.ca.
Graduate Students:
The Williams lab is looking for motivated students interested in pursuing M.Sc or Ph.D. graduate degrees studying the structural biology of DNA repair. If this appeals to you, please send a CV and a short summary of why you are interested in doing graduate work in structural biology to gareth.williams2@ucalgary.ca.
Research Areas:
Molecular Biology and Disease
Cell Signalling and Structure
Research Personnel:
Jordan Pepper, Ph.D. Graduate Student
Christopher McCoy, Ph.D. Graduate Student
Mimi Pham, MSc Graduate Student
Justin La, MSc Graduate Student
Wilson Nartey, Ph.D., Postdoctoral Fellow
Sarah Moradifard, Ph.D., Postdoctoral Fellow
Nicholas Ting, Ph.D., Research Associate
LuLu Liu, RDSC Research Technician
Benedicta Odame-Ankrah, Administrative Assistant