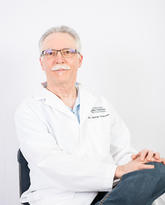 George Chaconas
Professor
Department of Biochemistry & Molecular Biology
Joint appointment
Microbiology, Immunology & Infectious Diseases
Genomics Proteomics and Bioinformatics
Molecular Biology and Disease
Research and teaching
Research Activities
Lyme borreliosis (Lyme disease) is the most common vector transmitted disease in the northern hemisphere. It is caused by the spirochete Borrelia burgdorferi and other Borrelia species. The disease is typically transmitted from infected mice to humans by a bite from an infected tick. If not properly diagnosed and treated, Lyme disease can be severely debilitating and may result in arthritis, neurological symptoms, heart abnormalities and a variety of other problems. Global warming is promoting the expansion of areas where infected ticks and Lyme borreliosis is found.
Borrelia burgdorferi is a fascinating organism with a variety of intriguing features. Our studies focus on several aspects of the biology of Borrelia burgdorferi:
1) Antigenic variation – By constantly changing the sequence of a surface-bound lipoprotein, VlsE, B. burgdorferi can stay one step of the host immune system and outrun the acquired immune response. This escape in immune-surveillance results in persistent infection of the host. The antigenic variation process is driven by gene conversion events at the vlsE locus, molecular details governing antigenic variation remain unknown and are under investigation in the lab.
2) B. burgdorferi dissemination – Lyme spirochetes can enter the host vasculature and ride for free throughout the body, exiting at diverse locations to cause a variety of problems. The process of dissemination is complex and poorly understood. Our intravital microscopic analysis has revealed important new information and is the first high resolution imaging of spirochetes at work in a living mammalian host.
We use a wide variety of methodologies to study the above problems, including genomics, proteomics, molecular biology, genetics, next generation sequencing, nucleic acid biochemistry, protein biochemistry, structural biology and intravital microscopy.
Research Areas:
Molecular Biology and Disease
Genomics Proteomics and Bioinformatics
Research Personnel:
Genevieve Chaconas, Laboratory Manager
Mildred Castellenos, Technician
Xi (Tracy) Tan, Postdoctoral Associate
Daiana Alvarez Olmedo, Postdoctoral Associate
Shiva Abolhosseini, MSc Graduate Student
Aleksandra Shcherbakova, MSc Graduate Student
Donna Allan, Administrative Assistant