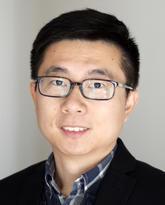 Guang Yang
Assistant Professor
Department of Medical Genetics
Assistant Professor
Department of Biochemistry & Molecular Biology
Member
Alberta Children's Hospital Research Institute
Molecular Biology and Disease
Molecular and Developmental Genetics
Ph.D. (Doctor of Philosophy)
Research and teaching
Research Activities
The human brain is made up of billions of neurons that are organized into complex circuits for higher-order brain functions. These neurons are produced by neural stem cells in a precise temporal and spatial manner during development. Perturbing the genesis of correct numbers and types of neurons will lead to abnormal neural circuit assembly and ultimately brain deficits.
With a focus on neural stem cells and neurogenesis, the research in our laboratory aims to (i) elucidate the molecular and cellular mechanisms critical for building the mammalian brain, and (ii) understand how genetic and environmental perturbations relevant to neurodevelopmental disorders impinge on these processes to influence brain development and function.
To dissect the molecular basis of neurogenesis, we use the mouse cerebral cortex as our model system and take a multidisciplinary strategy that integrates single-gene approach and genome-wide analysis. This allows us to obtain a comprehensive view of gene expression landscape at multiple regulatory layers during brain development. By doing this, we aim to identify translational control networks in neural stem cells that when dysreguated contribute to the pathogenesis of neurodevelopment disorders, such as autism spectrum disorders and schizophrenia.
Our Projects: The current research efforts in our laboratory are divided into three projects.
1) How does gene regulation at the translational level control timely neurogenesis in the developing mammalian brain?
2) How is the generation of different neuron subtypes regulated by the translational machinery?
3) How does the prenatal environment interact with the intrinsically driven genetic programs to shape the embryonic brain, and, ultimately, the structure and function of the mature brain?
Research Area:
Developmental Neurobiology; Translational Regulation; Gene-Environment Interaction; Neurodevelopmental Disorders
Research Personnel:
Michelle Hua, MSc Graduate Student
Farzaheh Nobakht, PhD Graduate Student
Maneesha Subha, PhD Graduate Student
Kaylan Burns, PhD Graduate Student
Mohammad Reza Aghanoori, Postdoctoral Fellow
Laura Williams, Research Assistant/Lab Manager
Taylor Krawec, Research Assistant
Natasha Harley, Administrative Assistant