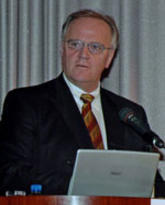 Marvin J. Fritzler
Professor
Department of Medicine
Professor
Department of Biochemistry & Molecular Biology
Director
Mitogen Advanced Diagnostics
Member
Alberta Bone and Joint Health Institute
Member
Snyder Institute of Infection, Immunity and Inflammation
Member
Immunology Research Group
Molecular Biology and Disease
MD, Ph.D (Doctor of Philosophy)
Research and teaching
Research Activities
Cell and molecular biology of GW proteins, GW bodies and their relationship to exosomes, mRNA degradation, microRNA and mRNA silencing.
Cell and molecular biology of autoantigens in proteasomes, endosomes and the Golgi complex
Investigation of antigen-antibody profiles in patients with systemic rheumatic diseases.
Study of the pathogenic role of autoantibodies in systemic rheumatic diseases.
Mechanisms of xenobiotic-induced autoimmunity and the effect of environmental toxins on immunity and autoimmunity.
Mapping epitopes and determinants on autoantigens.
Autoantibodies in paraneoplastic and neurodegenerative syndromes.
Relationship of autoantigens to breast and prostate cancer.
New diagnostic technologies (antigen arrays, microfluidics, nanotechnology) in immunology.
Novel biomarkers (proteomics and metabolomics) in systemic autoimmune diseases.
Identification of an Autoantigen (GW182)
in a Novel Cytoplasmic Compartment (GW Bodies)
We identified a novel cellular structure that contains a unique autoimmune antigen and multiple messenger RNAs. This complex was discovered using an autoimmune serum from a patient with motor and sensory neuropathy and contains a protein of 182 kDa. The gene and cDNA encoding the protein indicated an open reading frame with glycine-tryptophan (GW) repeats and a single RNA recognition motif (RRM). The index patient's serum stained discrete cytoplasmic speckles designated as GW bodies (GWBs) that do no overlap with the Golgi complex, endosomes, lysosomes or peroxisomes. The mRNAs associated with GW182 represent a clustered set of transcripts that are presumed to reside within the GW complexes. In collaboration with Dr. Edward K.L. Chan at the University of Florida, we are continuing studies to explore the hypothesis that the GW ribonucleoprotein complex is involved in the post-transcriptional regulation of gene expression by sequestering a specific subset of gene transcripts involved in cell growth and homeostasis.
In the figure above, HeLa cells are stained with the index human antibody (green) and the nuclei counterstained with DAPI (blue). GWBs are cytoplasmic structures that vary in number and size from cell to cell.
The current evidence on the role of GW182 and GWBs are published:
Jakymiw A, Eystathioy T, Satoh M, Hamel JC, Fritzler MJ, Chan EKL. Disruption of GW bodies impairs mammalian mRNA interference. Nat Cell Biol 2005; 7:1167-1174.
Eystathioy T, Chan EKL, Tenenbaum SA, Keene JD, Griffith KM, Fritzler MJ. A phosphorylated cytoplasmic autoantigen, GW182, associated with a unique population of human mRNAs within novel cytoplasmic speckles. Mol Biol Cell 13: 1338-1351, 2002.
The clinical features of patients with anti-GW182 antibodies have been described and the B cell anti-GW182 response and epitopes defined.
The most common clinical diagnosis of patients with anti-GW182 antibodies was Sjögren's syndrome (SjS) followed by mixed motor/sensory neuropathy, and systemiclupus erythematosus (SLE). Of interest, 9/18 (50%) and 3/18 (17%) of the sera that react with GWBs had autoantibodies to the 52 kDa and 60 kDa SS-A/Ro autoantigen respectively. Epitopes bound by the human autoantibodies were mapped to the GW-rich mid-part of the protein, the non-GW rich region, and the C-terminus of GW182 protein. None of the GW182 epitopes had significant sequence similarities to other known proteins. GW182 represents a new category of ribonucleoprotein autoantigens.
Eystathioy T, Chan EKL, Takeuchi K, Mahler M, Luft LM, Zochodne DW, Fritzler MJ. Clinical and seriological associations of autoantibodies to GW bodies and a novel cytoplasmic autoantigen GW182. J Mol Med 81: 811-811, 2003. Monoclonal antibodies to GW182 have been generated and characterized.
To enable a more detailed study of GW182 and GWBs in cells and tissues, including their role in mRNA processing, we developed four monoclonal antibodies (MAbs) that bind the human recombinant GW182 protein. These MAbs can be used for Western blot analysis and indirect immunofluorescence (IIF) on cultured cells and tissues. Of special interest, one of the MAbs, 2D6, can be used to identify GW182 and GWBs in formalinfixed and paraffin embedded tissues after employing an antigen retrieval method (ARM). All the MAbs described in this study immunoprecipitate the GW182 protein. Epitope mapping using overlapping 15-mer peptides representing the full length GW182 showed that the major antibody binding domains of these MAbs are distinct. These MAbs are valuable tools for cell biologists and pathologists to study the location and function of the novel GW182 protein in tissue culture cells, as well as cryopreserved or archived tissues.
Eystathioy T, Chan EKL, Mahler M, Luft LM, Fritzler ML, Fritzler MJ. A panel of monoclonal antibodies to the novel GW182 protein and GW bodies. Hybridoma & Hybridomics 22: 79-86, 2003.
The GW182 protein co-localizes with mRNA degradation associated proteins hDcp1 and hLSm4 in cytoplasmic GW bodies.
The function of GWBs was not known, however more recent evidence suggested similarities between GWBs and cytoplasmic structures that contain hLSm proteins and hDcp1, the human homologue to a yeast decapping enzyme subunit. We used antibodies to hLSm4 and hDcp to show that both of these markers of an mRNA degradation pathway co-localize to the same structures as GW182. Control immunoblotting and/or immunoprecipitation experiments showed that anti-L-Sm4, anti-GW182 and anti-hDcp1 sera bound to their respective antigens, but did not cross-react with one another. Thus, our studies demonstrate that GW182, hLSm4 an hDcp1 are found in the same cytoplasmic structures and suggest that GW182 is involved in the same mRNA processing pathway as hLSm4 and hDcp1.
Eystathioy T, Jakymiw A, Chan EKL, Séraphin B, Cougot N, Fritzler MJ. The GW182 protein co-localizes with mRNA degradation associated priteins hDcp1 and hLSm4 in cytoplasmic GW bodies. RNA 9: 1171-1173, 2003.
IIF co-localization studies demonstrated that GW bodies co-localize with hLSm4 and hDcp1 in HEp-2 cells., A. Cytoplasmic bodies detected with the index human serum #18033 (Diluted 1/600) and rabbit anti-hLSm4 antibodies (diluted 1/200). C. Staining with the index patient serum #18033 (1/600 dilution) and rabbit anti-hDcp1 antibodies (diluted 1/600). D. IIF using the mAB 4B6 and the rabbit anti-hDcp1 antibodies (diluted 1/600). The secondary antibodies used were the following, Cy3 conjugated anti-human (IgG) and anti-mouse (IgG) antibodies (shown in the first column) and FITC conjugated anti-rabbit IgG antibodies (shown in the second column). The merged images are shown in the third column, which includes the DAPI stained nuclei. The scale bars in the left column are equal to 10 ?m.
Research Areas:
Molecular Biology and Disease