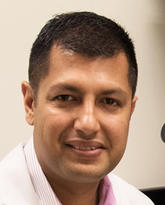 Pinaki Bose
Director, Tumour Biology and Translational Research
Ohlson Research Initiative
Assistant Professor
Department of Oncology
Member
Arnie Charbonneau Cancer Institute
Assistant Professor
Department of Biochemistry & Molecular Biology
Genomics Proteomics and Bioinformatics
Molecular Biology and Disease
Ph.D. (Doctor of Philosophy)
Research and teaching
Research Activities
Dr. Pinaki Bose completed his Ph.D. in basic cancer research with Dr. Karl Riabowol at the University of Calgary, investigating the role of the ING1 tumour suppressor protein in DNA damage signaling and apoptosis. After completing his Ph.D., Pinaki joined the Ohlson Research Initiative (ORI) as a postdoctoral fellow and trained in the molecular epidemiology of head and neck cancers under the supervision of Drs. Joseph Dort and Nigel Brockton. As part of a second postdoctoral fellowship, Pinaki trained at the BC Cancer Agency (BCCA) Genome Sciences Centre in cancer genomics and bioinformatics under one of the leading bioinformaticians in the world, Dr. Steven Jones. Pinaki was also a member of the personalized oncogenomics (POG) program at the BCCA. The POG initiative administers targeted therapies to recurrent/metastatic cancer patients based on their genomic profiles.
Dr. Bose currently directs the translational research program at the ORI, a multidisciplinary head and neck cancer research initiative working in close collaboration with surgeons, pathologists, bioinformaticians, statisticians and basic researchers. The Bose lab is investigating the biology of head and neck cancers with particular emphasis on mechanisms regulating lymph node metastasis (LNM). LNM is a potent predictor of worse prognosis in oral cancers, one of the most common cancers of the head and neck region. Towards this end, we are developing genome-wide screens in oral cancer cell lines and animal models to identify regulators of LNM.
Another focus in the Bose lab is performing integrative analyses of multidimensional genomic datasets from the Cancer Genome Atlas (TCGA) and the Genomics of drug sensitivity project (Sanger Institute). These analyses help identify aberrant signaling pathways that might serve as therapeutic targets in oral cancers and the drugs that may target these pathways. Such in silicoanalyses inform experiments in cell lines and orthotopic xenograft models to test the efficacy of candidate drugs and mechanisms underlying drug sensitivity and resistance.
Finally, the lack of prognostic and predictive markers in oral cancer limits treatment options in this cancer type. We have assembled tissue microarrays (TMAs) from a cohort of oral cancer patients with matched normal oral cavity squamous epithelium, oral cancer and lymph node metastasis samples. Robust and dynamically updated clinical data for this cohort is available in the ORI database. Both fresh frozen and FFPE issue cores are also available for genomic analyses. Using these resources we are developing prognostic biomarkers and signatures that will better stratify oral cancer patients and inform treatment options to improve disease outcomes.
Research Personnel:
Divya Samuel, Research Associate
Arnab Saha Mandal, Postdoctoral Fellow
Parisa Ghahremanifard, MSc Graduate Student
Mehul Kumar, MSc Graduate Student
Susana Escobedo, Administrative Assistant