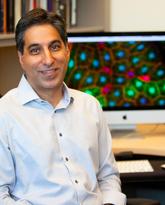 Savraj Grewal
Professor
Department of Biochemistry & Molecular Biology
Member
Arnie Charbonneau Cancer Institute
Member
Genes and Development Research Group
Molecular and Developmental Genetics
Molecular Biology and Disease
Ph.D. (Doctor of Philosophy)
Research and teaching
Research Activities
Our lab studies the control of cell tissue growth using Drosophila as a model system. We use a combination of molecular, genetic and proteomic approaches to investigate the cell-cell signalling pathways and the genetic mechanisms that control how cell, tissue and body growth is controlled.
Our main focus to-date has been the insulin and TOR kinase pathways. In animals, a complex signal transduction network activates the insulin/TOR pathways in response to growth factors and nutrient availability. Many oncogenes and tumor suppressors are components of this network. As a consequence of this elevated TOR activity is a common feature of tumour cells and may contribute to deregulated cell growth in cancer. The TOR pathway has therefore emerged as a promising target for therapy. Although the signalling inputs to TOR are becoming clear, the outputs via which TOR drives cell growth are still not fully understood. TOR controls many metabolic processes, such as protein synthesis, nutrient import, glucose metabolism, autophagy, and gene transcription.
Our research is aimed at defining which downstream targets are critical for TOR function, which should provide insights into both normal and tumour cell growth.
Research Areas:
Molecular and Development Genetics
Molecular Biology and Disease
Research Personnel:
Abhishek Sharma, MSc Graduate Student
Kate Ding, MSc Graduate Student
Michael Turingan, MSc Graduate Student
Prajakta Bodkhe, MSc Graduate Student
Shahoon Khan, MSc Graduate Student
Byoungchun Lee, Research Associate
Shrivani Pirahas, Medical Lab Technician
Samantha Veress, Administrative Assistant