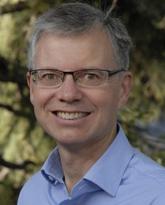 Marc Poulin
Professor
Hotchkiss Brain Institute, Libin Institute
Brenda Strafford Foundation Chair in Alzheimer Research
Research
Research Activities
The cerebral circulation is endowed with complex regulatory mechanisms to ensure a continuous and adequate blood (and oxygen) supply to the brain. Under normal circumstances, one of the most potent regulators of cerebral blood flow is the partial pressure of carbon dioxide (PCO 2 ), and to a lesser extent, the partial pressure of oxygen (PO 2 ), in the arterial blood. The physiological significance of the effects of changes in the arterial PCO 2 (i.e. hypercapnia and hypocapnia) and reductions in arterial PO 2 (i.e. hypoxia) on cerebral blood flow is to increase cerebral perfusion in an attempt to maintain oxygen delivery when the oxygen supply to the brain is compromised or reduced. The regulation of cerebral blood flow by arterial PCO 2 and PO 2 is a fundamental regulatory process that can become significantly impaired with many pathophysiological states and environmental conditions, including for example disease processes such as chronic obstructive pulmonary disease, sleep apnea, stroke, ischemia, atherosclerosis, hypertension, and diabetes, by ageing, and upon exposure to the hypoxia of altitude.
Our goal is to better understand the physiological mechanisms that underlie the regulation of cerebral blood flow by oxygen and carbon dioxide in young healthy humans, and to investigate the age-related alterations in this regulation. Furthermore, physical inactivity is now clearly established as a risk factor for stroke and other age-related disease processes but very little is known about the mechanisms by which exercise exerts its protective effect on the cerebral circulation. Thus, our work also aims to better understand this important relationship between cerebral blood flow, aging, and exercise
If you are interested in obtaining more information, or if you would like to volunteer in our studies, please contact Dr. Marc Poulin directly.
Administrative Assistant
Lisa Johnson
lisa.johnson1@ucalgary.ca
403-220-5986