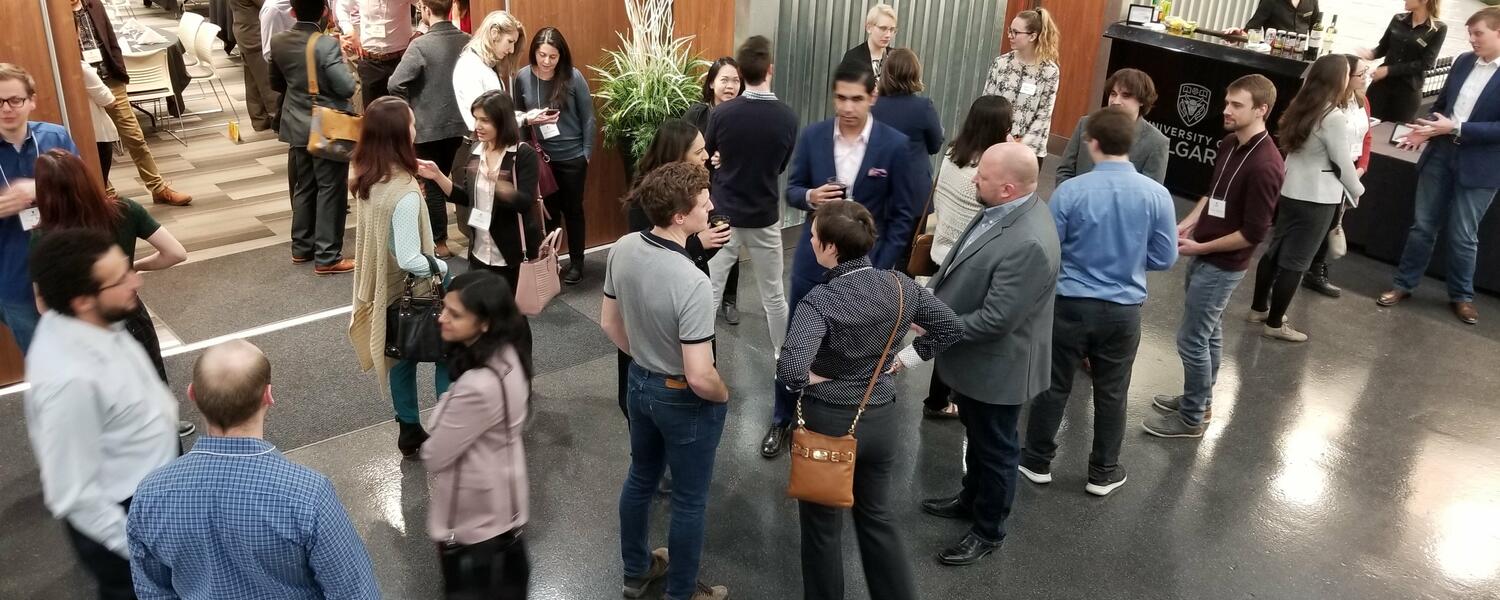 Professional Skills Development
Graduate Student Competencies
The Cumming School of Medicine, Graduate Science Education, Professional Skills Development Program has defined a set of competencies or skills that are critical for a student to be a successful both in their graduate program and in transition into the workplace. 
Communication
Communication skills encompass all aspects of written, oral and visual formats of communication.  Communication overlaps all aspects of learning and development, and requires the communicator to be able to listen effectively so that they can express their ideas to multiple different audiences in a variety of methods.
Self-Management
Being a Master of Self-Management involves being able to take responsibility for your actions, adapting to change, learning new skills, building resiliency, and being able to manage the many aspects of your daily life.
Project Management
Project management skills allow you to understand the different aspects of a project and be able to lead a team towards a goal.  You manage projects every day and these skills can not only be used in daily life, but also in how your progress through your degree.
Critical Thinking & Problem Solving
Critical thinking and problem-solving skills allow you to recognize or identify problems, breaking them into small parts and researching or gathering information to solve the problem effectively.
Innovation
Innovation can be as small as improving or adapting something for another purpose to creating new or original ideas.  Being able to conceptualize, design and predict future needs is all part of the innovative process.
Information & Data Management
Data and information management requires great attention to detail, the ability to maintain records, use productivity software and other techniques to find answers to problems with the vast amounts of data recorded and stored.
Leadership
There are many forms of leadership.  Successful leaders create inspiring and motivational spaces where they are able to persuade others to their point of view, while delegating tasks, directing others, and making decisions or recommendations. Quality leaders promote growth through mentoring or coaching individuals.
Interpersonal & Team Work
We work in environments that require flexibility and understanding of our peers.  The ability to provide feedback, take feedback and build relationships with individuals from different backgrounds is essential to creating strong teams.
My GradSkills
My GradSkills
My GradSkills is your source for academic support and career development. We connect you with workshops and resources to help you navigate grad school, internships, entrepreneurial training, and opportunities for personal growth to help you prepare for life after grad school.
Student Wellness Services
Student Wellness Services
We're your on-campus resource for health and wellness support, with a wide range of service options. Visit us for medical and mental health care, as well as chiropractic and massage appointments with our team of professionals.
Career Services
Career Services
Inspiring students to embrace their potential and strive for career excellence, while connecting employers with top talent, future leaders and innovators.
Student Success Centre
Student Success Centre
The Student Success Centre (SSC) provides inclusive advising and academic support services.  We welcome prospective, open studies, undergraduate and graduate students at all levels of their skill development. We strive to offer student-centred resources, where you can ask questions and learn more about strategies that support your learning.
Taylor Digital Family Library
Taylor Digital Family Library
University of Calgary's Libraries and Cultural Resources (LCR) is here to improve your learning experience by focusing on user-centric resources to ensure you get the most out of your education or research. Utilize our curated pages built specifically for you.
Taylor Institute for Teaching and Learning
Taylor Institute for Teaching and Learning
Building your career begins with your education, and the next step is getting experience and getting connected.
Leadership & Student Engagement
Leadership & Student Engagement
The LSE is committed to helping every student thrive. Through new student orientation, facilitating peer connections in leadership, student life programming and the Life Design Hub, the LSE connects students to one another, and to the wider campus community.
Graduate Students' Association (GSA)
Graduate Students' Association (GSA)
The GSA represents the collective voice of University of Calgary graduate students at the UCalgary and to all levels of government. The GSA supports UCalgary graduate students to succeed academically and socially through valued programs and services and responsive communication channels. 
Hunter Hub for Entrepreneurship & Innovation
Hunter Hub for Entrepreneurship & Innovation
Entrepreneurial thinking is being creative in finding innovative solutions. It involves taking initiative, exchanging knowledge across disciplines, being resourceful, and learning from experience. It is essential to enriching lives and advancing society.
Office of Equity, Diversity and Inclusion
Office of Equity, Diversity and Inclusion
Count yourself in
We are committed to achieving equitable, diverse, inclusive and accessible employment practices and workplaces. We must measure where we are now, how we are doing compared to the diverse make-up of our wider community, and evaluate progress.
Graduate College
Graduate College
The Graduate College is a community comprised of Graduate Scholars and Senior Scholars selected from all Faculties on campus, and strive to connect, enrich and energise the various communities we serve.
Research Services
Research Services
UCalgary does research that changes the world.
Our scholars are making a positive impact in your community.