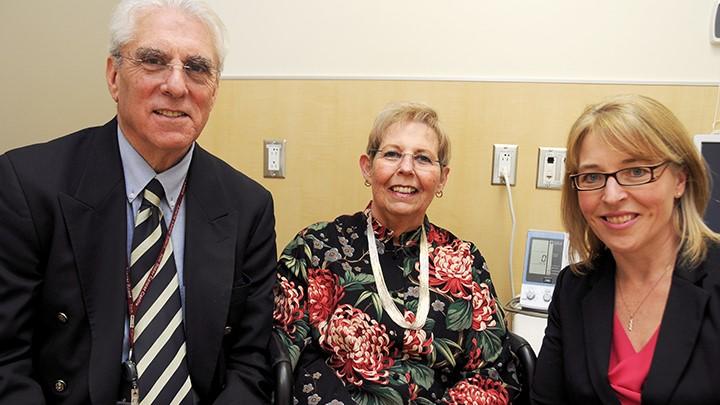 Photo courtesy Calgary Sun
Alberta Health Services Feature on Dr. Barry Bultz
Barry was featured in a 2016 AHS article following his receipt of the Governor's General Award. 
Dr. Barry Bultz honoured with Alberta Order of Excellence, Arthur M. Sutherland Award
Story by Kristin Bernard; Photo courtesy Calgary Sun
CALGARY — Thousands of cancer patients have benefited from his ground-breaking care, and now Dr. Barry Bultz, Director of the Department of Psychosocial Oncology at the Tom Baker Cancer Centre for Alberta Health Services, has been awarded the highest honour in Alberta.
Today, Dr. Bultz joins the Alberta Order of Excellence for being a pioneer in the development of psychosocial oncology in Canada.
Dr. Bultz has dedicated his career reducing the unpleasant emotional experience that often comes with a diagnosis of cancer. He has established a global reputation in the area of psychosocial oncology with his seminal research in Distress as the Sixth Vital Sign.
Distress ranges from vulnerability and sadness, to disabling problems, such as anxiety and depression. It can also include eating difficulties, fatigue, financial worries or family concerns.
The Alberta Order of Excellence — part of the Canadian Honours System — recognizes leaders from a variety of careers who have made outstanding provincial, national, or international contributions. "Achievement is the result of teamwork, and requires the support of a system," says Dr. Bultz.
"In my case, I am very grateful to the Province of Alberta, both Tom Baker Cancer Centre and the University of Calgary for the support they have provided for my work. Through these initiatives, we have strengthened Alberta's position as a leader in cancer care, and made a national as well as a global impact. "
Dr. Bultz joins seven other members, including Linda Hughes, Board Chair of Alberta Health Services, who are also being given the Alberta Order of Excellence at the induction ceremony in Edmonton. In addition to receiving the provinces highest honour, Dr. Bultz is also receiving one of the highest honours in psychosocial oncology in the world: the International Psycho-Oncology Society (IPOS) Arthur M. Sutherland Award. It will be presented Thursday at the Psycho-Oncology World Congress in Dublin, Ireland.
The Arthur M. Sutherland Award is the Society's most important award and reflects the international standing of the recipient. The recipient will have achieved international recognition for his/her work and be considered to have contributed important innovations to the field of psycho-oncology.