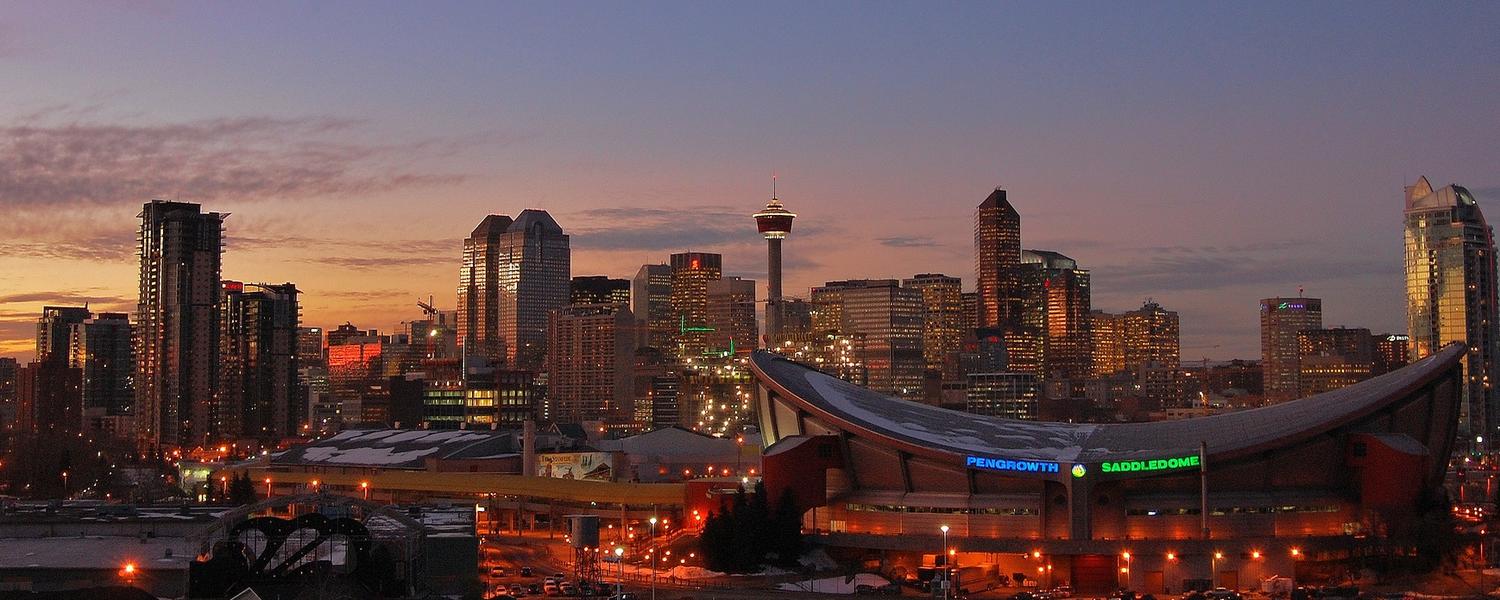 Diabetes Educators Calgary Charting Guidelines
Schedule
For your active schedule, use the main "Schedule" icon at the top left of your Connect Care screen. For a multi-day view of when you're scheduled, and to see which department you're in:
Go to the Epic Toolbar > Scheduling > View Schedules [Note that you can pin this to your toolbar for easy access]
Select yourself as Provider.
Along the top of the window, you can choose

View multiple dates for single provider, or
View multiple providers for single date.

If you work in more than 1 department, at bottom left, you can choose "Combine Departments"
You can create "Saved Lists" of educators (e.g. pump educators) to access with one click. See here for a 2 min video.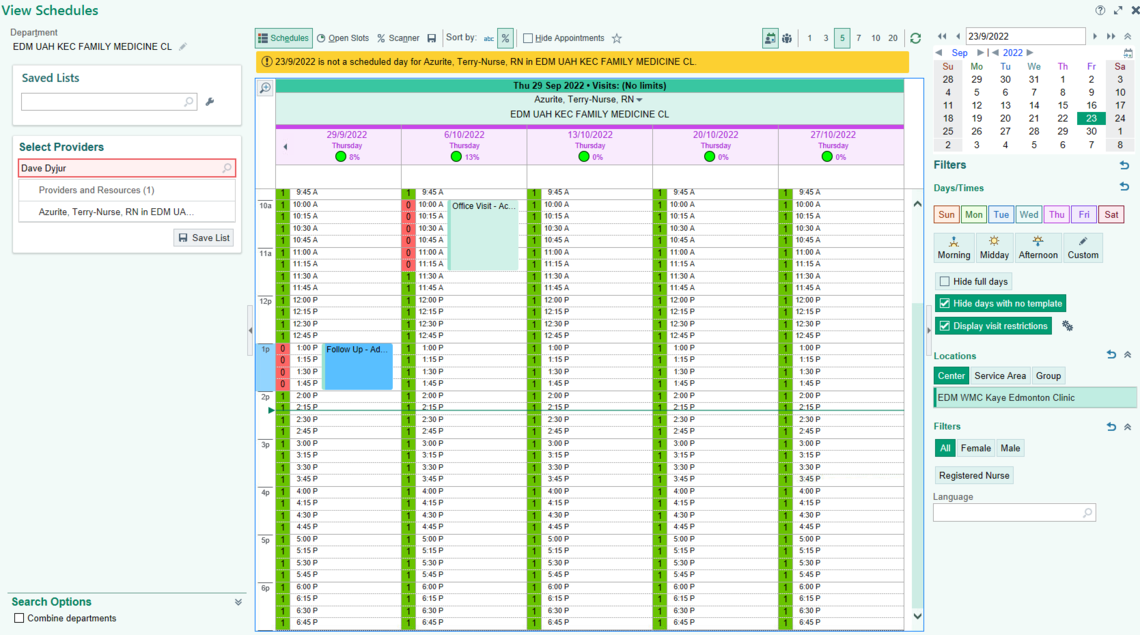 Viewing Select Multiple Providers
To create a saved list of multiple providers' schedules, to access with one click, see here for a 2 min video. (Epic > Scheduling > View Schedules > choose your providers ...click "save list ".
To create a custom list of up to 3 provider schedules:
On your Schedule view, click the down arrow at the right of the schedule name; click "+create"
Under "General" tab enter a descriptive name, e.g. "My Team". You are able to create more than one group.
Under "Configuration" tab, enter up to 3 staff members whose schedule you want easy access to.
Click Accept
Once completed, on your Schedule view, click the down arrow at the right of the schedule name and select the desired group. 
Click accept
Once completed, in your schedule when you click on "PLC Educators" all schedules will come up (well only 3 at a time and you can click through). It should show the schedule whether an educator is in DIP or DCC.
If desired, you can favourite the view so that it is the default when you launch Connect Care [Use the star at the top right hand of your schedule].
Use the Schedule view.
Create a schedule and give it a descriptive name, e.g. "Insulin Start Class"
Under Properties > General, you have the opportunity to add or delete columns, and change the order of columns.
Under Properties > Configuration, select the Provider as appropriate. For example, CGY SMG Endocrinology DIP Insulin Class.
With the schedule open, click Print > Schedule, at the top right.
Choose landscape orientation.
Working in the "View Schedules" as shown in the example image above (view Video if on AHS server):
Choose the correct department, e.g. "CGY SHC Diabetes Educators"
Search for your own name.
Use the calendar to move to the date you want to start looking.
Use the feature "Multiple date for single provider."
Time periods shown in green are available.
There may be 'blocks' on certain times, that restrict that time to specific visit types, e.g. several people each day will have 1300 to 1430 restricted to Urgent visit types only. Educators cannot override those blocks. If you absolutely need to book a follow-up in one of these blocked time periods, check with an Ed Consultant.
Double-click the time that you want the appointment to start.
Search for the correct patient in the dialogue box. PRO TIP: Use the 'Recent Patients' tab to select the patient chart you currently have open.
Select the correct VT, as per table shown below.
The Length will default to the minutes based on the VT. That length can be changed if necessary, and if there's room in your schedule.
To the right of "New delay entry" click 'Remove All Entries' > 'Schedule'.
Click 'Accept' > 'Continue Anyway'
Change or delete a scheduled appointment
Working in the "View Schedules" view shown in the screenshot above:
Right-click on the appointment
Select Appt Desk
Click on the appointment shown in the bottom half of the screen.
Select "Cancel/Reschedule", "Change Appointment" or "Edit Appointment Notes" as appropriate for the situation.
Which Visit Type (VT) to Choose
IMPORTANT: Unless a visit type is VIRTUAL, the system will send reminder calls for patients to attend in person. Virtual VTs include both telephone and Zoom appointments.
See below for a list of Endo Metab visit types (VTs) used, indications for when to use each one, and the default length. Note that not all visit types are available in every department - e.g. MDs will do a 30 minute appointment for a new patient in DIP, but we don't use that VT for new patients with a diabetes educator.
Default Visit Type lengths are shown below. The length can be changed at the time of booking the appointment, if needed.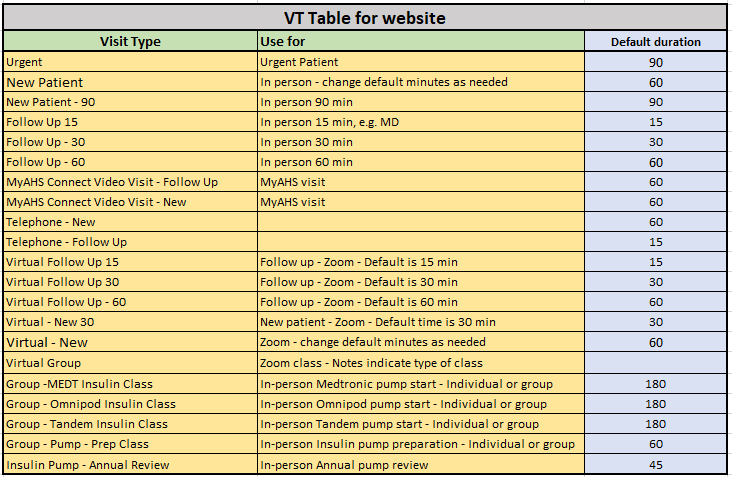 To set exception:
Go to the Epic button > Scheduling > Templates > Add Exceptions.
Search for yourself.
Provide a reason, time range and date.
Click Add  
To delete exception:
Go to the Epic button > Scheduling > Templates > Delete Exceptions.
Search for yourself.
Enter time range and date.
Click Delete.
Scheduling when blocked to help endo in DIP
If your schedule is blocked (e.g. you are helping an endo) and you need to indicate you saw someone in-person, use one of these options. 
Go to Epic > schedules > your name > find the block of time you need, right click, delete the unavailable. You might also need to change the number of allowed appointments from "0" to "1". Schedule the patient into the time slot and proceed as usual.
Use Patient Lookup and open patient chart. Go to Encounters > New. Select an appropriate Visit Type (e.g. Diabetes - Follow Up).
Open patient chart > appt tab > walk in > visit type, reason etc as normal to book into your schedule for that available time. You can insert times that have already past.  [Note, if you are an RD, choose PLC endocrinology DIP as the program to allow appropriate Visit Type options.]
Step 1:
If you have not started an encounter (i.e. the patient is not checked in, and you have not "Started the Visit"), from the schedule, highlight the appointment, and click "No Show" at the top.

The dialogue box allows you to chart Action, Outcome, Comments as relevant (e.g. tried calling patient and there was no answer, left message, etc)

If you started the encounter, but didn't mean to:

Indicate "erroneous encounter" as the Visit Diagnosis and sign the note.

If you have done some pre-charting, for virtual appointments:

Leave any pre-charting you have done as is. Don't check the patient in, start the visit, or sign the encounter.
Do not indicate 'no show' or 're-schedule' on the schedule itself.
Step 2:
Use Patient Lookup to open patient chart.
Create a Documentation encounter. Reason for Documentation = No Show

Document brief Note to send to PCP, or other provider as appropriate, informing them of No Show.

Communication tab used to "Send All Notes" to PCP, or other provider as appropriate.
Appointment is scheduled to the wrong department
If an appointment in your schedule was booked to the wrong department (e.g. a male mistakenly scheduled to DIP), use one of the methods below to switch to the correct department:
Ask clerical to switch the department for you. Process for clerical:

Single-click the appointment on the schedule.
Click on Appts. Select the specific appointment that needs changing.
Click 'Change Appointment' at the bottom.
Change to the correct department.

If clerical is not available, take action yourself:

Wait to start the appt. Don't confirm attendance in the incorrect department.
Once the patient attends, search for the patient using Patient Look Up, open chart, create an encounter e.g. 'Virtual Home/Community - Follow Up'  AND choose the correct department. Chart as usual.
Afterwards, cancel the appointment in the schedule for the incorrect department. [Click Cancel/Reschedule > Reason = Error > Click Cancel Appts]