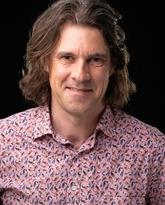 Justin A. MacDonald
Professor
Department of Biochemistry & Molecular Biology
Member
Libin Cardiovascular Institute of Alberta
Snyder Institute for Chronic Diseases
Cell Signalling and Structure
Genomics Proteomics and Bioinformatics
B.Sc. (Bachelor of Science) Ph.D. (Doctor of Philosophy)
Research and teaching
Research Activities
(1) Zipper-interacting Protein Kinase (ZIPK) and the Control of Smooth Muscle Contraction
ZIPK is a Ser/Thr-protein kinase that has been linked to the regulation of a number of processes, including cellular motility, programmed cell death and smooth muscle cell contraction. Interaction of ZIPK with different scaffolding and substrate pools have important functional implications regarding its ability to regulate vascular smooth muscle contractile capacity. Primarily, we are investigating the molecular mechanisms whereby ZIPK contributes to smooth muscle contractility through the regulation of myosin phosphatase phosphorylation. Our studies address the molecular and structural elements of ZIPK and apply this foundational information to examine the contribution of the kinase to vascular smooth muscle contractility in health and disease. Additional objectives are aimed at identifying specific ZIPK inhibitors as well as identifying ZIPK substrates through complementary chemical-genetics strategies.
(2) Smoothelin-like 1 (aka SMTNL1 or CHASM) and Smooth Muscle Contraction.
We recently discovered a novel smooth muscle protein that promotes an exaggerated vascular contractile phenotype. The SMTNL1/CHASM protein is part of an adaptive contractile response of smooth muscle to various perterbations, including exercise, aging and pregnancy. Our research examines the molecular and structural elements governing the association of SMTNL1/CHASM with important muscle proteins (i.e., calmodulin and tropomyosin) as well as the physiological signfiicance of these interactions on vascular smooth muscle biology.
(3) Intestinal Motile Dysfunction Associated with Gastrointestinal Inflammation.
Inflammatory mediators have a profound effect on smooth muscle contraction and hence intestinal motility. We are examining the molecular events underlying phenotypic changes in contractile responses of the intestine to pathological inflammation. The underlying mechanisms for the regulation pathophysiology of smooth muscle function in Crohn's disease and ulcerative colitis is being examined. Research is determining how signaling mechanisms that control smooth muscle contractility are compromised in these inflammatory bowel diseases.
(4) The Pathogenesis of Clostridium difficile-associated Colitis
Clostridium difficile (Cdf) is the leading cause of hospital-acquired infectious diarrhea, and recent epidemics in Canada have placed a heavy econoic and social burden on health care provision. We are investigating innate mechanisms that contribute to disease progression. For example, hypoxia-inducible factor (HIF-1) plays a vital innate protective role in Cdf-associated colitis. Furthermore, our investigations are also examining the molecular mechanisms that underlie GI contractile changes with Cdf infection. An understanding of signaling pathways affected by Cdf to induce contractile dysfunction (i.e., toxic megacolon) may lead to targeted therapy and improved clinical outcomes
Research Areas:
Genomics Proteomics and Bioinformatics
Cell Signalling and Structure
Research Personnel:
Mona Chappellaz, Research Technician & Lab Manager
Christina Sandall, Ph.D. Graduate Student, NSERC PGS-B Scholarship
Tina Huey-Miin Chen, Ph.D. Graduate Student, CSM Graduate Scholarship
Megha Murali, Ph.D. Graduate Student, CSM AIMS Scholarship
Lucia Wang, Administrative Assistant