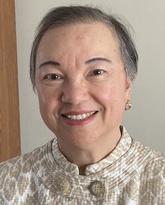 Dr. Mayi Arcellana-Panlilio, PhD
Senior Instructor
Department of Biochemistry & Molecular Biology
Lead Faculty Advisor
University of Calgary iGEM Team
Co-Lead
Teaching Academy/Taylor Institute of Teaching & Learning
Member
Arnie Charbonneau Cancer Institute
Member
Alberta Children's Hospital Research Institute
Genomics Proteomics and Bioinformatics
Member
Cumming School of Medicine, Office of Health and Medical Education Scholar
Doctor of Philosophy Biochemistry & Molecular Biology
University of Calgary, 1993
M.S.
Cornell University, 1983
B.S. magna cum laude
University of the Philippines, 1977
Preferred method of communication
Admin Assitant
Jumi Lee
Email: jumi.lee@ucalgary.ca
Office: 403-210-3907
Research and teaching
Areas of Research
Gene Regulation
Genomics
Molecular Mechanisms
Activities
I mentor undergraduate student team research in synthetic biology addressing real-world problems, such as development of a detection system for pathogenic bacterial sequences in meat undertaken by the University of Calgary 2013 iGEM (international Genetically Engineered Machines) team.
Projects:
Integrating Peer Mentoring into an Undergraduate Cell Biology Course
Peer mentoring can be seen as a manifestation of the construct of "students as partners" which is one of the key pillars in the Scholarship of Teaching and Learning (SoTL). Peer mentoring is defined as a collaborative process where a senior student, in collaboration with the instructor for the course, will be introducing interventions to improve student learning. This has been shown to have significant benefits for both professors and peer mentors, alongside the impact on mentees. Therefore, the purpose of this study is to gain a better understanding of students' experiences in undergraduate classrooms, specifically in an Honors Cell and Molecular Biology course (MDSC 351) at the University of Calgary as a result of peer mentor led interventions.
This project was presented at ISSOTL Connect 2021 (https://youtu.be/Yxuy-hkB314) and in a poster at the ISSOTL 2021 Conference.
ISSOTL 2021 Poster presentation
Reimagining our relationships with SoTL: Applying the T-shaped model
Amongst a range of changes that have taken place within tertiary education, perhaps the most revolutionary has been a shift to student-centred approaches focused on life-long learning. Accompanying this approach to holistic Higher Education (HE) has been a growing interest in, and understanding of, the Scholarship of Teaching and Learning (SoTL).
The T-shaped person, and more recently the T-shaped community, is being operationalised in HE to inform and connect the development of students' deep disciplinary knowledge with non-academic and career readiness skills (such as communication, problem-solving, teamwork and critical thinking). The T-shaped community further seeks to address questions around holistic development of our students and enabling them to flourish beyond the confines of the HE environments and discipline. Importantly, we argue for a re-positioning of SoTL to complement and support this model, with SoTL as both the fulcrum and the fluid multiple threads of discourse that are intricately entwined around the structure of the T-shaped model (Eady et al., 2021).
Here, all stakeholders within HE connect both their academic knowledge and holistic skills in collaborative ways to produce learners who flourish in modern society. The SoTL community plays a pivotal role in achieving this vision and is well-positioned to expand the current notion of SoTL towards a more holistic, interconnected, central role in HE. This study provides opportunities for participants to consider how the application of the T-shaped model could potentially influence their understanding and conceptualisation of SoTL.
Theoretical paper on model for scholarship of teaching and learning
Using an Active Learning Approach in a Lesson on Genetic Regulation
Undergraduate students in biological and health sciences must learn about how gene activity is regulated by elements in the cell environment. The biological components have multiple interacting elements and function in complex ways. In a classroom setting, static images or videos are typically used to convey these biological representations, however static images fail to convey dynamic interactions and videos can become difficult to follow because of the limitations of working memory. To address this, we are designing, what we call, an interactive-visual lesson with paper cut-out pieces to promote an active learning approach to teaching regulation in genetics. Furthermore, we would like to develop a lesson that can be easily adopted by other teaching professionals. To do this we plan to address the main reasons instructors do not adopt evidence-based active learning strategies in the classroom. We would like to develop a lesson that can be taught in a short timeframe so as not to take away from class time needed to cover important content. Although we would like to optimize the lesson to decrease the time needed to teach it, while will also consider and mitigating the impact this may have on student learning.
Biography
Dr. Arcellana-Panlilio is a Senior Instructor in the Department of Biochemistry & Molecular Biology (BMB) in the Cumming School of Medicine. Her primary educational responsibility is to coordinate and deliver the MDSC 351 (Honours Cell & Molecular Biology) course, which has become one of the premier required courses in the flagship Bachelor of Health Sciences (BHSc) curriculum. Dr. Arcellana-Panlilio is responsible for leading the University of Calgary's iGEM (international Genetically Engineered Machines) team, an interdisciplinary group of undergraduate students who develop a synthetic biology project from concept to execution and then present it at an international competition in Boston each fall. Dr. Arcellana-Panlilio also contributes to several other courses, notably co-teaching MDSC 408 (Research design in molecular biology & bioinformatics) and coordinating the BMB section of MDSC 417-419 (Integrated research I & II).
As lead faculty advisor for the University of Calgary iGEM team, Dr. Arcellana-Panlilio has supervised undergraduate students from science, medicine, and engineering on synthetic biology projects that seek to address real world problems by engineering bacteria to perform new functions. These projects have included the development of a transdermal patch to deliver peptide to protect against ionizing radiation (iGEM 2016), which the students undertook with valuable guidance from PI's at the Robson DNA Science Centre. She has co-supervised BHSC honours thesis (MDSC 508) students with researchers at the Charbonneau, lending her expertise in molecular biology, functional genomics, and gene expression analysis.
Dr. Arcellana-Panlilio is involved in the Scholarship of Teaching and Learning (SOTL), engaging in projects to investigate questions such as the benefits of peer mentorship in the classroom, reimagining the role of SOTL in higher education, and implementing active learning to teach genetic regulation.
Awards
SU Teaching Excellence Awards Hall of Fame , Students Union, University of Calgary. 2021
Teaching Excellent Award, Cumming School of Medicine, Students Union, University of Calgary. 2019
Teaching Excellence Award, Cumming School of Medicine, Students Union, University of Calgary. 2018
Killam Award in Undergraduate Mentorship, University of Calgary. 2017
University of Calgary Teaching Award , University of Calgary. 2017
McLeod Distinguished Achievement Award, Cumming School of Medicine. 2017
Education Award, Dept. of Biochemistry & Molecular Biology. 2017
Bachelor of Health Sciences Teaching Award, Bachelor of Health Sciences program. 2015
Queen's Diamond Jubilee Medal, Governor General of Canada. 2012
Education Award, Department of Biochemistry & Molecular Biology. 2012
Honourable mention, Teaching Excellence Award for Faculty of Medicine, Students Union, University of Calgary. 2012
Teaching Excellence Award for Faculty of Medicine, Students Union, University of Calgary. 2011
Honourable mention, Teaching Excellence Award for Faculty of Medicine, Students Union, University of Calgary. 2010
Undergraduate Medical Education Award, Faculty of Medicine, University of Calgary. 2008
The William H. Davies Medical Research Scholarship, Faculty of Medicine, University of Calgary. 1992
AHFMR Graduate Studentship, Alberta Heritage Foundation for Medical Research. 1989
Biotechnology Training Centre Studentship, Medical Research Council of Canada. 1987
USAID Scholarship, United States Agency for International Development. 1980
Fulbright Scholar, Fulbright-Hays Mutual Exchange Grant. 1979
Pacific Fellowship, American Association of University Women. 1979
Elected to Phi Kappa Phi International Honor Society, 1977