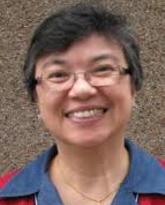 Mayi Arcellana-Panlilio
Senior Instructor
Department of Biochemistry & Molecular Biology
Member
Arnie Charbonneau Cancer Institute
Genomics Proteomics and Bioinformatics
Ph.D. (Doctor of Philosophy)
Research and teaching
Research Activities
Microarrays are a miniaturized, ordered arrangement of nucleic acid fragments representative of individual genes, enabling the study of thousands of genes in parallel. They are being used extensively to generate comprehensive data on gene expression patterns in a wide variety of tissues, under different experimental conditions and contexts, to uncover new groups of genes, and to reveal new molecular mechanisms underlying these patterns.
I am interested in the development of this technology from the perspective of the design of experiments (and arrays) that exploit its innate strengths while addressing weaknesses that have been observed by researchers in the field. As Manager of SAMF, I am interested in optimizing protocols for production, interrogation, and analysis of microarrays.
My basic science interest is in Wilms tumor, an embryonal cancer of the kidney that is diagnosed in approximately 8 children per million per year, making it the second most common malignant abdominal tumor in childhood. Through the combined efforts of the National Wilms Tumor Study Group and the International Society of Paediatric Oncology, and clinicians and other health professionals, scientists, patients and their families, the long-term survival of children with Wilms tumor now exceeds 85%. Notwithstanding these advancements, 10-15% of patients suffer relapse. Thus, children with histo-pathologically identical tumors can have very different outcomes, suggesting a difference in these tumors that may not be detectable under the microscope, but is nevertheless there. If known, this would help to identify patients at risk, whose treatment regimens could be adjusted accordingly.
My research in Wilms tumor focuses on using microarrays to uncover differences between tumors of dissimilar outcomes at the level of gene expression. For these studies, we use the human 14k microarray produced at the Southern Alberta Microarray Facility.
Research Areas: Genomics Proteomics and Bioinformatics
Personnel:
Carly Pontifex, Research Assistant
Jumi Lee, Administrative Assistant