Thank you to our attendees for joining Distributed Learning and Rural Initiatives at Waterton Lakes Lodge Resort for the Southern Alberta Preceptor Summit 2022 where we discussed the latest topics and trends in rural medical education.
This conference used interactive, small group workshops to share the latest knowledge and best practices in rural medical education.
At the end of this conference, participants were equipped to:
Identify gaps in teaching skills for preceptors in rural sites through Southern and Central Alberta.
Create local expertise in teaching to allow future, faculty-run professional development.
Develop links between disciplines and teaching sites.
RCPSC
MOC Section 1 Group Learning and AMA-PRA Category 1
This event is an Accredited Group Learning Activity (Section 1) as defined by the Maintenance of Certification Program of the Royal College of Physicians and Surgeons of Canada and approved by the University of Calgary Office of Continuing Medical Education and Professional Development. You may claim a maximum of 7.5 hours (credits are automatically calculated).
 
Claiming your credits: Visit MAINPORT https://mainport.royalcollege.ca  
Through an agreement between the Royal College of Physicians and Surgeons of Canada and the American Medical Association, physicians may convert Royal College MOC credits to AMA PRA Category 1 Credits™. Information on the process to convert Royal College MOC credit to AMA credit can be found at www.ama-assn.org/go/internationalcme.
CFPC (ID-197890)
Alberta Chapter Mainpro+® Group Learning 
This one-credit-per-hour Self-Learning program has been certified by the College of Family Physicians of Canada and the Alberta Chapter for up to 7.5 Mainpro+® credits.
To claim your CFPC credits, visit https://certplus.cfpc.ca/login.aspx to record your learning and outcomes.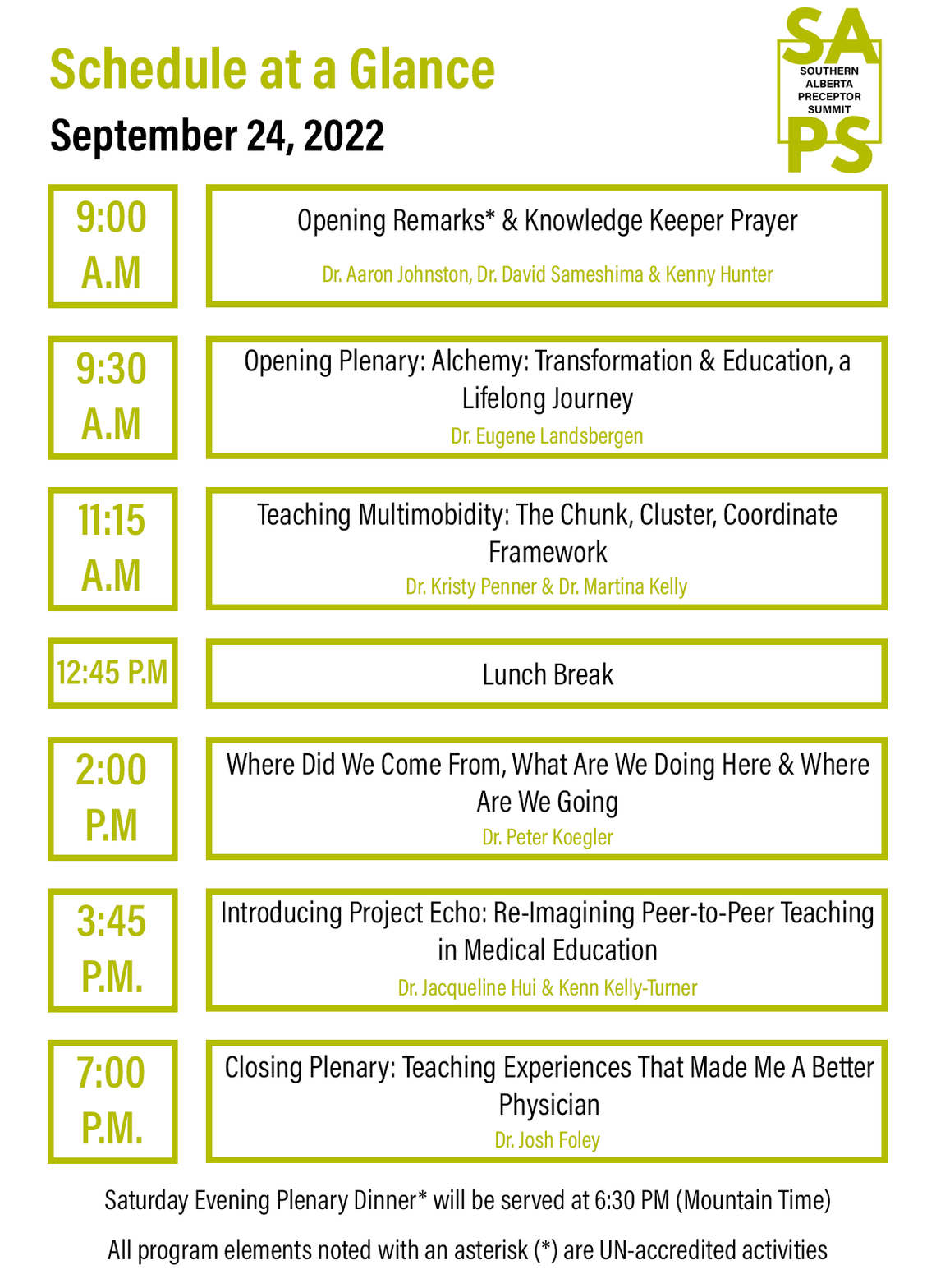 Discover some of the key takeaways from each of our sessions.
Meet our speakers for SAPS 2022! We've gathered an amazing group of experts to help you and your learners be successful.