Speaker Series
Illuminate your understanding of data science, health informatics, machine learning and many more fascinating global pursuits. Join us while we embark on a journey to teach, inspire and motivate!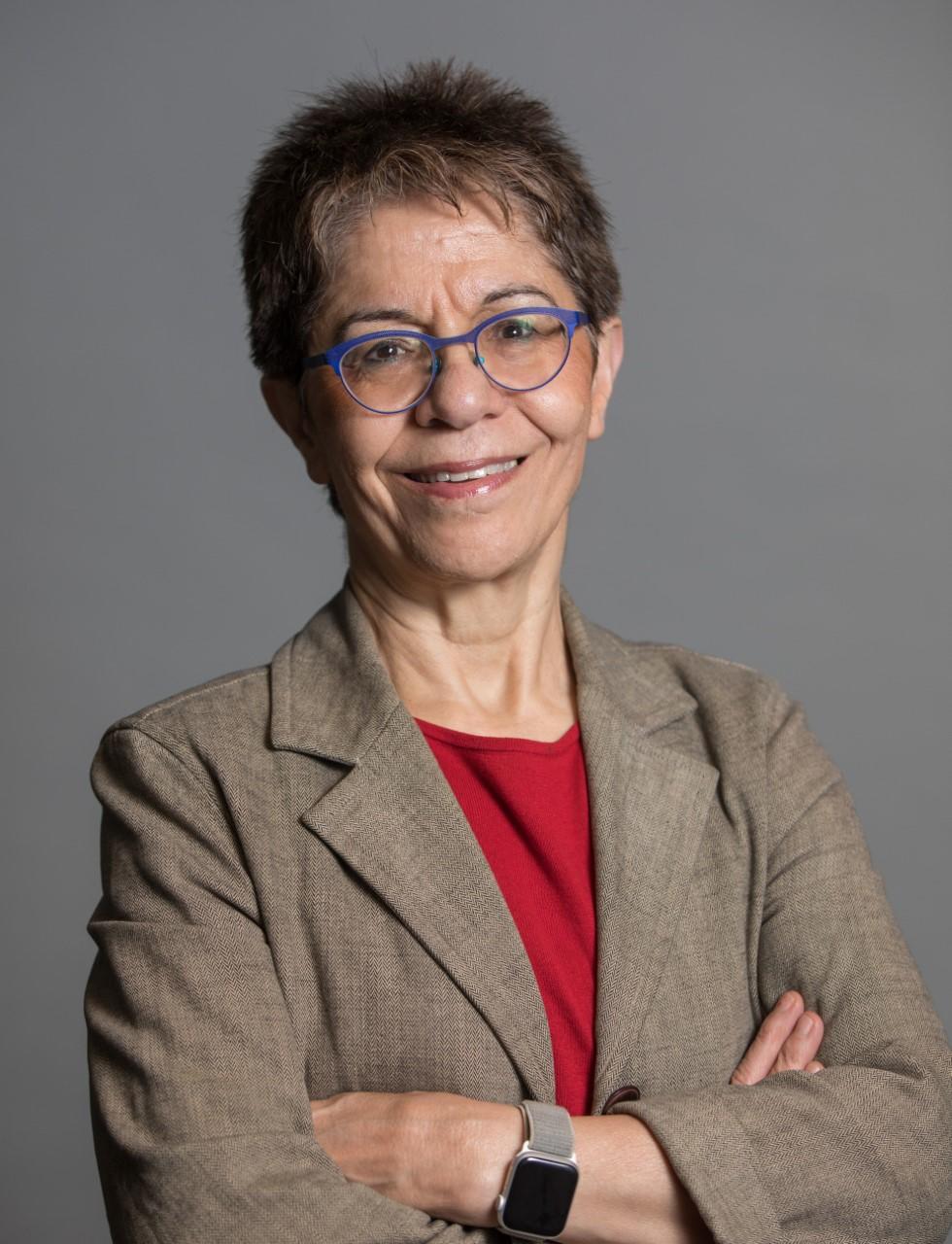 Blockchain and its Application to Healthcare
Blockchain is frequently touted as a world-changing technology. The truth is, blockchain technology is complicated, and while could provide long-sought properties such as data availability, verifiability, and transparency, it comes at a cost that that might be acceptable or not for specific use cases.
Rei Safavi-Naini is the NSERC/Telus Industrial Research Chair and Alberta Innovates Strategic Research Chair in Information Security at the University of Calgary. She is the co-founder of the Institute for Security, Privacy and Information Assurance at the University, and served as its Director until December 2018. She is currently Associate Editor of IEEE Transactions on Information Theory, IET Information Security and Journal of Mathematical Cryptology. Her current research interests include post-quantum cryptography, cloud security, and security of blockchain and decentralized systems.  In this talk, Rei will give an overview of blockchain technology and some of its possible applications to healthcare.
Join us to learn more!
This event is open to the public.
Location                                                   Date And Time
Centre for Health Informatics                 Thursday, 20 February 2020
3280 Hospital Drive Northwest             12:00 PM – 1:00 PM MST
TRW 5E04
Calgary, AB T2N 4Z6
The Libin Cardiovascular Institute and the Centre for Health Informatics Present:
James is the Director of the Stephenson Cardiac Imaging Centre at the Libin Cardiovascular Institute. He is a cardiologist and a clinician scientist who is leading innovation in cardiovascular MRI care and advanced heart disease research. 
Hude is the Director of the Centre for Health Informatics. A major theme of Dr Quan's research is to develop novel methods for analyzing "big data" and improving its quality to enable optimal use for health research and precision medicine.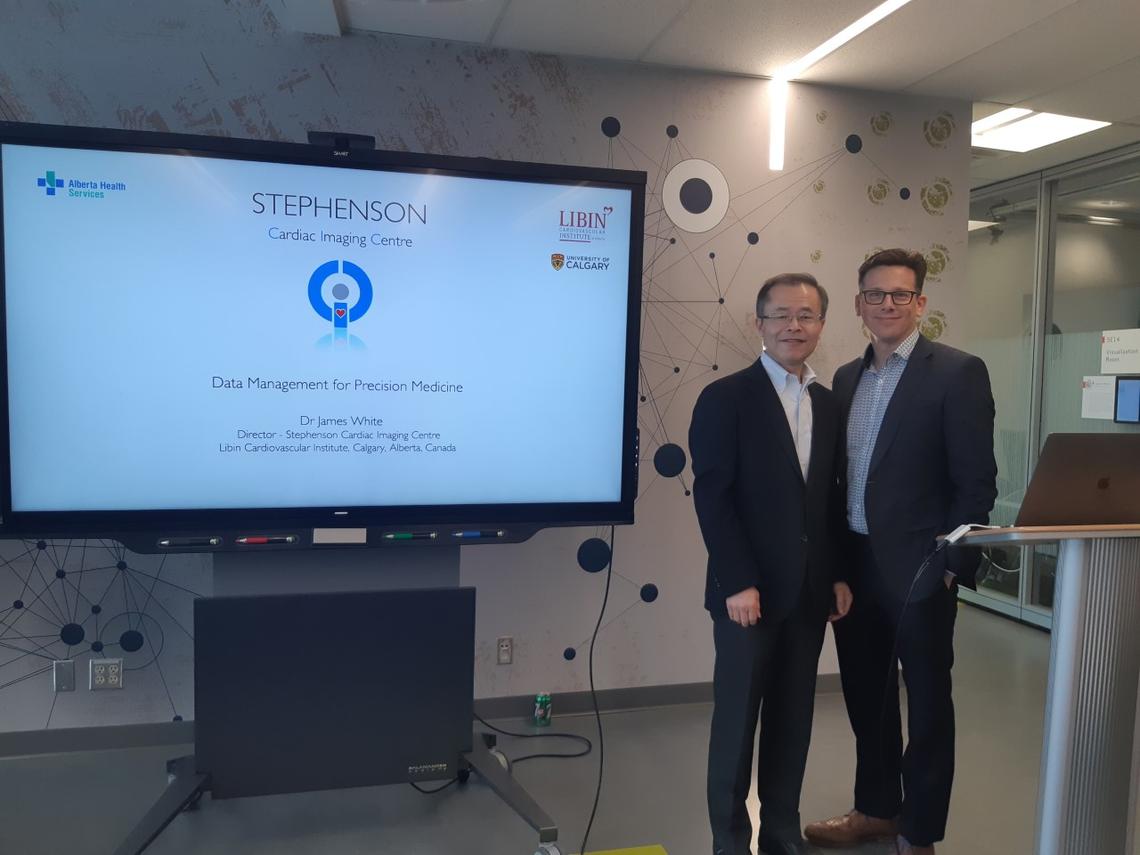 The use of artificial intelligence to improve medical decision making…But wait! Can we really trust computers?
Dr. Filipe Lucini is a member of the DIH Lab and a Postdoctoral Associate in the Department of Critical Care Medicine. He spoke on the difference between AI, machine learning and and deep learning and fooled us all with examples of how seamlessly a computer controlled robot can perform a human activity like creating a poem. Large studies have shown that when comparing a healthcare professional to an AI counterpart, the AI clinicians are making similar dosage amounts for IV fluids and are able to detect abnormalities in diagnostic medical photographs. Lucini exemplified the possibilities that are opening for integrating machine learning and health care decision making as well as pointing out key challenges that arise when corroborating "big data" and real life patients.
From Raw Data to Model Inputs; the Importance of Feature Engineering
Jacqueline Harris is a PhD student in Computer Science at the University of Alberta under the supervision of Dr. Russell Greiner. She is a member of the University of Alberta Computational Psychiatry research team and an AI student ambassador with Intel. Her research is primarily focused on predictive modelling in depression, and feature extraction techniques for functional magnetic resonance imaging (fMRI).
 
Data has become widely available, driving much of the success and interest in machine learning. The reality though, is most of this data is not in a form that is appropriate to serve as an input to machine learning models. The choice of how to transform raw data to model inputs (features) can be vital to the success of a model; so, before jumping into data modelling it is important to consider different approaches to feature engineering. In this talk, Jacqueline spoke on the difference between structured and unstructured data, some general approaches to feature engineering, and provide some specific examples from functional magnetic resonance imaging.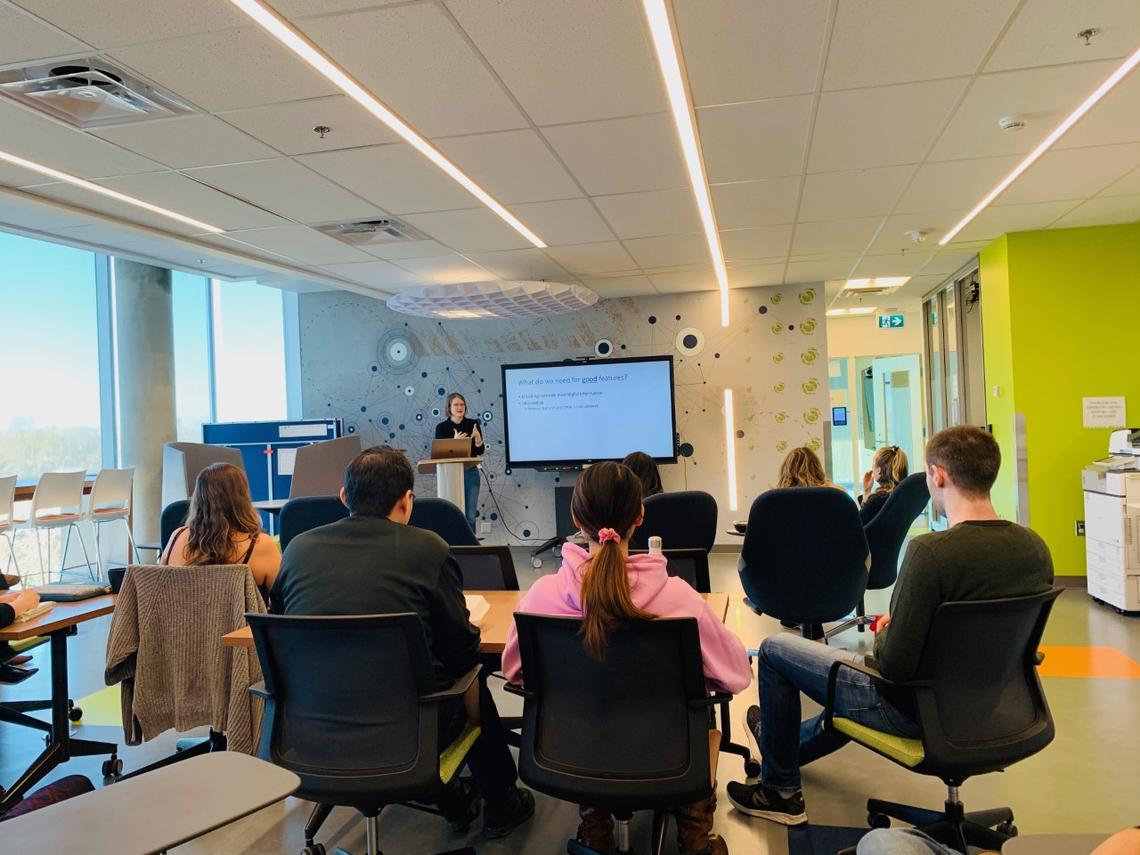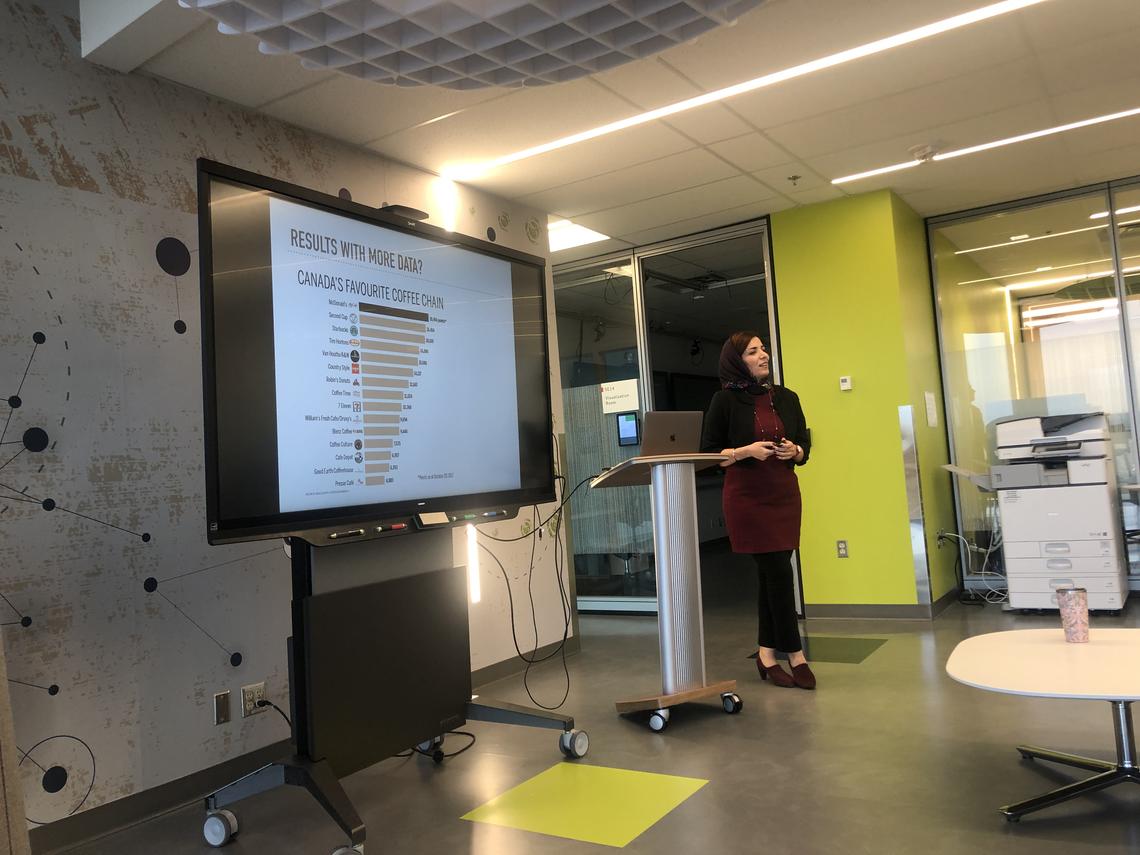 Does more data beat better learning algorithms?
Zahra Shakeri is a member of the Data Intelligence for Health (DIH) Lab and a Postdoctoral Associate of Health Data Science in the Department of Community Health Sciences, University of Calgary. She completed her PhD in Computer Science at the University of Calgary in August 2018. During her M.Sc. and PhD programs, she conducted several in-depth studies in the areas of cognitive science, human-computer interaction, software engineering, social media analysis, and emergency management, using statistical and qualitative analysis as well as machine learning techniques. Zahra's research interests are currently focused on the intersection of machine learning, data visualization, public health surveillance, critical care, and social media analysis. She spoke to us about the importance of data availability and methodology in data science projects.