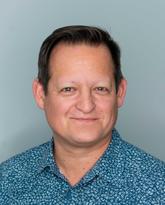 Adrian Mitchell
Heath Data Science and Biostatistics Diploma Program Student
Centre for Health Informatics
BSc (Hons) - Geophysics
University of British Columbia
MBA
Cornell
MDSA
University of Calgary
Biography
Adrian is a proven leader with over 20 years of experience in Business Development, Strategic Planning, Project Management, Technical Analysis and Economic Evaluation. He has experience with the intensity of Start-Ups, the customer focus of B2B Service Companies, and the organizational complexities of large companies (both Domestic Public and Foreign-Owned Private firms)
At the start of the pandemic, Adrian found himself at home taking care of his three children full time while his wife, a family physician, was on the front lines of the COVID-19 response for the homeless population in Calgary. He had been working in tech for the past seven years and decided to take the opportunity to refresh his technical expertise by enrolling in the Master's of Health Data Science and Analytics with the Diploma of Health Data Science and Biostatistics specialization.
While he is in the process of completing the Master's, he has also joined the team at Cherry Health as Co-Founder and Chief Operating Officer where he is helping to build a great new Alberta health-tech company focused on solving healthcare staffing challenges nationally.