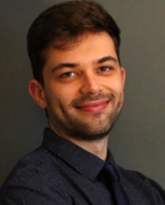 James King
AHS SPOR Data Analyst
Centre for Health Informatics
Senior Analyst
Alberta Health Services
M.Sc. - Community Health Sciences
University of Calgary
B.A. (Hons) - Sociology
University of Calgary
Research and teaching
Current Projects
Epidemiology of Multiple Sclerosis in Alberta: A Descriptive Analysis for CanProCo Using Administrative Data Linked to the University of Calgary MS Clinic (PI: Dr. Scott Patten).
Evaluation of the Work-up and Treatment of Primary Aldosteronism in Alberta (PI: Dr. Alexander Leung).
Care for Rare-SOLVE Phase 1: Optimize the Delivery of Clinical Genome-wide Sequencing for RD in Canada (PI: Dr. Deborah Marshall).
Biography
James is a Senior Analyst within the Health Research Methods and Analytics team (Alberta Health Services). He works within both the Alberta and Canadian SPOR Data Platforms, which are designed to assist researchers in accessing, managing, and analyzing administrative healthcare data. James graduated with a Master of Science from the Department of Community Health Sciences in 2019. His thesis focused on how the incidence of celiac disease varies throughout the world and how it has changed over time. His goals are to better understand celiac disease epidemiology in terms of risk factors, direct and indirect costs, and optimal disease treatments.