CME/CPD Programs from Other Providers
CME/CPD Programs from Other Providers
Physician Learning Program
The Physician Learning Program (PLP) works with physicians and their clinical teams to help them advance their practice, and with those who know that there will always be room for improvement and are willing to champion positive change. Together, we will make impactful change that will benefit health care providers and Albertans.
MDcme.ca
Evidence-based, trusted, and accredited online CME in a number of therapeutic areas; hosted by Professional Development & Conferencing Services, Faculty of Medicine, Memorial University
W21C is a research and innovation initiative based in the University of Calgary and the Calgary Zone of Alberta Health Services. W21C offers a diverse selection of courses providing learners with practice skills to further high-quality research and innovation in healthcare
Alberta College of Family Physicians
The Alberta College of Family Physicians (ACFP) is the provincial Chapter for the College of Family Physicians of Canada (CFPC) and was established more than 65 years ago. The ACFP is a member-based, not-for-profit organization representing more than 5,200 family physicians, family medicine residents, and medical students across Alberta.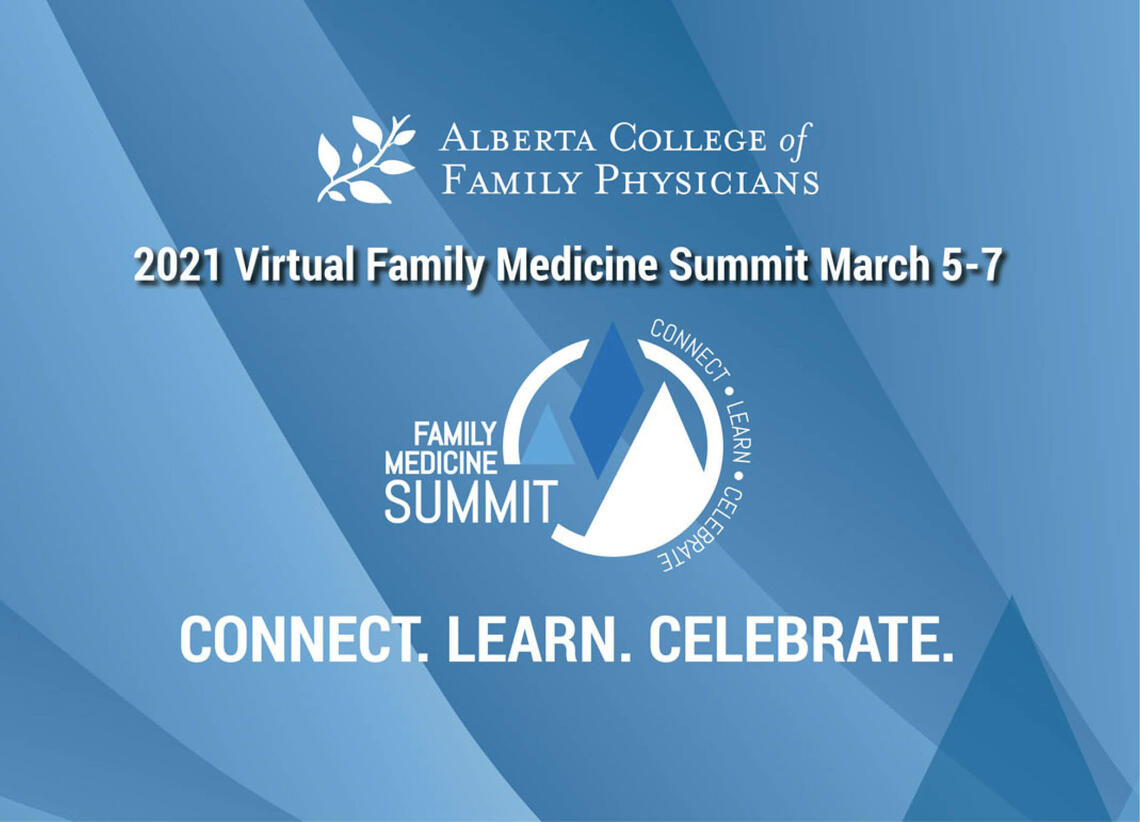 The ACFP's 2021 Virtual Family Medicine Summit 
March 5-7, 2021

Connect, learn, and celebrate virtually with your colleagues at the Alberta College of Family Physicians' (ACFP) Virtual Family Medicine Summit (Summit) March 5-7. Topics for the 2021 Summit program include: 
An MSK pre-conference program presented by the AMA's Section of Sports Medicine, 
Antibiotic resistance, 
Anti-racism and allyship, 
Electronic communication with patients, 
Mental health, concussion management, and much more! 
CME accreditation: This one-credit-per-hour program has been certified by the College of a Family Physicians of Canada for up to 12.75 Mainpro+ credits.
Please contact the ACFP office if you need assistance registering at 780-488-2395 or by email at cpd@acfp.ca. 
Healthy Minds Healthy Children
Healthy Minds Healthy Children offers a variety of resources and services to support and build capacity in primary care in the area of child and adolescent mental health.
Services and resources include:
Consultation (in-office, telephone, video conference/telehealth) to primary care physicians and clinicians
Case or theme-based in-servicing or presentations on selected topics
Internet-based professional development modules in children's mental health
Practitioners' Desk Reference to aid in efficient identification and management of children's mental health concerns
Information prescriptions on various topics in children's mental health that practitioners can provide to their patients and clients
University of Alberta: Faculty of Medicine and Dentistry
The Faculty of Medicine & Dentistry serves the public good through excellence in medical and health professions' education, research and patient care. They build partnerships essential to a high-performing academic health sciences centre.
Society of Rural Physicians of Canada
The Society of Rural Physicians of Canada (SRPC) is the national voice of Canadian rural physicians. Founded in 1992, the SRPC's mission is championing rural generalist medical care through education, collaboration, advocacy and research.
CanREACH (the Canadian Research and Education for the Advancement of Child Health) is an award-winning program that develops primary care providers skills and abilities in pediatric mental health. With a vision of healthy futures for children, adolescents and families, the mission of CanREACH is to transform health care systems by educating and empowering primary care providers in creating and sustaining practices changes congruent with up-to-date evidence-based information in child mental health. 
Patient-centered Mental Health in Pediatric Primary Care (PPP) Program
1. Three Day Workshop - a dynamic and interactive three day (15 hours) course that uses a combination of intensive face-to-face teaching and hands-on practice
2. Six Months Bi-weekly Calls - Ongoing case-based program using distance learning methods.
Course Objectives
Participants learn to
Identify and differentiate among paediatric mental health concerns

Childhood depression, ADHD, bipolar disorder, anxiety, aggression and psychosis

Effectively manage psychopharmacology

Selecting, initiating and tapering medication, monitoring change, and identifying and minimizing side effects

Create and implement treatment plans

Mobilizing existing resources and natural and professional supports
Please see the brochure for upcoming session dates, daily content and more information about this conference. 
Contact
For Edmonton sessions, please contact:
Ph: 780-938-4638,  Canreach.Edmonton@ahs.ca
For Calgary sessions, please contact:
Ph: 403-955-1104 CanREACH@ahs.ca