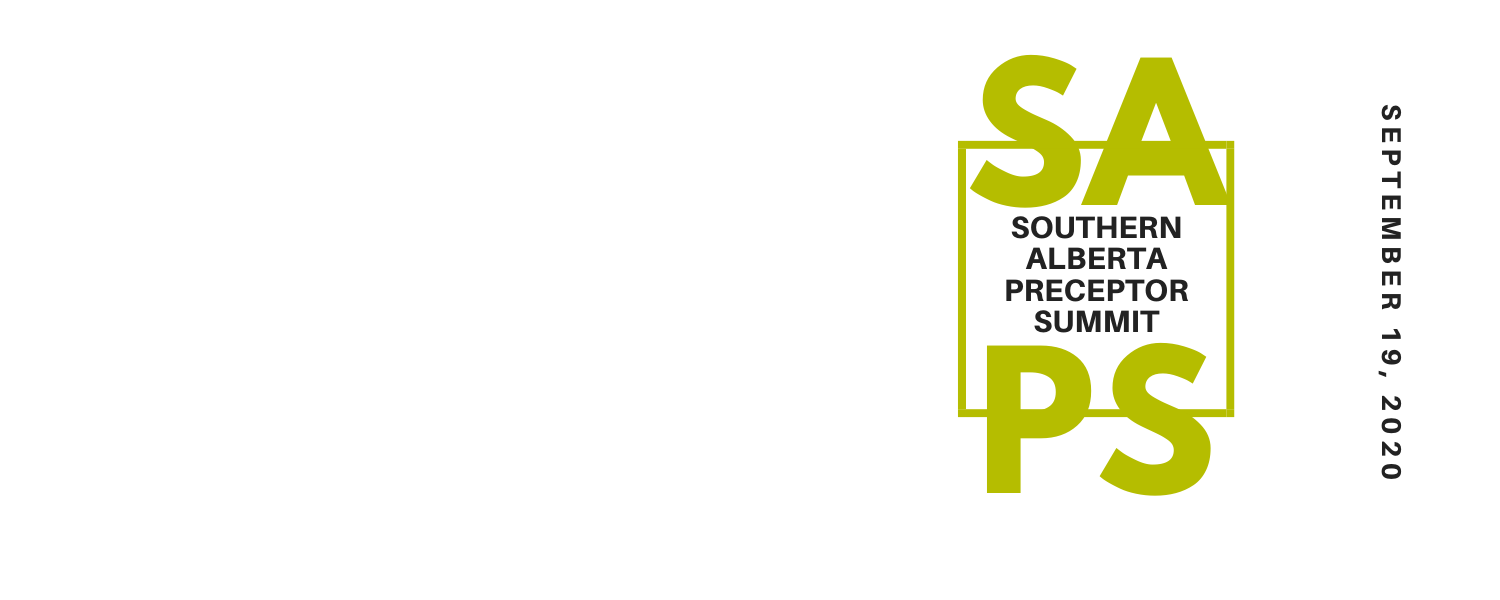 Southern Alberta Preceptor Summit 2020
We went virtual for SAPS 2020, allowing us to meet with a wide array of preceptors and learners from across the province! While you can no longer join us live for this conference, you can still click on the link below to view all of the recorded sessions. Please note that credits are not available for SAPS 2020 unless you attended the live session.  
Meet our speakers for SAPS 2020! We've gathered an amazing group of experts to help you and your learners be successful.
Meet our Keynote! Dr. Ronald Gorsche

Topic: Rural Residency Training: The Benefits of Recruitment and Retention

 

Dr. Ron Gorsche, Calgary native and graduate of the University of Alberta. Following residency, Dr. Gorsche had his first family practice in Provost, Alberta. He moved to High River in 1978 and has been a GP Anesthetist for 25 years. Dr. Gorsche has been the Co-Site Director for residency training in High River for 30 years. He has also been a medical consultant for Cargill Foods for the past 25 years. Through his work with Cargill, he has been able to conduct a funded research program into upper limb disorders in collaboration with Faculty of Kinesiology and Community Health Sciences at the University of Calgary. Dr. Gorsche has also been deployed on 4 medical missions with Samaritan's Purse, the most recent being the Cholera epidemic in Haiti. Dr. Gorsche is married with 4 daughters and in his spare time he enjoys fly fishing, skiing, hiking and painting. 

The Buck Brothers: Dr. Richard Buck & Robert Buck

Topic: Digital Strategies for Adult Learners: Developing Interactive Presentations  

 

Richard and Robert Buck are bothers who are passionate about facilitating adult learning strategies!

 

Dr. Richard (Rick) Buck, finished med school at the University of Manitoba, and was honoured to be a part of the first graduation class of the U of C Rural Program! Rick has worked throughout rural Alberta as a weekend Locum and after five years of practice at the Haig Clinic, took the CCFP-EM course and now works full time at Chinook Regional Hospital ER. When not seeing patients or teaching medical learners, he can be seen running through the coulees of Lethbridge with his chocolate lab, Emily!

 

Robert (Rob) Buck, is an Education Technologist and Specialist, which has been his specialty since 2004. He has been utilizing online learning environments since 2008, which is part of the reason he is so passionate about helping teachers and preceptors improve online learning for adults. Rob has most recently completed a master's degree in educational research from the University of Calgary in 2017. 

Dr. Jonathan Somerville

Topic: Setting Up for Success

 

Dr. Jonathan Somerville grew up on a farm near Edmonton, Alberta. He completed Medical School at the University of Calgary, and did his residency in Rural Family Medicine at the University of Alberta's Red Deer site, graduating in 2014. Since graduating, Jonathan has been practicing family medicine in Sundre, where he enjoys the challenges and rewards that rural general practice offers. He loves having medical students and residents working with him, and is actively involved in rural faculty development with the Cumming School of Medicine. When not in the office or ER, he enjoys hiking, running, traveling and a good meal. And of course, he can never get enough time in with his awesome family.

Dr. Sarah Weeks, Dr. Lindsay Jantzie & Dr. Jacqueline Hui

Topic: What's New In Undergraduate and Postgraduate Education

 

Dr. Sarah Weeks is a graduate of the University of Calgary MD Class of 1999. During her time at the UofC, she completed her training in internal medicine and cardiology prior to pursuing an imaging fellowship at the University of California, San Francisco. Medical education has been a long-standing interest of hers, with involvement in all levels including, UME, PGME and CME. A sabbatical enabled her to complete a Masters of Education in the Health Professions through Johns Hopkins University. Dr. Weeks is currently the Assistant Dean in UME for the Pre-Clerkship. She will be providing an undergraduate education update while discussing upcoming teaching opportunities.

 

Dr. Lindsay Jantzie is the Postgraduate Director for the University of Calgary's Family Medicine Program. In this role, she oversees the Core 2-year and enhanced skills programs. Dr. Jantzie will be discussing the impacts of COVID-19 on the Rural Residency Program along with other postgraduate highlights and preparations for the coming months.

 

Dr. Jacqueline Hui is the Assessment Director, for the Department of Family Medicine Residency Program, in addition to her membership on the FMeCAP Team. She is excited to introduce and share the nuances of FMeCAP and discuss expectations of this assessment platform.
Meet our Panelists

We are excited to introduce our group of expert panelists for this interactive discussion on medical education in Southern Alberta.

 

Moderator:

Dr. Aaron Johnston, Associate Dean, Distributed Learning and Rural Initiatives, University of Calgary

 

Panelists:

Dr. Elaine Godwin, Clinical Associate Professor, University of Calgary
Dr. Jacqueline Hui, Assessment Director, Department of Family Medicine Residency Program, University of Calgary
Dr. Lindsay Jantzie, Postgraduate Director, Family Medicine, University of Calgary
Dr. Stephen Mintsioulis, Clinical Assistant Professor, University of Calgary
Dr. Sarah Weeks, Associate Dean, Undergraduate Medical Education, University of Calgary
Dr. Sonja Wicklum, Family Medicine Clerkship Director, University of Calgary