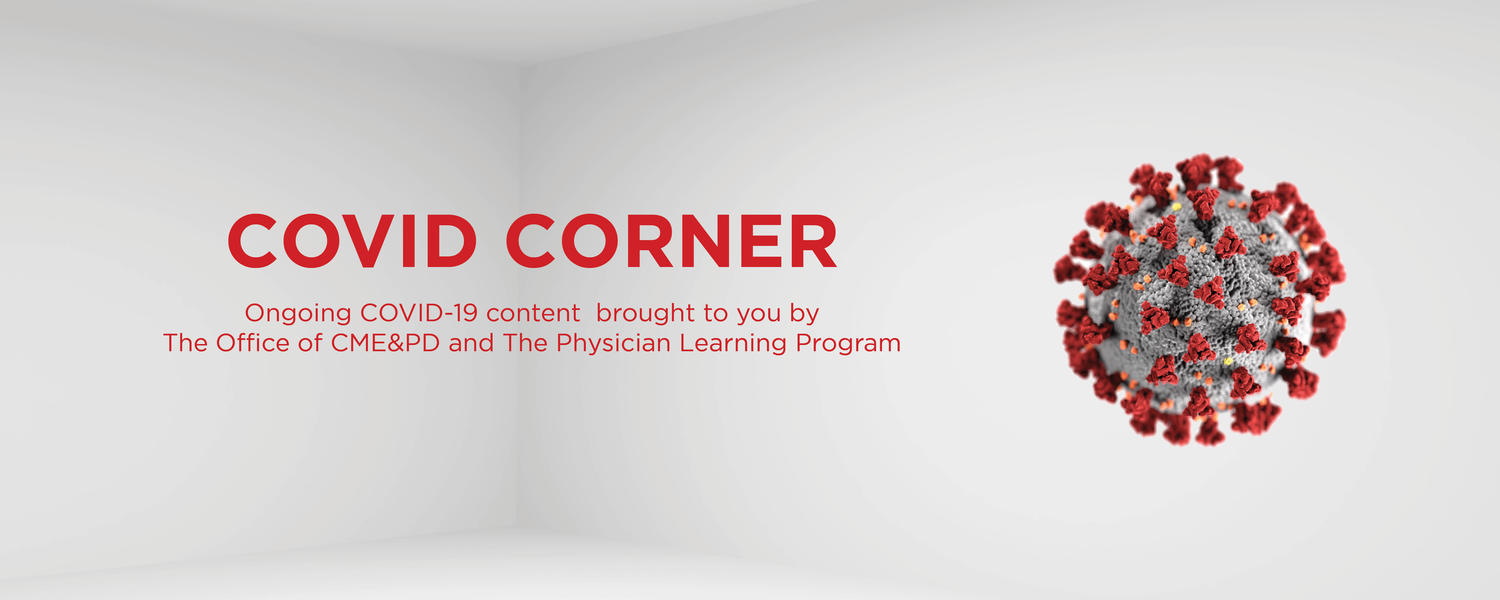 This is by far the best COVID-19 webinar I have attended so far. Thank you all.
These sessions will provide an update on several aspects of the emerging COVID-19 pandemic. This will include current and up-to-date information regarding the disease, as well as the exploration of other medical areas affected by the pandemic. It will address the most recent information and direction from medical organizations within Alberta.
If you are unable to attend the conference live, you will not receive the Certificate of Attendance. However, by watching the recordings and reviewing the handouts, you can still claim self-learning credits for both CFPC and RCPSC.  
COVID Corner: Balancing Individual and Societal Needs and Responsibilities
November 2, 2022
Reflect on the balance between public health measures being lifted and protecting health and wellbeing
Review vaccine updates, including information and evidence on bivalent vaccine and hybrid immunity
Recognize the impact of social isolation on seniors in the community and in long term care settings
COVID Corner: Don't Trip in the Fall - COVID Community, Therapeutic, and Pediatric Updates
September 7, 2022
Summarize current data from community monitoring, including wastewater data, new development with TARRANT Watch, and other provincial initiatives
Describe outpatient therapeutic options available for COVID-19
Review the pediatric COVID-19 vaccine evidence and provide practical advice on how to address vaccine hesitancy
Recognize the trends in emergency room data and respiratory health concerns in children as the school season begins
COVID Corner: COVID Update and Emerging Trends
June 22, 2022
Describe current public health messaging in Alberta while relating this to observed preventative and vaccination practices
Summarize the latest evidence of infection-induced immunity and vaccine-induced immunity 
Recognize emerging understanding around symptomatology of long COVID and connect patients with relevant resources
Reflect on trends of returning viral infections presentation and behavior after easing of public health measures
COVID Corner: Reflections After Two Years on the COVID Roller Coaster
March 23, 2022
Promote an environment for reflection on how COVID-19 has impacted individual and societal expectations, and clinical practices moving forward
Summarize medical and healthcare accomplishments and lessons learned during the pandemic
Self-reflect on your experience during the pandemic and support constructive change in our personal and professional lives
COVID Corner: Bringing Clarity to Omicron Challenges
January 26, 2022
Summarize the rationale behind latest public health measures
Summarize current guidelines for testing, isolation and return to work
Discuss the emerging evidence for benefit and safety of vaccines and boosters in the pediatric, adult, immunocompromised and elderly sub-populations
Describe the latest evidence for therapeutic options available for COVID-19 outpatient management
Implement COVID-19 Guidance for Community Providers and navigate the protocols and availability of cited resources
COVID Corner: Keeping COVID Out: Optimizing Outpatient Care to Reduce Hospitalizations
December 8, 2021
Discuss the evidence behind non-pharmaceutical interventions (NPIs) and how we should use them in the future
Examine the evidence behind updated recommendations for vaccination, including in children age 5-11 and need for third doses in adults
Outline the pharmaceuticals that could be potentially used in the outpatient setting to prevent hospitalization, including oral anti-viral therapies and repurposed medications, as well as, intravenous monoclonal antibodies
Highlight pathways and other primary care initiatives that can optimize care of patients with COVID-19 in their medical home
COVID Corner: Mental Health in the Pandemic: Early Detection and Intervention
November 10, 2021
Describe the impact of the pandemic on mental health presentation in children and adolescents
Recognize the importance of early screening and management of mental health disorders in children and adolescents
Describe the impact of the pandemic on opioid and alcohol substance use disorders in the Alberta adult population
Summarize key clinical tools and resources available for supporting mental health of patients and families
The Long Shadow of COVID: Reflecting on Moral Challenges
October 13, 2021 - This session is focused on the physician experience
List moral dilemmas faced by physicians
Explain the construct of moral distress
Describe approaches for dealing with moral dilemmas and their consequences


COVID & Pregnancy: Vaccine Safety and Patient Management
September 28, 2021 - Special Tuesday Episode
Explain the challenges assessing pregnant patients with COVID-19 infection
Summarize treatment recommendations for COVID-19 infection in pregnancy
Describe effectiveness data supporting the recommendation for COVID-19 vaccination in pregnancy
Describe safety data supporting the recommendation for COVID-19 vaccination in pregnancy
Update on the Inpatient Management of COVID-19
September 22, 2021
Describe the therapeutic options available for medical inpatients with COVID19 and when to use dexamethasone, remdesivir, monoclonal antibodies, tocilizumab, therapeutic anticoagulation and prone positioning

Review the updated DoM-PLP infographic on the inpatient management of COVID19 and additional resources to assist clinicians during the fourth wave
Moving into the Grey - The 4th Wave & Beyond
September 8, 2021
Examine how polarizing positions on public health measures for COVID-19 may be harmful and how a multifaceted approach is preferred
Debate the ethical and legal considerations of vaccine mandates and passports
Discuss vaccinations and long COVID in children and how these factor into a safe return to school this fall
Faculty and Planning Committee
Thank you to our Planning Committee, Faculty and the community for helping us to provide just-in-time training, education and resources during COVID-19.
Such a great webinar. Great advice and resources. Thank You.