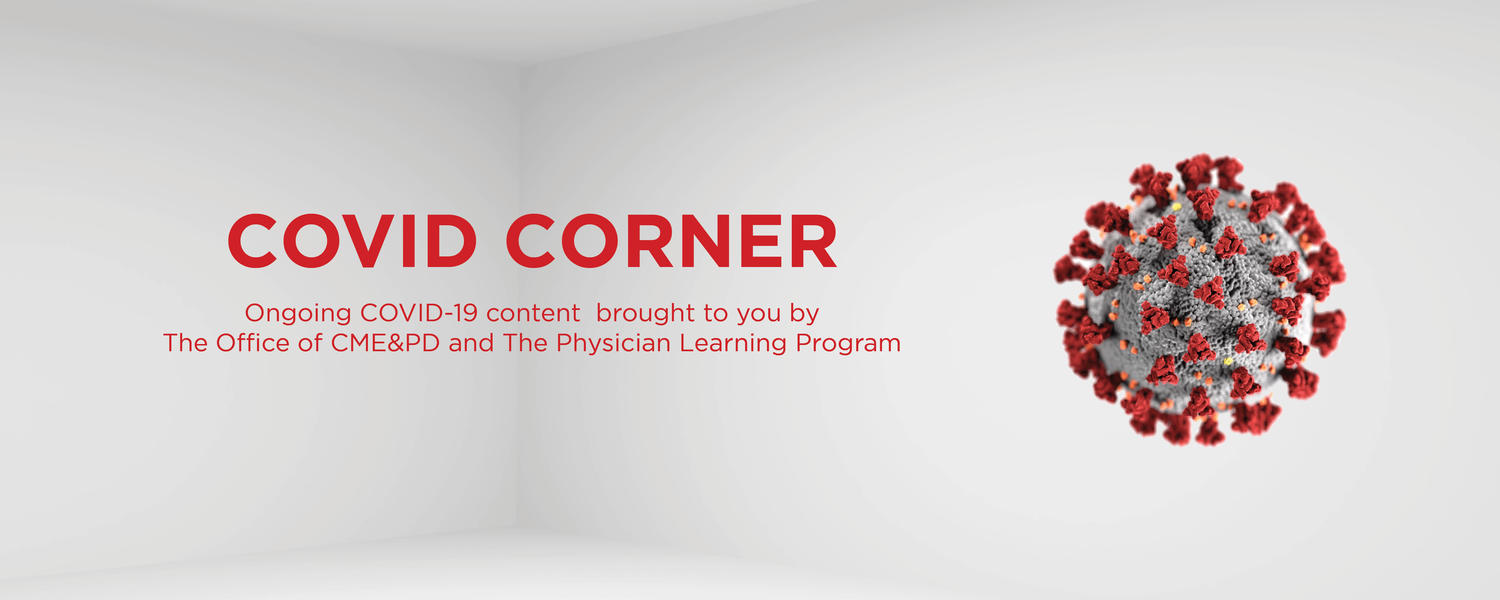 The COVID Corner series provided consistently and evidence-based content to help healthcare professionals navigate the rapidly evolving science and recommendations around the management of COVID-19.  The series has now concluded. 
COVID Corner: It's a Wrap
June 7, 2023
The final episode of the COVID Corner Series
Recognize the role of healthcare professionals as care providers, leaders, and advocates in the face of extraordinary circumstances during the COVID-19 pandemic
Reflect on personal, professional and system accomplishments and lessons learned
Discuss opportunities to effect positive changes in preparing for next normal for health care
COVID Corner: Repeat Infection and Long COVID Risks
February 2, 2023
Summarize the current evidence around the impact of COVID infections on the immune system
Recognize the scope of physical and psychosocial challenges and provide practical advice to manage long COVID
Identify support services and other resources in the community for long COVID patients
COVID Corner: Balancing Individual and Societal Needs and Responsibilities
November 2, 2022
Reflect on the balance between public health measures being lifted and protecting health and wellbeing
Review vaccine updates, including information and evidence on bivalent vaccine and hybrid immunity
Recognize the impact of social isolation on seniors in the community and in long term care settings
COVID Corner: Don't Trip in the Fall - COVID Community, Therapeutic, and Pediatric Updates
September 7, 2022
Summarize current data from community monitoring, including wastewater data, new development with TARRANT Watch, and other provincial initiatives
Describe outpatient therapeutic options available for COVID-19
Review the pediatric COVID-19 vaccine evidence and provide practical advice on how to address vaccine hesitancy
Recognize the trends in emergency room data and respiratory health concerns in children as the school season begins
Faculty and Planning Committee
Thank you to our Planning Committee, Faculty and the community for helping us to provide just-in-time training, education and resources during COVID-19.
Such a great webinar. Great advice and resources. Thank You.