Office of Professionalism, Equity and Diversity
Building the bridges to a respectful, fair and inclusive Community
Recent publications on EDI
Nevertheless, They Persisted: How Women Experience Gender-Based Discrimination During Postgraduate Surgical Training Allison Brown, PhD, Gabrielle Bonneville, MDCM, Sara Glaze, MD FRCSC Journal of Surgical Education July 9, 2020
Gender equity in interstitial lung disease: Leticia Kawano-Dourado, Marilyn K Glassberg, Maria Molina-Molina, Mary E Strek, Marlies Wijsenbeek, Kerri A Johannson  The Lancet July 17, 2020
Challenges for the female academic during the COVID-19 pandemic: Brooke Peterson Gabster, Kim van Daalen, Roopa Dhatt, Michele Barry  The Lancet June 18, 2020
Applicant gender and matching to first-choice discipline: a cross-sectional analysis of data from the Canadian Resident Matching Service (2013–2019):  Shannon M. Ruzycki, MD MPH;  Madalene Earp, PhD; Irene W.Y. Ma, MD PhD  CMAJ Open May 7, 2020 vol. 8 no. 2  
Proportion of female recipients of resident-selected awards across Canada from 2000 to 2018: a retrospective observational study:  Sarah Silverberg, MD; Shannon M. Ruzycki, MD  CMAJ Open April 6, 2020 vol. 8 no. 2  
Nevertheless, They Persisted: How Women Experience Gender-Based Discrimination During Postgraduate Surgical Training Allison Brown, PhD, Gabrielle Bonneville, MDCM, Sara Glaze, MD FRCSC Journal of Surgical Education July 9, 2020
Taking action against systemic racism
The Cumming School of Medicine (CSM) leadership team is committed to working as allies and in solidarity with Black, Indigenous and People of Colour (BIPOC) students and colleagues to truly achieve equity, diversity and inclusion within our CSM community
Please share your thoughts, questions, ideas, concerns and personal stories about systemic racism within our CSM community. Our leadership team is learning a lot from your input and is using this knowledge to determine how we'll continue to make the changes that are necessary to truly achieve equity, diversity and inclusion within our faculty.
Please continue to share your thoughts by submitting through the online survey.
Thank you for joining us on January 13, 2020!
Building the Equity Bridge Symposium was a fulfilling & engaging day!
View the podcast recording of the day, from theater 4 & Clara Christie theater only.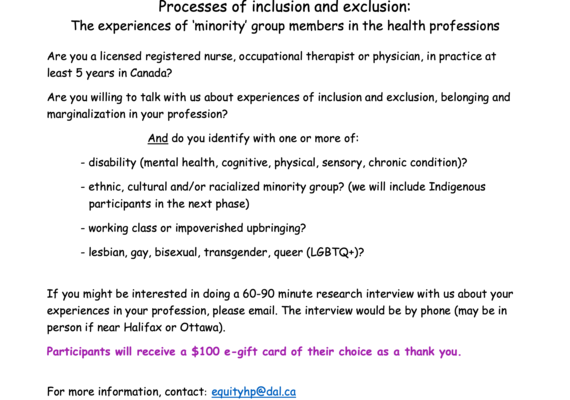 OPED Shares: Study seeks to recruit
UCalgary researcher's innovative program benefits Canadians with disabilities and their families
Jennifer Zwicker among 11 UCalgary scholars awarded Canada Research Chairs ...